4G Solar-Powered Camera Farm Security System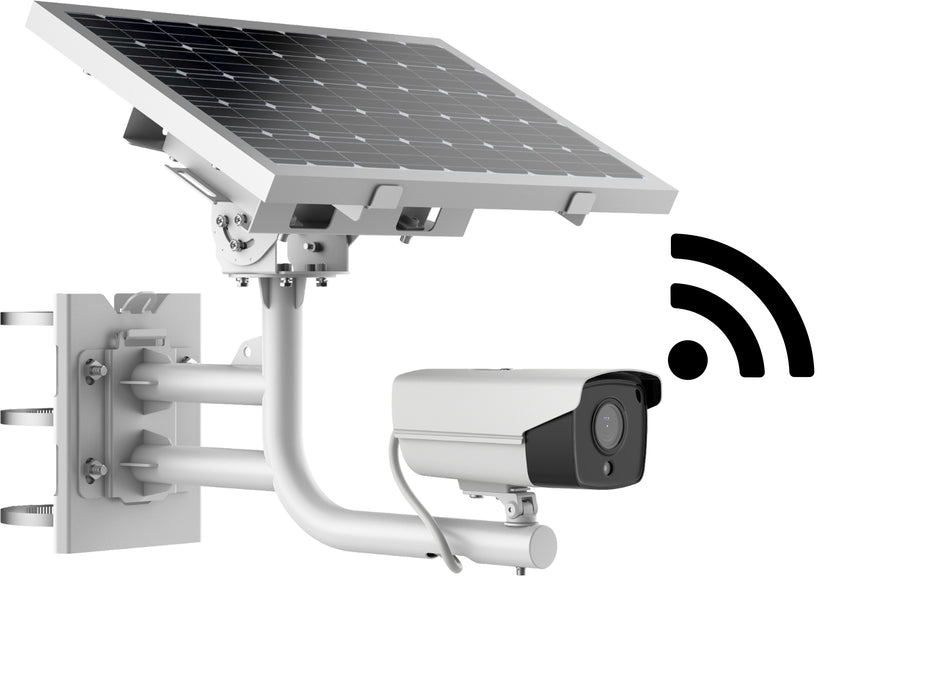 4G Solar-Powered Camera Farm Security System








Need a camera on a remote barn or site where there is no power? This farm security system uses the connectivity of 4G and power of the sun to provide a system that does not require mains power and internet connectivity wired in. For more information, please talk to our sales team.
Solar Power

This kit features a 40-watt photovoltaic solar panel to allow the camera to be powered by the sun without any mains power. This makes it ideal for remote sites where running power cables is inconvenient.
Fully Battery Powered
A beefy 20Ah battery ensures that this camera can keep operating even when the sun isn't shining. Provides up to seven days of power on overcast days from a full charge. Supports battery management, battery display, battery high-low temperature protection, charge-discharge protection, low-battery sleep protection and remote wakeup.
4G Connectivity
When hooked up to a 4G network using a microSIM card the camera can utilise the high-speed LTE mobile networks to enable you to connect into the camera remotely from anywhere in the world.
1080p HD Video
The main video stream provides Full HD video at 1080p, 25 frames per second.
30-metre Night Vision Range

Works round-the-clock. After the sun sets, the camera sees up to 30 metres thanks to the smart infrared night vision.
microSD card recording 
On-board recording is simple due to the microSD card slot that supports high-speed cards up to 256GB in capacity.
Basic/Smart Detection
Comes with all the event recording trigger modes that we have come to rely on from Hikvision.
Outdoor-ready
This standalone kit includes everything you need to get up and running. The camera casing is rated IP67 to ensure it can stand up to the worst of the weather!
Wide Dynamic Range
Clear imaging against strong backlight due to 120dB true WDR technology.
Special order item, please contact our sales team.
What's in the box?
1

×

4G fixed bullet camera
1

×

Solar panel & battery
1

×

Camera bracket
1

×

Pole mount
3

×

Pole mount loop
1

×

10m Cat 5e network patch cable
1

×

256GB microSD card
1

×

A4 CCTV sign
1× Hikvision standalone remote site battery pack
Screws, fixings & accessories
1 Year Premium Support
4G plan and microSIM not included – please enquire for more information.
Special order item, please contact our sales team.
Camera
Image Sensor: 1/2.8" Progressive Scan CMOS
Min. Illumination: Colour: 0.004 Lux @ (F1.4, AGC ON); B/W: 0.002 Lux @ (F1.4, AGC ON), 0 Lux with IR on
Shutter Speed: 1s to 1/100,000s
Slow Shutter: Yes
P/N: P/N
Wide Dynamic Range: 120 dB
Day & Night: IR cut filter
Lens
Lens Type: Fixed Focus Lens
Lens Type & FOV: 2.8 mm @1.4: Horizontal FOV: 107°, vertical FOV: 57°, diagonal FOV: 128°; 4 mm @F1.4: Horizontal FOV: 86°, vertical FOV: 46°, diagonal FOV: 102°; 8 mm @F1.6: Horizontal FOV: 41°, vertical FOV: 22°, diagonal FOV: 47°
Lens Mount: M12
DORI
DORI: 2.8mm: D 44m / O 17.5m / R 9m / I 4.5m; 4mm: D 53m / O 21m / R 11m / I 5m; 8mm: D 110m / O 44m / R 22m / I 11m
Illuminator
IR Range: Up to 30 m
Wavelength: 850 nm
Smart Supplement Light: Yes
Video
Max. Resolution: 1920×1080
Main Stream: 25fps (1920×1080, 1280×960, 1280×720)
Sub-Stream: 25fps (704×576, 640×480)
Third Stream: 1fps (1280×720, 640×480)
60Hz: 1fps (1280×720, 640×480)
Video Compression: Main stream: H.265+/H.265/H.264+/ H.264; Sub-stream: H.265/H.264/MJPEG; Third stream: H.265/H.264
Video Bit Rate: 32Kbps to 8Mbps
H.264 Type: Baseline Profile/Main Profile/High Profile
H.265 Type: Main Profile
H.264+: Main Stream supports
H.265+: Main Stream supports
Bit Rate Control: CBR/VBR
Stream Type: Main stream/Sub-stream/third stream
Scalable Video Coding (SVC): H.265 and H.264 support
Region of Interest (ROI) 4 fixed regions for each stream
Network
Simultaneous Live View: Up to 6 channels
API: Open Network Video Interface (PROFILE S, PROFILE G, PROFILE T), ISAPI, SDK, Ehome
Protocols: TCP/IP, ICMP, HTTP, HTTPS, FTP, SFTP, DHCP, DNS, DDNS, RTP, RTSP, RTCP, NTP,UPnP,SMTP, SNMP, IGMP, 802.1X, QoS, IPv6, UDP, Bonjour, SSL/TLS
User/Host: Up to 32 users. 3 user levels: administrator, operator and user
Security: Password protection, complicated password, HTTPS encryption, 802.1X authentication
(EAP-TLS, EAP-LEAP, EAP-MD5), watermark, IP address filter, basic and digest
authentication for HTTP/HTTPS, WSSE and digest authentication for Open Network
Video Interface, RTP/RTSP OVER HTTPS, Control Timeout Settings, TLS 1.2
Network Storage: microSD/SDHC/SDXC card (up to 256 GB) local storage, and NAS (NFS, SMB/CIFS), auto network replenishment (ANR)
Client software:  iVMS-4200, Hik-Connect, Hik-Central
Web Browser: IE, Chrome, Firefox, Safari
4G
4G Frequency: LTE-TDD: Band38/40/41; LTE-FDD: Band1/3/5/7/8/20/28; WCDMA: Band1/5/8; GSM: Band3/5/8
4G Standard: LTE-TDD/LTE-FDD/WCDMA/GSM
Image
Smart IR: Yes
Day/Night: Switch Day, Night, Auto, Schedule
Target Cropping: Yes
Picture Overlay: Logo overlay (128×128 24bit BMP format)
Image Enhancement: BLC, HLC, 3D DNR, Defog
Image Parameters Switch: Yes
Image Settings: Rotate mode, saturation, brightness, contrast, sharpness, gain, white balance
adjustable by client software or web browser
SNR: ≥52 dB
Privacy Mask: 4 regions of privacy mask
Interface
RS-485: 1× RS-485(half duplex)
On-board Storage: Built-in microSD slot, up to 256GB
Hardware Reset: Yes
Communication Interface: RJ45 10M/100M self-adaptive Ethernet port
4G: microSIM card
Event
Basic Event: Motion detection, video tampering alarm, exception (network disconnected, IP
address conflict, illegal login, HDD full, HDD error)
Smart Event: Line Crossing Detection, Intrusion detection, Region entrance detection, Region exiting detection, Unattended baggage detection, Object removal detection, Scene change detection
The smart events are only supported in full power mode.
General
Online Upgrade: Yes
Dual Backup: Yes
General Function: Anti-flicker, 3 streams heartbeat, mirror, privacy masks, flash log, password reset via e-mail, pixel counter
Software Reset: Yes
Storage Conditions: -30 °C to 60 °C. Humidity 95% or less (non-condensing)
Startup and Operating Conditions: -15°C to 55°C. Humidity 95% or less (non-condensing)
Power Supply: 12V DC ± 20% ;
Average power consumption over 24 hours: 1.76W (4G off, 50% illumination)
Battery life on cloudy/rainy day: Up to 5.2 days from full charge under average conditions
Power Interface: Φ5.5 mm coaxial power plug
Camera Material: Front cover: metal; camera body: plastic
Screw Material: SUS304
Camera Dimensions: 760×732.6×586.9mm
Package Dimensions: 826×469×444 mm
Camera Weight: Approx. 13kg
With Package Weight: Approx. 16.9kg
Battery
Battery Type: Lithium
Capacity: 20Ah
Max. Charging Voltage: 12.6 V
Operating Temperature: -5°C to 60 °C
Battery Voltage: 10.8 V
Battery Life: More than 800 cycles
Certification 
Class: Class B
EMC: CE-EMC. RCM
RF: CE-RED, ICASA
Safety: CB, CE-LVD
Environment: CE-RoHS, WEEE, Reach
Protection: IP67