Green Feathers Bird Box Camera TV Cable Connection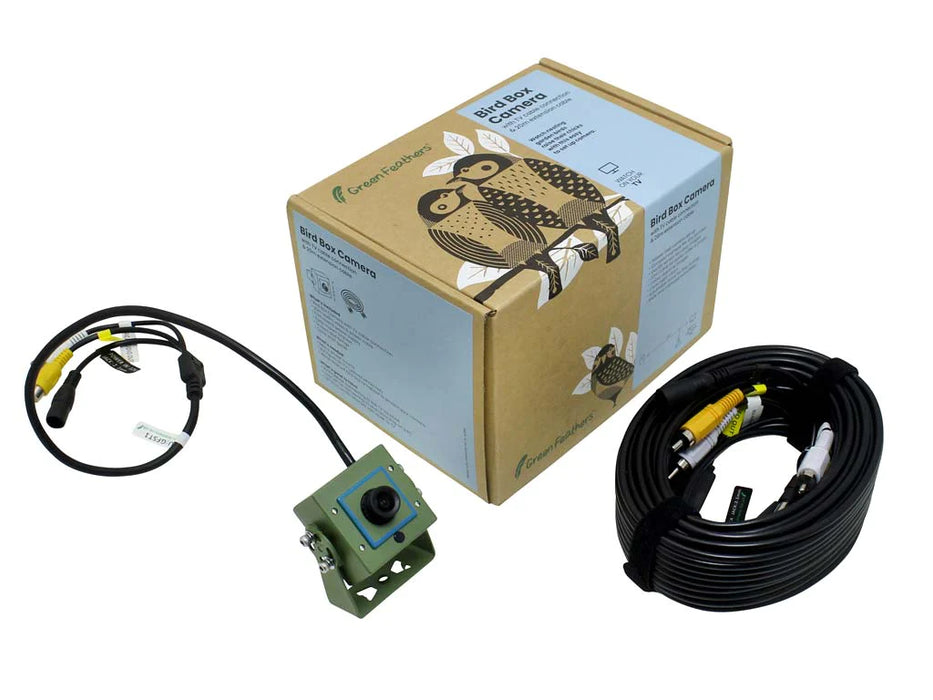 Green Feathers Bird Box Camera TV Cable Connection
Product Code:
GFST1GB-20M-B02


Our classic wired bird box camera is the simplest way to start viewing your garden wildlife with a solid connection. This tiny camera mounts into the nest box and allows you to watch nesting birds on your TV by using the included 3-way cable.
Tiny camera
Measuring just 40mm across, this tiny camera fits perfectly even the smallest garden bird boxes.
700 TV Lines
High-quality sensor for crisp, clear images at 700 TV lines
Night Vision
6 Invisible infrared LEDs provide 1.5m night vision for round-the-clock viewing without disturbing the bird babas
Wide Angle Lens
2.8mm lens records a 110° field of view, helping get everything inside the box in the picture
Adjustable Focus
To ensure sharp images, so you can see the sparkle in the birds' beady eyes
Easy Connectivity
Connects directly to TVs and recorders, no hassle!
20m AV Cable
20m 3-way cable means you only need to install 1 cable for the power and video for the camera
What's in the box?
1x Bird Box Camera
1x UK mains adaptors
1x 20m Video & Power cable
This wired bird box camera kit is an ideal kit for seeing wildlife in your garden that you would not usually see and to watch chicks growing up and flying the nest. This tiny camera is perfect for screwing into a bird box to watch nesting birds from your TV. This bird box camera measures just 40mm across so it won't take up too much space in your nest box.
With night vision, a 2.8mm wide-angle lens and adjustable focus this camera is well-suited to cramped bird boxes. 700TVL will give you high-quality images of your nesting birds with a super-wide 2.8mm lens to give you a full view inside the nest box.
Included in this bundle is a 20m video and power cable to trail back to your television and power supply for quick and easy setup. You can add a 1 channel DVR to record your footage or use one of our USB capture devices to record via your PC, so you can go back and watch your footage with a cup of tea when you're ready.
Video: PAL/NTSC
Resolution: 700 TV Lines
Image form: JPEG
Image pixels: 512 x 582
Video form: AVI
Minimum illumination: 1 Lux
Lens: Super Wide 2.8mm
White balance: Auto
S/N ratio: >48dB(AGC Off)
Backlight compensation: Auto
Electronic shutter: 1/50(1/60)-1/100000 seconds
Operation temperature: -20 to 50 degrees Celsius
Power Supply: DC 8V 500mA