Green Feathers Bird Box Camera HD Network Cable Connection (Camera only)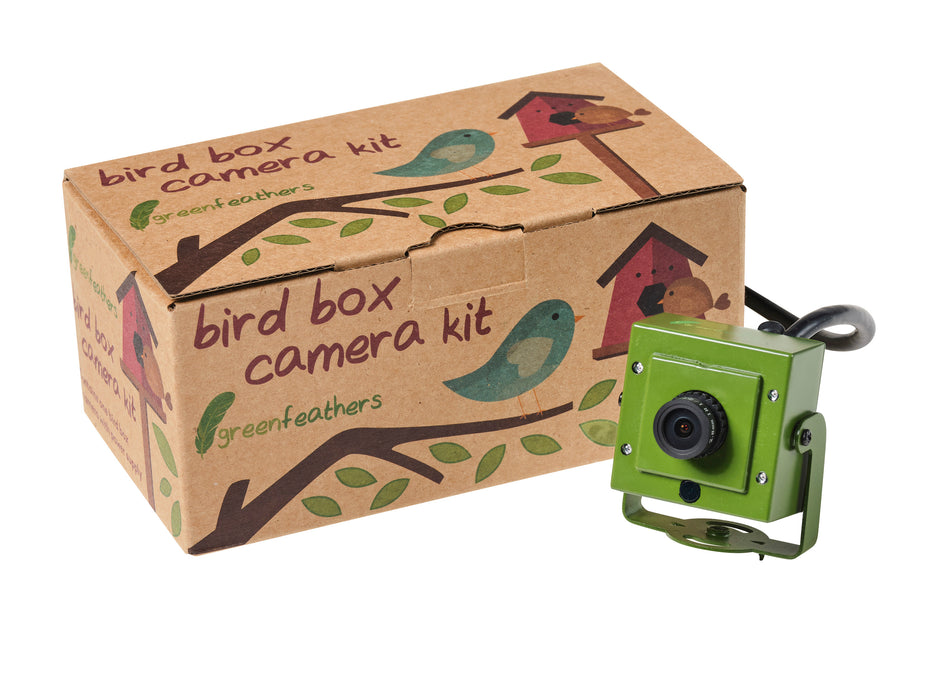 Green Feathers Bird Box Camera HD Network Cable Connection (Camera only)







Our HD IP Bird Box Camera allows you to watch wildlife on your PC, smartphone and tablet – all in HD. This is the camera only to be powered by PoE equipment.
HD Bird Box Camera
This tiny camera can be installed in any standard size bird box, recording footage of the feathery tenants in 960p HD quality
IP Network Camera
Records digital video then sends it down a data cable to be viewed over your network
Power over Ethernet
Draws power directly from the network cable, so you only have to run one cable. Please note - This requires a PoE compatible switch or recorder. If you don't have one of these then we recommend our camera kit with a separate power supply
Mobile & Tablet Access
Once configured, you can view the camera from anywhere using the free Android or iOS app
Night Vision
Invisible infrared LEDs provide clear night vision in the unlit box, without disturbing the chicks
True-to-life Colour
When in daylight, the camera's IR filter allows it to record vivid, accurate colours
Wide Angle Lens
2.8mm lens captures a huge field of view, ideal for cramped boxes
PC Recording
Free software allows you to record footage straight to your PC
NAS Drive Compatible
Allows motion detection and scheduled recording
Image Controls
Fine-tune the image using dynamic range and noise reduction settings
Stream online
You can stream the camera online, with a bit of setup, to services such as YouTube to share the action with everyone!
What's in the box?
1x Green Feathers bird box camera
Our exclusive Green Feathers range of dedicated bird box cameras is the culmination of a decade of experience providing specialist equipment for watching wildlife. This IP bird box camera can be installed in any standard sized nest box, letting check-in on hatching eggs & feeding chicks in HD quality from anywhere, using a PC, phone or tablet.
The camera captures digital footage in 1080p resolution, recording significantly more detail than older analogue models. We've fitted it with a 2.8mm wide-angle lens - ensuring it can see all of even the most cramped boxes - and invisible IR LEDs that provide clear night vision without disturbing the birds. The camera also has a tiny microphone to record audio.
The camera works using Power-over-Ethernet, drawing power directly from the network cable. This does require a PoE compatible network switch or CCTV recorder, however, if you don't have one of these then we also have a camera kit with a separate power supply.
Once configured to your network, you can easily log in and view live footage from the PC or mobile apps. These also let you record video clips and, when combined with a NAS drive, set up motion detection to make sure you don't miss anything happening in the box. Complete instructions for configuring the camera are providing at our help page, or we also have a remote setup service if you would prefer us to adjust the network settings.
Imaging Chip: 1/3 Low light CMOS
Sensor Resolution: 1080p
Sensitivity: 0.5Lux (IR off) 0Lux (IR On)
Main Stream Resolution: 1080p @ 15fps 720p @ 25fps
Sub Stream Resolution: 4CIF @15fps CIF @25fps
Video Compression: H.264
DWDR: On/Off
3D DNR: YEs
Lens: 2.8mm
Field of View: 92°
Lens Mount: Board
Day & Night: Auto ICR switch
Configuration: Via web browser or CMS software
Recording: Continuous Motion Scheduled (via CMS)
Protocol: HTTP TCP/IP ARP RTSP RTP UDP SMTP FTP DHCP DNS DDNS PPPOE UPNP NTP 802.1x
Ethernet: 10/100 Base-T Auto-sensing Half/full duplex RJ45
PoE: IEEE 802.3af compliant
Power Input: 12V DC or PoE
Power Consumption: 3.5W IR off 7.5W IR on
Dimensions: 43x43x21mm (excluding cables & bracket)
Operational Temperature: -20°c to +55°c
Humidity: 10-80%