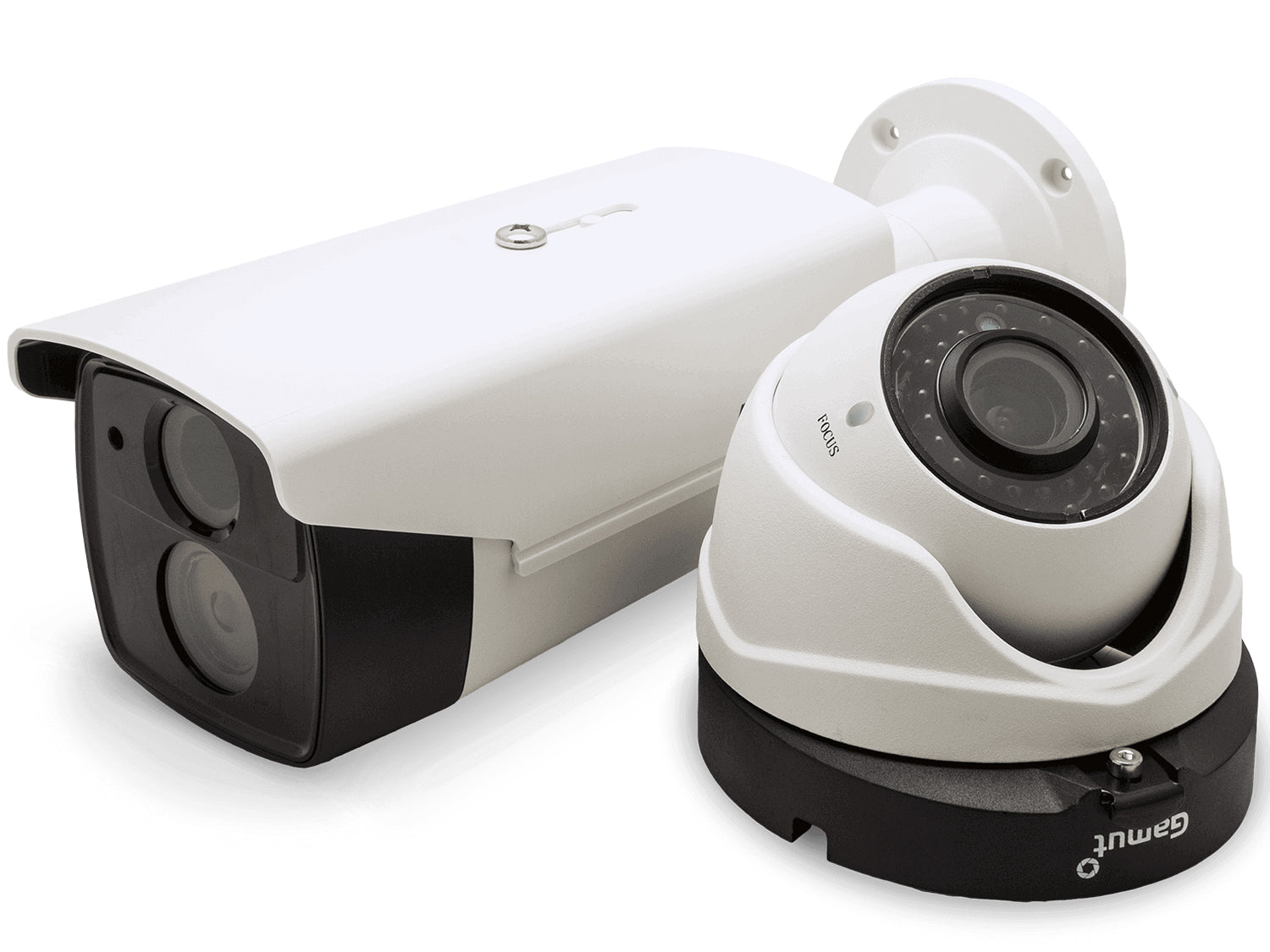 What is 4-in-1 CCTV?
4-in-1 CCTV is a new hybrid format, allowing one security camera to be manually switched between HD-TVI, AHD, HD-CVI and CVBS. This means you no longer have to worry about format compatibility between cameras when setting up or updating a CCTV security system- as long as it has a BNC connection and uses coaxial cable then it should work.
For most of the history of CCTV, camera compatibility wasn't really an issue. Cameras (more or less) always worked with recorders, as they were just taking any old analogue input. This unfortunately changed with the advent of HD security cameras, as manufacturers came up with quite a few unique ways of converting an analogue camera signal into a high definition digital image. The upshot of this was the sudden creation of a whole host of formats and annoying acronyms, and all of a sudden customers found themselves having to choose which manufacturer's system they wanted to buy into. As anyone with a Betamax player gathering dust in their loft can tell you, this is not an ideal situation.
There is a better way
Luckily, a range of CCTV manufacturers have collaborated to create 4-in-1 hybrid CCTV. These new cameras can be manually switched between 4 of the most common formats on the market, using a simple controller on the cable. Combined with our new hybrid DVRs, this means that you can now invest a large CCTV system without worrying that you've limited the range of cameras that you can add to it at a later date. It also makes it so much easier to add cameras to an existing system, as you no longer need to spend time checking it's the correct format. 4-in-1 cameras support the following CCTV video formats:
HD-TVI
Often simply called "TVI", this is probably the most common type of analogue HD CCTV camera on the market at the moment, thanks to industry titans Hikvision. Their Turbo-HD range uses this video format, which boasts fantastic picture clarity. Up until recently this was limited to 1080p, however we now have TVI cameras available at 3MP.
AHD
Probably the second most common HD format behind TVI, AHD has historically been a slightly more open system. Because of this it has been popular with lots of smaller manufacturers, and is commonly used by budget cameras. As a slightly more basic format, it has slightly reduced image quality when compared to TVI, however it can be transmitted over wireless – keep your eyes peeled for our range of AHD wireless transmitters and receivers, currently in development.
HD-CVI
CVI is a format similar to TVI, providing 1080p high resolution footage. Generally speaking, CVI did not reach the same level of industry support as TVI, as it was only used by one manufacturer- Dahua. Many users invested in CVI systems without realising that they were potentially limiting the number of compatible cameras they could add in the future. This is a fantastic illustration of why 4-in-1 is such a benefit to the industry, freeing up users who were previously tied down to a format.
CVBS
Many people won't know the term CVBS – short for "colour, video, blanking & sync" nonetheless – but most will likely be familiar with devices that use it. It's the technical term for composite video, your standard run-of-the-mill analogue input as used for decades on TVs, VCRs, camcorders and of course CCTV cameras. The quality of CVBS video is usually described in TV Lines. In this case our 4-in-1 cameras can be set to 700TVL. Whilst this wouldn't be our first choice for a commercial system, it does make it backwards compatible with decades' worth of recorders, should you want to add it to an existing system. And then if you upgrade this at a later date, just switch the camera over to a different format! It's wide compatibility also means that CVBS is the format used by our long range wireless transmitters and popular foaling camera kits.
 

HD-CVI

AHD

HD-SDI

HD-TVI

Maximum resolution

1080p

1080p

1080p

1080p

Quality

Very good in daylight

Good

Very good

Very good

Maximum transmission distance

RG59

500m (720p)
400m (1080p)

500m

150m

500m

Cat 5

200m

150m

100m

210m

IP Camera DVR Compatibility

Partial

No

No

Yes
So 4-in-CCTV works with everything, right?
Almost, but not entirely. Whilst 4-in-1 cameras work with pretty much everything that uses a BNC connector, there are a couple of notable exceptions for CCTV formats that they don't support:
IP Video
IP cameras record digital footage and then send it as data down a network cable. Because most of the imaging process is digital and it uses a different cable connector, this cannot be replicated with 4-in-1 CCTV. IP cameras also use a different type of recorder attached to your network, so IP security systems have very little cross compatibility. They are capable of incredibly high resolution recording, but have a more complex set up and configuration, so are generally recommended for commercial and professional applications.
HD-SDI
This was one of the first formats to offer HD CCTV recording using analogue cables, so was rather revolutionary when it was first released. However, it is now notorious for being incredibly temperamental about cable quality. Unless you had the very highest grade, gold plated, platinum shielded, diamond studded video cables, the signal would not work over more than a few metres. Because of this it is not generally supported anymore by most manufacturers.
One solution for all systems
Because of it's huge range of compatible equipment, Gamut's new 4-in-1 CCTV cameras are ideal for almost any scenario. Adding cameras to an old system with an eye to upgrading later? Wanting to put together a bespoke system with long range wireless transmission? Or maybe you just want a kit that's simple to install but provides exceptional video quality. 4-in-1 has you covered!