Low Light Tiny Pinhole Camera 2MP TVI 4-in-1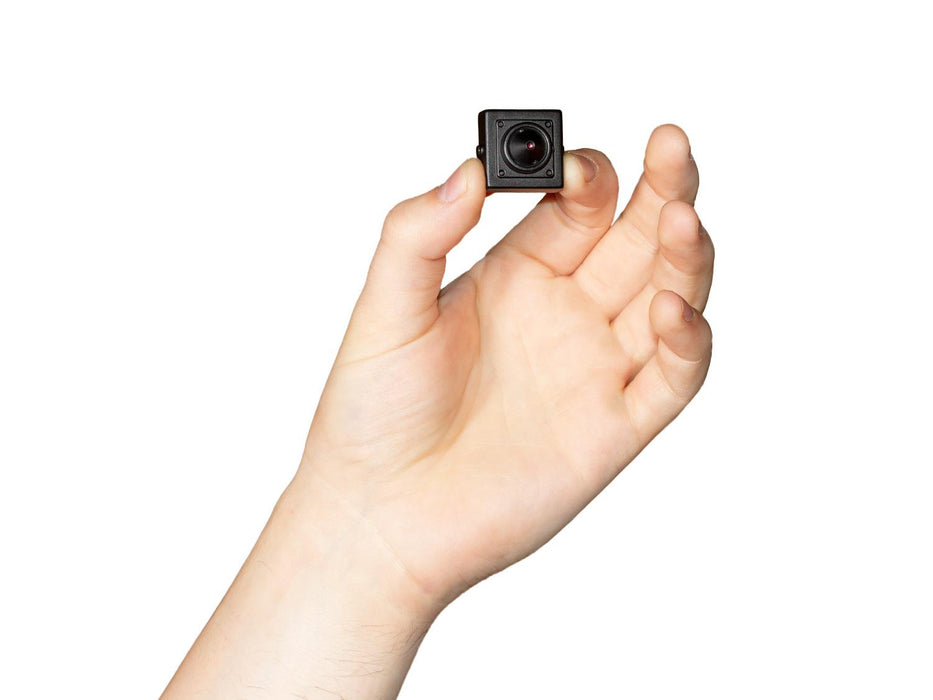 Low Light Tiny Pinhole Camera 2MP TVI 4-in-1
Product Code:
NNTV205PHGB



Covert security is one of the most difficult challenges to approach with CCTV. For example, if you want to catch an office thief red-handed, you need a camera that can remain completely concealed, without sacrificing any image quality. This HD low light pinhole camera is the ideal solution, cramming 1080p recording and amazing low light sensitivity into the smallest camera body that we've ever sold - only 25x25mm!
Covert Spy Camera
Tiny camera designed to be easily concealed. Perfect for sensitive applications such as monitoring stock rooms, staff, or a relative's carers
Our Smallest Camera
This thing really is miniature, measuring only 25x25mm. It's the smallest camera we've ever sold, making it easy to position
1080p HD Video
Captures subjects in sharp detail at 1920x1080 Full HD
Low Light Sensitivity
Can keep working in situations as dark as 0.0008lux, essential for recording in badly-lit areas
Colour Recording
Sony EXMOR imaging chip records in full, true-to-life colour down to 0.08lux, before switching to black and white to boost low light sensitivity
Pinhole Lens
Records through gaps as small as 2mm wide, letting you easily conceal the camera behind cover
4-in-1
Compatible with HD-TVI, HD-CVI, AHD and CVBS video systems, allowing it to work with most legacy CCTV recorders and monitors. Perfect if you need to add to an existing setup
Plug-and-Play
No confusing configuration needed to get it up and running, just plug it in with a standard twist-fit BNC cable
OSD Controller
Ships with a small plug-in controller to adjust picture settings in the on-screen display
What's in the box?
1x Pinhole spy camera
1x Mains power supply
1x OSD Controller
The camera boasts a Sony EXMOR imaging chip, capable of recording in full colour down to 0.08Lux, and then switching to black & white and dropping the shutter speed to continue working in conditions as dark as 0.0008Lux. Images are captured in 1920x1080p Full HD, ensuring videos are packed with usable subject detail. The pinhole lens also allows the camera to record through gaps as narrow as 2mm, so the camera and cables can remain safely hidden away behind a shelf or drawer.
4-in-1 technology allows compatibility with HD-TVI, HD-CVI, AHD and CVBS video equipment, so it can easily be added to most existing CCTV systems with a twist-fit BNC connector. The camera also includes a plug-in control to quickly adjust the on-screen menu, providing in-depth options for settings such as white balance and back-light compensation.
Imaging Sensor
1/2.9" Sony EXMOR CMOS
Resolution
1080p (TVI CVI AHD) 950TVL (CVBS)
Video Output
TVI 2.0 AHD 2.0 CVI 2.0 CVBS
Minimum illumination
0.08lux (colour) 0.008lux (B&W) 0.0008ux (B&W w sens-up)
Field-of-View
73° - D 92°/H 73°/V°54° (1/2.9" LENS)
White Balance
ATW AWC-SET INDOOR OUTDOOR MANUAL AWB
Backlight Compensation
OFF BLC HSBLC
Day & Night
AUTO COLOUR BW EXT
3DNR
OFF LOW MIDDLE HIGH (exc CVBS)
Digital Effect
OFF MIRROR V-FLIP ROTATE & FREEZE
Language
ENG GER FRA ITA SPA POL RUS POR NED TUR KOR JPN HEB ARB
Operational Temperature
-10 to +50c