Green Feathers Bird Box Camera HD Recorder Bundle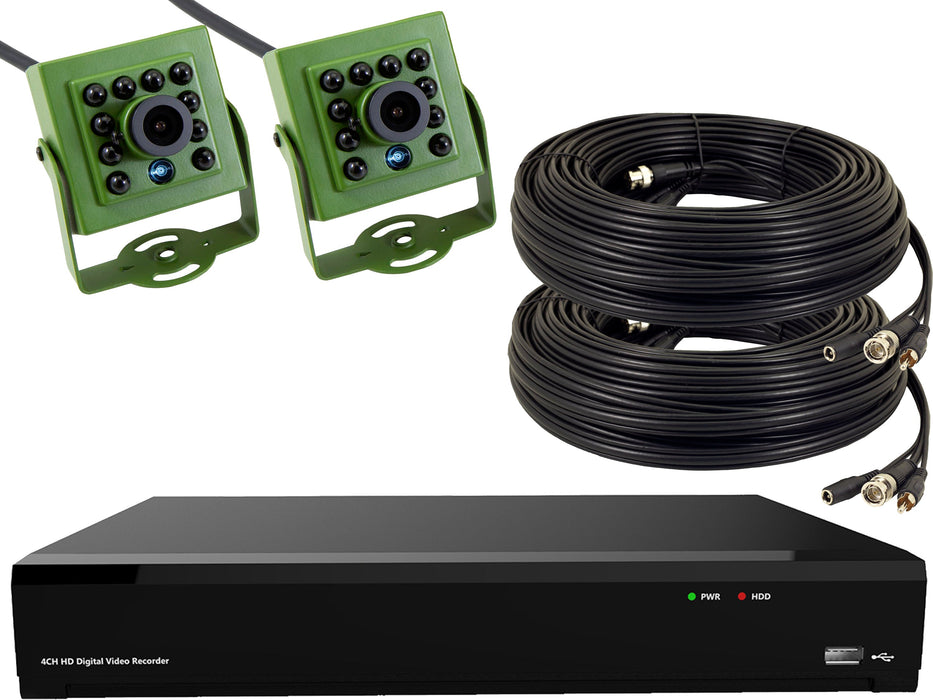 Green Feathers Bird Box Camera HD Recorder Bundle
Calling all enthusiasts! We've put together this 2-camera nest box camera recording bundle for professional recording usage in nest boxes, aviaries and much more! Included is our tiny 1080p HD bird box cameras to provide brilliant picture quality. This is coupled with our HD Gamut DVR with a massive 1 terabyte hard drive preinstalled so that you can record hours of footage. Our trusty 20-metre outdoor cables can be run between the cameras and the recorder for an easy plug-and-play setup – everything you need is included!
Tiny Cameras
The cameras are designed to be installed into a snug nest box and tight spaces.
1080p Full HD 
These cameras produce fully detailed 2-megapixel video. When connected directly into the DVR via the cables in "TVI" mode you will get Full HD images straight from the cameras.
Audio
Hear every cheep and ruffle thanks to the in-built microphone picking up every little sound from the nest.
Low Light
This camera features the latest Starlight chip, which enables create quality images even in low-light situations.
Night Vision
24/7 viewing with invisible infra-red night vision so that you can see what is happening even in complete darkness.
Wide-Angle Lens
With its wide-angle lens, the camera has a huge field of view. It's designed for use in enclosed spaces which means more of the bird box fits in the frame.

Easy Connectivity
Simply power up the cameras, connect the cables up between the cameras and recorder and you're away!
1080p HD Recording Resolution
The recorder supports 1080p Full HD to ensure that you capture the most detailed footage.

Add up to 6TB of Storage
You can also upgrade the recorder's HDD up to 6TB in capacity for plenty of recording storage.
H.265 Compression
This latest encoding technology allows for more video to be stored in less storage space.
Online Access
You can connect the recorder to your network for remote viewing on your PC, smartphone or tablet allowing you to watch anywhere in the world!
HDMI Output
Connect up the recorder to a TV or monitor using HDMI connectivity.

Our 1080p HD wired nest box cameras with audio are tiny enough to fit inside virtually any nest box or tight space. Thanks to the wide-angle lens, they capture everything up close commendably and despite their small size, they record 1080p HD images using the latest Starlight chip. Featuring invisible infra-red night vision, they can operate around the clock without disturbing any wildlife. We've included two cameras in this bundle so that you can get different angles.
Using the 20-metre professional-grade cables that can be run outside, set up is simply a matter of connecting one end to the cameras and the other to the recorder. Then you can configure the Gamut 4-channel DVR to record footage based on motion detection or however you wish. There's also room to upgrade the system with two extra cameras in the future. We've preinstalled the recorder with a 1 terabyte hard drive to give you plenty of recording storage. Additionally, if you hook up the recorder to your router and with a bit of configuration you can remotely check in the cameras on a PC, tablet or smartphone anywhere in the world. Handy!
We've put this pack together for avid enthusiasts and if you want a more fine-tuned bespoke set up please do get in touch with us.
2× 1080p HD Wired Bird Box Camera
2× UK mains power supply for camera
2× 20m Video Power Audio Cable
1× Gamut 4-Channel HD DVR with pre-installed 1TB HDD
1× USB mouse
1× UK mains power supply for DVR
Screws and fixings
CAMERA
Sensor: 1/2.8" NVP2441+IMX307
Format: PAL/NTSC
Effective Pixel: 1920×1080 FPS: 1080p @ 25fps
Illumination: 0.0001 Lux (F1.2, AGC ON), 0 Lux with IR
Shutter: Auto
D/N Mode: EXT (Default) /AUTO/COLOR/B/W
Synchronous: Internal
Video Output: AHD/TVI/CVI/CVBS 4-in-1 switch
Exposure: Brightness / Exposure Mode / Gain
White Balance: ATW/MWB
D/N Mode: Infrared/Internal Auto/Color/B&W
Video Setting: Contrast/Sharpness/Color/GAIN/DNR/Format/WDR
Language: CHN1/ESPANOL/CHN2/ITALIANO/ENGLISH
Operating Temperature: -20°C to 60°C
Working Humidity: < 90%
Power: DC 12V 1A
Weight: 0.2kg
Audio: Yes

RECORDER
Recording Bandwidth
Input: 4Mbps~24Mbps
Total decoding performance: 1080p @ 60fps
Output: 48Mbps
Analogue Camera input: 4 channels
IP Camera Input: 2 channels

Recording and Playback
Audio compression: G.711a
Video compression: H.264/H.265
Display resolution (analogue): 5MP-Lite@20fps, 4MP-Lite@30fps, 1080p/720p/960H@30fps
Display resolution (IP): 5MP/4MP/1080p/720p
Single IP channel: up to 2MP @ 30 fps
Frame rate per channel (analogue): 5MP-Lite@15fps, 4MP-Lite@18fps, 1080p@15fps, 720p@25fps
Frame rate per channel (IP): 25fps
Sub-stream: 704×576 @ 10fps
Event: Motion detection (Sensitivity Level 1–8), video loss
Notifications: Beep, Email, Push notification to app
Playback function: Fast forward/fast backward (2×, 4×, 8×, 6×)
Slow forward: (1/2×, 1/4×, 1/8×,1/16×)
Playback: 5MP-lite@45fps (max 3ch), 4MP-lite@54fps (max 3ch), 1080p@60fps (max 4ch), 720p@120fps (max 4ch)
UI/Monitoring
Local: UI 5.0, web browser
App: RXCamView
Push Notification: TUTK/RS
BNC Output: 1× BNC (704×576)
VGA Output: 1× VGA (1024×768, 1280×720, 1280×1024, 1440×900, 1920×1080)
HDMI Output: 1× HDMI(1024×768, 720p, 1280×1024, 1440×900, 1080p, 2K, 4K)
Ethernet: 1× RJ45 10/100 Base-T
USB: 1× front, 1× rear
Audio: 4× in, 1× out
Alarm: 4× in, 1× out
eSATA: 1× optional, not supported by default
HDD: 1× SATA HDD, up to 8TB default

General
Dimensions (W×D×H): 300×227×53mm
Input Voltage/Current: 1× HDD: DC 12V 2A; 2× HDD: DC 12V 5A
Operating Temperature: 0°C~+40°C
Operating Humidity: <90% RH