Green Feathers Bird Box Camera 4K TV Cable Connection (Camera only)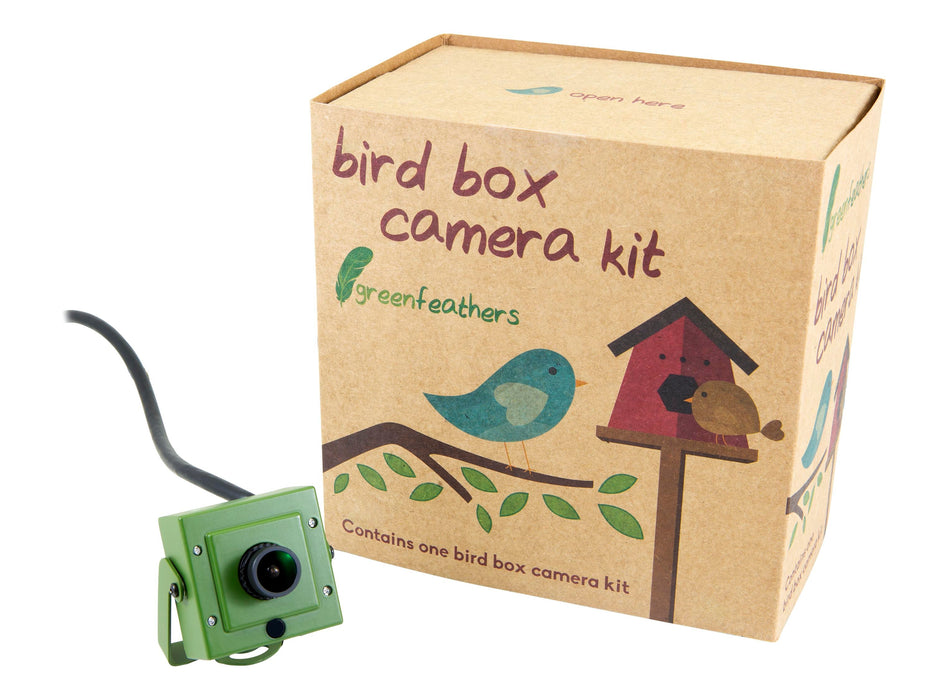 Green Feathers Bird Box Camera 4K TV Cable Connection (Camera only)
Introducing the world's first 4K bird box camera – view nesting birds in stunning Ultra HD on your 4K TV or monitor. Simply mount the camera in your bird nesting box and after an easy plug-and-play installation, you'll have detailed images live on your screen!
Stunning 4K Video
Our best resolution camera ever – this camera produces fully detailed 8-megapixel 4K video. Connect it up to a compatible adaptor or recorder for stunning picture clarity!
Tiny Camera for Nest Boxes
Despite all the technology we've packed into this little camera, it is small enough to be installed into a snug bird nesting box.
Watch on your TV
To view live footage, simply connect to a TV via HDMI using our HD converter. This gives you a simple way to watch wildlife in the comfort of your living room.
Night Vision
24/7 viewing with infra-red night vision so that you can see what is happening even in pitch black.
Wide-Angle Lens
The camera includes a wide-angle lens so enabling the camera to get a better view of the inside of a nest box.
Easy Connectivity
Simply power up the camera, plug in the cameras and you'll be up and running.
4-in-1 Compatibility
For those with compatible DVRs, this camera supports TVI, AHD, CVI and CVBS camera technologies.
At 8 megapixels – 4K Ultra HD to you and I – this is our highest resolution camera ever! If you are looking for the best image quality available this is the one for you. Despite the huge video resolution, we've managed to keep the camera tiny meaning it can be snuggly fit inside a bird box, hedgehog box or other wildlife enclosure. What's more, it includes audio, a wide-angle lens and provides an easy plug-and-play setup. What's not to like?
Options for watching:
4K Viewing using HDMI Converter
Our HDMI converter allows you to watch Full HD images live on your TV. Simply plug the camera into the converter and run the HDMI cable between the converter and your TV or monitor.
Viewing and Recording Multiple cameras through a DVR
For advanced enthusiasts.
Using 4K CCTV DVR recorders, you can watch and record multiple 4K cameras at a time – even remotely on your phone or PC anywhere in the world.
4K bird box camera
UK mains power supply
Screw for mounting in our bird boxes
Camera
Imaging chip: 1/2.3" OV12895+FH8556
Video Format: PAL/NTSC
Effective Resolution: 3480(H)x2160(V)
Illumination: 0.01 Lux @ f1.2 AGC ON, 0 Lux with IR
Shutter: Auto
D/N Mode: Ext(Default)/Auto/Color/B&W
Synchronization: Internal
Frame rate: PAL:12.5fps/NTSC:15fps
Video
Video Output: AHD/TVI/CVI/CVBS
Audio: Yes
Lens Mode: Manual/DC Lens
Exposure: Auto/FLK
Back-light Mode: High/Mid/Low/Zone control
W/B: AUTO/AWC-SET
D/N: Ext(Default)/Auto/Color/B&W
DNR Type: 2DNR/3DNR
Video Setting: Color GAIN/ Edge brightness compensation/Dot defect compensation
Adjust: Sharpness/MONITOR/LSC/NTSC/PAL
Exit: SAVE&END/Reset/Not-save
General
Language: CHN1/CHN2/GER/FRA/ITA/SPA/POL/RUS/POR/NED/TUR/ JPN/ENG
Operating Temperature: -20C to 60C
Operating Humidity: <90% RH
Power: DC 12V 130mA