Green Feathers Bird Box Camera 4K Recorder Bundle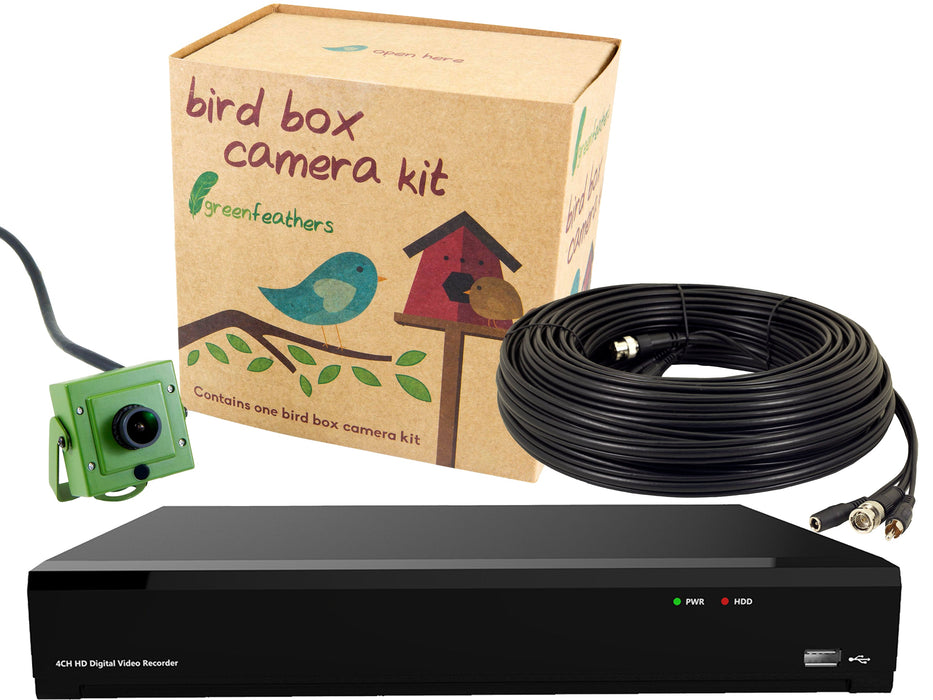 Green Feathers Bird Box Camera 4K Recorder Bundle
In this Ultimate 4K Bird Box Camera bundle, we've combined the power of our tiny 4K camera with a professional recorder (DVR). Simply connect the camera to the back of the recorder using the included 20-metre twist-fit cable and you'll be up-and-running seeing highly detailed images from the nest box.

Stunning 4K Video
Our best resolution camera ever – this camera produces fully detailed 8-megapixel 4K video.
Tiny Camera for Nest Boxes
Despite all the technology we've packed into this little camera, it is small enough to be installed into a snug bird nesting box.
Night Vision
24/7 viewing with infra-red night vision so that you can see what is happening even in pitch black.
Wide-Angle Lens
The camera includes a wide-angle lens enabling the camera to see more of the inside of your nest box.
Audio
Hear every cheep and ruffle thanks to the in-built microphone picking up every little sound from the nest.
Professional Recorder
We've bundled our 4K Bird Box Camera with a professional DVR capable of recording in 4K to capture the most detail from the fluffy baby birds in the nest. You can also add four additional HD cameras.
Add up to 10TB of Storage
We've preinstalled a 1 terabyte hard drive into the recorder but you can also upgrade the recorder's HDD up to 10 terabytes in capacity for plenty of recording storage. 
H.265 Compression
This latest encoding technology allows for more video to be stored in less storage space.
Online Access
You can connect the recorder to your network for remote viewing on your PC, smartphone or tablet allowing you to watch anywhere in the world!
HDMI Output
Connect up the recorder to a TV or monitor using HDMI connectivity.
At 8 megapixels – 4K Ultra HD to you and I – this is our highest resolution camera ever! If you are looking for the best image quality available this is the one for you. Despite the huge video resolution, we've managed to keep the camera tiny meaning it can be snuggly fit inside a bird box, hedgehog box or other wildlife enclosure. What's more, it includes audio, a wide-angle lens and provides an easy plug-and-play setup. What's not to like?
Using the 4K professional recorder (DVR), you can watch and record the camera in 4K. You can even remotely connect to the recorder using your phone or PC from anywhere in the world. We've pre-installed a 1 Terabyte hard drive into the recorder to provide plenty of storage space!
We do recommend a bit of technical know-how if you are going to use this powerful technology. If you're not sure, please do get in touch!
1× 4K Bird Box Camera

1× 

UK mains power supply
1× 20-metre Video-Audio-Power cable

1× 

Professional 4 Channel DVR

1× 

Pre-installed 1TB Hard Drive for DVR

Screw for mounting in our bird boxes
Camera
Imaging chip: 1/2.3" OV12895+FH8556
Video Format: PAL/NTSC
Effective Resolution: 3480(H)×2160(V)
Illumination: 0.01 Lux @ f1.2 AGC ON, 0 Lux with IR
Shutter: Auto
D/N Mode: Ext(Default)/Auto/Color/B&W
Synchronization: Internal
Frame rate: PAL: 12.5fps; NTSC: 15fps
Video Output: AHD/TVI/CVI/CVBS
Audio: Yes
Lens Mode: Manual/DC Lens
Exposure: Auto/FLK
Back-light Mode: High/Mid/Low/Zone control
W/B: AUTO/AWC-SET
D/N: Ext(Default)/Auto/Color/B&W
DNR Type: 2DNR/3DNR
Video Setting: Color GAIN/ Edge brightness compensation/Dot defect compensation
Adjust: Sharpness/MONITOR/LSC/NTSC/PAL
Exit: SAVE&END/Reset/Not-save
Language: CHN1/CHN2/GER/FRA/ITA/SPA/POL/RUS/POR/NED/TUR/ JPN/ENG
Operating Temperature: −20°C to 60°C
Operating Humidity: <90% RH
Power: DC 12V 130mA
Recorder
Coaxial Inputs: 4x BNC
Video Compression: H.265+ H.265 H.264+ H.264
HD-TVI Input: 8MP 5MP 4MP 3MP 1080p30 1080p25 720p60 720p50 720p30 720p25
AHD Input: 5MP 4MP 3MP 1080p30 1080p25 720p30 720p25
HD-CVI Input: 4MP 1080p30 1080p25 720p30 720p25
CVBS Input: PAL NTSC
IP Video Input: 2× (over network)
IP Video Resolution: Up to 8MP
Audio Compression: G.711u
Audio Input: 4x RCA
CVBS Output: 1x BNC (704x576)
HD Output: 1x HDMI 1x VGA
HDMI Output: 3840×2160 @ 25fps 2560×1440 @ 25/50fps 1920×1080 @ 25/50fps 1280×1024 @ 25/50fps1024×768 @ 25/50fps
VGA Output: 1920×1080@60 1280×1024@60 1280×720@60 1024×768@60
Encoding Resolution: 8MP 5MP 4MP 3MP 1080p 720p WD1 4CIF VGA CIF
Main Stream Frame Rate: 8MP @ 12fps 5MP @ 20fps 3MP @ 18fps 4MP/1080p/720p/WD1/4CIF/VGA/CIF @ 25fps
Sub Stream Frame Rate: WD1/4CIF/CIF @ 25fps
Video Bitrate: 32Kbps to 16Mbps
Audio Output: 1× RCA
Audio Bitrate: 64Kbps
Dual Stream: Supported
Stream Type: Video, Video & Audio
Synchronous Playback: 4×
Remote Connections: 32
Network Protocols: TCP/IP PPPoE Hik-Connect DNS DDNS NTP SADP NFS iSCSI UPnP HTTPS ONVIF
Storage: 1× SATA (Up to 8TB)
Network Interface: 1× 10/100/1000M Self adaptive Ethernet
USB Interface: 1× USB 2.0 (front) 1× USB 3.0 (back)
Serial Interface: RS-485
Alarm In/Out: 4/1
Power Supply: 12V DC
Consumption: <15W (No HDD)
Operational Temperature: -10 to +55C
Operational Humidity: 10-90%
Dimensions: 315×242×45 mm
Weight: <1.5Kg (no HDD)