Refurbished Mini Battery Powered Pinhole Spy Camera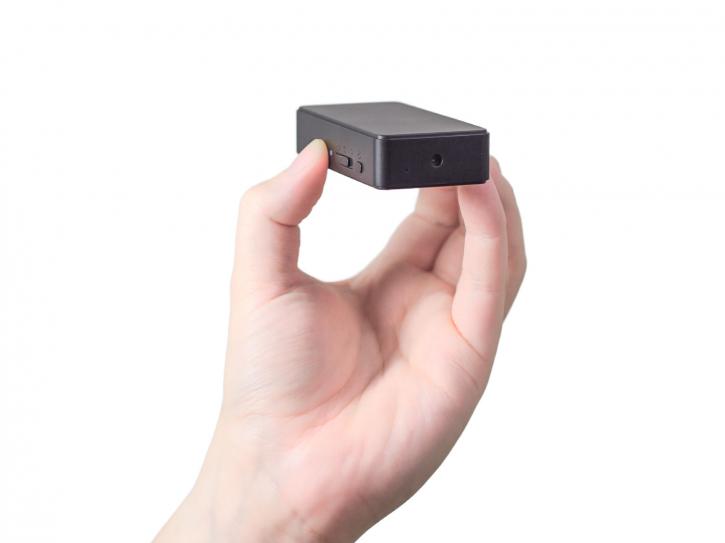 Refurbished Mini Battery Powered Pinhole Spy Camera




Black Friday special offer, take advantage while stocks last.
Refurbished productThis covert mini battery-powered spy camera video recorder records crisp 720p video to MicroSD card, providing a perfect covert camera solution. It features motion, voice triggering modes and a built-in battery allowing up to 10 hours of recording.
720 HD Video Recording
Records video in high definition, ensuring captured footage is crisp and full of usable detail
Vibration triggered recording
Uses in-built g-metres to initiate video recording when it detects a shock
Voice-triggered recording
Uses the microphone to start video recording when a sound is detected
Motion Detection
Triggers video recording when the device spots movement within the frame
Auto Startup
When used with the in-car adapter, the camera can easily be configured to start recording when the engine is started or stopped
Impressive battery life
The built-in battery can record continuously or on motion detection for 10 hours, or stay on standby for up to 4 months
Circular recording
Can easily be set to continuously write over older footage when the card is full. Recordings are split into 10, 15 or 20 minute long videos
Scheduled Recording
Recording times can be programmed into a 24 hour, 7-day schedule
Please note: if you're using a card of 64GB or more, you will need to format it to FAT32.
What's in the box?
1x SPYZ15 Battery-Powered Spy Camera
1x 5V DC Mains Power Supply
1x USB Cable
English step-by-step instructions
Thanks to its integrated rechargeable battery, this covert mini spy camera recorder is one of our most versatile devices for covert recording! The battery means it can be used extensively without a single trailing wire or cable that could otherwise attract attention. This flexibility, coupled with its incredibly small size and lightweight make it an ideal choice for a wide array of covert applications!

Central to this camera's usability, is its extensive list of recording triggering modes, allowing it to be tailored to a wide variety of situations. These include vibration triggering using a built-in g-meter. This will start recording as soon as it detects a shockwave nearby, making it ideal for dashboard recording in a car. Voice triggering is perfect for covertly recording meetings or discussions*. Finally, motion triggering allows the recorder to be used as a security camera, initiating recording as soon as it detects movement in the frame.

These recording options are especially powerful when combined with the device's impressive battery life. The internal battery is capable of recording continuously for up to 10 hours non stop, and when used with vibration triggering can remain on standby for an incredible 4 months! This gives you the freedom to leave it in remote locations with no power source, or for long periods of time in spots that prevent cables, like in a desk drawer.

The camera records crisp High Definition footage straight to a Micro SD card slot, allowing easy storage and transfer for your videos. The device works with cards up to 128GB in capacity, equivalent to 64 hours of footage with the higher quality settings, or an astounding 128 hours with a reduced frame rate! If the card does fill up, then the circular recording option can automatically begin to record over older footage, meaning you only have to use the device when you want to check for suspicious incidents!

Please note, some settings must be activated using Zetta software with the camera connected to the computer. Please consult the quick start guide for more information.

*Always consult with local police before covertly recording discussions, as regulations may vary.
Video Quality Settings: High Medium Low
Recording Resolution: 1280 x 720, 640 x 360
Frame Rate: High, Low
Recording light levels: Day Night Auto-switching
Orientation adjustment: Normal Upside down
Time Stamp: Enable Disable
Circular Recording: Enable Disable
Split File Time: 10 15 20 Minutes
Microphone: Enable Disable
LED: On Off
Voice Triggering Sensitivity: High Medium Low Disable
Vibration Triggering Sensitivity: High Medium Low Disable
Vibration Standby Mode: Fast Wake up Power saving
Motion Triggering Sensitivity: High Medium Low Disable
Auto Power On: Car Activate recording Car Stop recording Car activate and Car stop Schedule Recording Disable
Battery Life: 10 Hours
Size: 88 x 43 x 19mm
Memory Usage: 2GB/Hour (high frame rate) 0.5GB/Hour (Low frame rate)
Video Format: AVI
Viewing Angle: 62 degrees