Refurbished Mini Battery Powered WiFi Spy Camera Recorder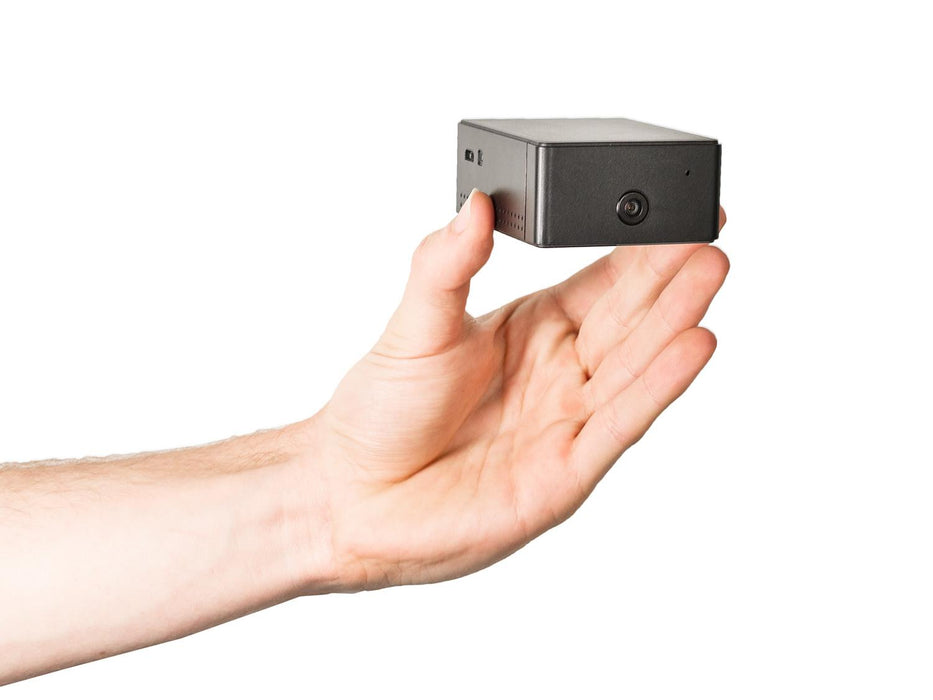 Refurbished Mini Battery Powered WiFi Spy Camera Recorder




Black Friday sale, only a few remaining
Our ever-popular 'SPYZ' battery-powered spy camera range is our most popular covert solution. This discreet, lightweight and miniature covert surveillance device combines WiFi connectivity, MicroSD card recording, HD video and clever triggering modes.
Refurbished product: This product is a customer return, ex-display or has been used for technical testing. All refurbished products have been fully tested and operate normally, however, they may have had some light use and some may have cosmetic damage, such as screw marks or damaged/missing packaging.
Battery Powered Spy Camera
This miniature spy camera is ideal for covert security surveillance
Dual WiFi Mode
Connect this device to your WiFi router for real-time viewing. Alternatively, you can connect directly to the device within a 150m range.
720p HD Video
Records video at a resolution of 1280 x 720
Wide-angle lens
Features a wide field-of-view to capture as much as possible even in small spaces
Motion detection
Recording can be triggered when the camera detects movement
Voice triggering
The device can be set to trigger recording when it hears nearby sound using the internal microphone
Mobile Access
Use the free app on iOS and Android to connect to the device for live viewing
App push notifications
The app displays push notifications on your phone when the camera detects motion or audio
USB Transfer
An included USB cable allows you to transfer video files to your computer as well as tweaking the settings
MicroSD card recording
An integrated MicroSD card slot supports cards up to 128GB for plenty of recording storage
Please note: if you're using a microSD card of 64GB or above, you will need to reformat it to FAT32. 
What's in the box?
1x WiFi Spy Camera recorder
1x 5V DC Power adaptor
1x USB 2.0 Cable
Quick set-up guide
Due to the spy camera's inconspicuous appearance, it can be hidden almost anywhere. This makes it extremely useful for home, office and shop security surveillance where you do not want suspecting eyes knowing where the camera can be found.

Teaming up the camera with your iOS or Android smartphone allows you to view what the camera is seeing wherever you are in the world. Thanks to the dual WiFi mode you can also connect to the camera directly using a P2P connection within a 150-metre range. Using the 'Attez' app you can live view and download video and images to your smartphone. This makes it very simple to access the hidden camera without having to move it or even be in the same room.

Video and images are captured through a wide-angle lens providing a generous field-of-view. Acting as a standalone DVR, video is recorded in 720p HD with plenty of storage space to storage provided by a MicroSD card slot that supports cards up to 128GB in capacity. Once the card is full you can set the device to automatically overwrite old footage so that you do not worry about constantly changing the card. As with all our SPYZ devices, the camera features motion and voice triggering modes, which can be enabled so that only the most important footage is recorded. The WiFi spy camera is fully configurable using the Windows and Mac software. Just plug the device into your computer using the provided USB cable to get it customised to your specification.
Storage temperature: 0–45°C
Operating temperature: 0–45°C
Dimensions (WDH): 75 x 58 x 30 mm
Battery: 3500mAh 3.7V Li-ion battery
5V Adapter: 1000mA DC adapter with Micro USB out
Current consumption: 350mA
Recording time: Up to 8 hours (fully charged battery)
App OS supported: Android 4.2.2+ & iOS 8.3+
Sensor resolution: 1280 x 960
Sensor sensitivity: 1.3V/lux-sec
Sensor angle: 160 degrees
Microphone: speech grade
Storage: MicroSD card (up to 128GB not included)
Memory Usage: 1GB/hour for video 250KB/file for images
Video recording resolution: 720p HD (1280 x 720)
Video format: MP4