Refurbished Wide-Angle Mini Spy Camera Recorder 720p HD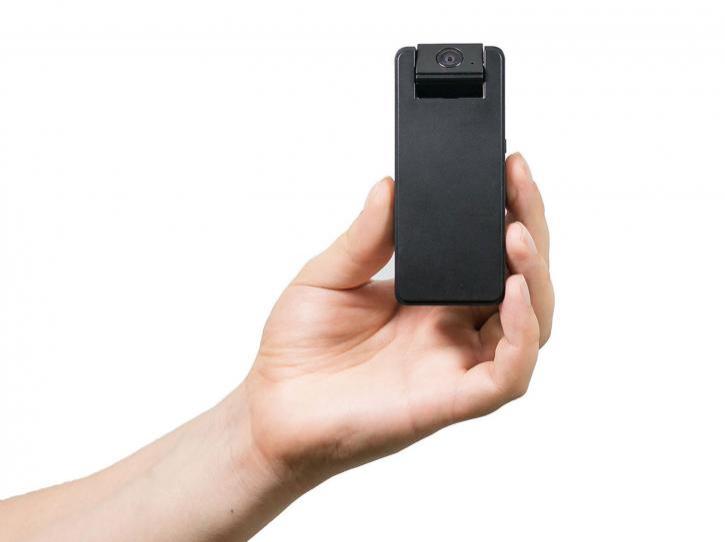 Refurbished Wide-Angle Mini Spy Camera Recorder 720p HD




Special Black Friday deal, limited stock available.
This battery-powered mini spy camera recorder with a wide-angle lens is perfect for indoor surveillance. Featuring motion detection and voice activation with the built-in battery allows for up to 10 hours of recording.
Refurbished product: This product may be an ex-display item, used for technical testing or an unwanted customer return. All refurbished products have been fully tested and operate normally, however, they may have had some light use and some may have cosmetic damage, such as screw marks or damaged/missing packaging.
Battery-powered recorder
The camera's internal rechargeable battery means this a cable-free option for covert security
Adjustable wide-angle lens
The device can record everything within a 160° field of view, with a lens on a rotating mount
720 HD video
The camera records detailed video in 1280x720 HD resolution, helping ensure your recordings are usable
Vibration triggering
Allows the recorder to start when it detects vibration through a surface
Sound activation
Triggers recording when a sound is picked up through the camera's built-in microphone
Motion detection
Essential for covert recording, it starts capturing the video as soon as there is any movement in front of the lens. All recording modes are fully adjustable using software that's free to download
Audio recording
The internal microphone allows recording of a sound from nearby subjects
Circular recording
Allows the camera to continue writing over old footage when the memory card fills up
MicroSD recording
Captures footage to the internal MicroSD card slot (card not included)
Please note: if you're using a microSD card of 64GB or more, you will need to format it to FAT32.
What's in the box?
1x Wide-angle 720 HD spy camera
1x 5V Mains adapter
1x USB mains cable
Quickstart guide
Our venerable 'SPYZ' battery-powered spy camera range is one of our most popular solutions, with a combination of long battery life and customisable recording modes that makes it incredibly versatile. This camera takes the tried and tested design, and adds a wide-angle lens, set on a rotating mount. This adds another level of flexibility to the camera, making a device ideal for home security, vehicle security, covert workplace recording and much more.

The camera features a wide-angle lens, capturing a massive 160° field of view, effectively recording everything that goes on in front of the camera. This is then fitted to a rotating lens mount that can be twisted around 180° on the edge of the device. This gives you much more freedom when setting up the camera, for example letting you lie it down flat on top of a suspended ceiling, with the lens pointing downwards to record through a gap.

Just like its predecessor, the camera boasts a host of adjustable recording modes. As well as standard scheduled and continuous recording, the camera can be set to trigger video capture when it detects motion, sound, or even vibrations. When combining the vibration capture and scheduled modes, allows the camera to remain on standby for weeks at a time without charging the internal battery. All of these recording modes are controlled using the camera's intuitive software widget, available as a free download from this link.
Sensor resolution: 1280x960
Sensitivity: 1.3V/lux-sec
Field of view: 160°
Audio: Speech grade built-in microphone
Storage: MicroSD up to 128GB (not included)
Memory usage: 4GB/hr (high frame rate) 1GB/hr (low frame rate)
Video recording resolution: 1280x720 640x360
Video compression: JPEG
Audio recording: 12 kSps 8-bit
Audio compression: PCM
File format: AVI
Supported OS: Windows, macOS
Operating temperature: 0°c to +45°c
Size: 102x43x19mm
Battery: 1200mAh 3.7V Li-ion internal
Current consumption: 100mA
Maximum recording time: 10 hours
Maximum standby time: 90 days (in vibration trigger power save mode)