Refurbished Wireless Battery Powered CCTV Camera 1080p HD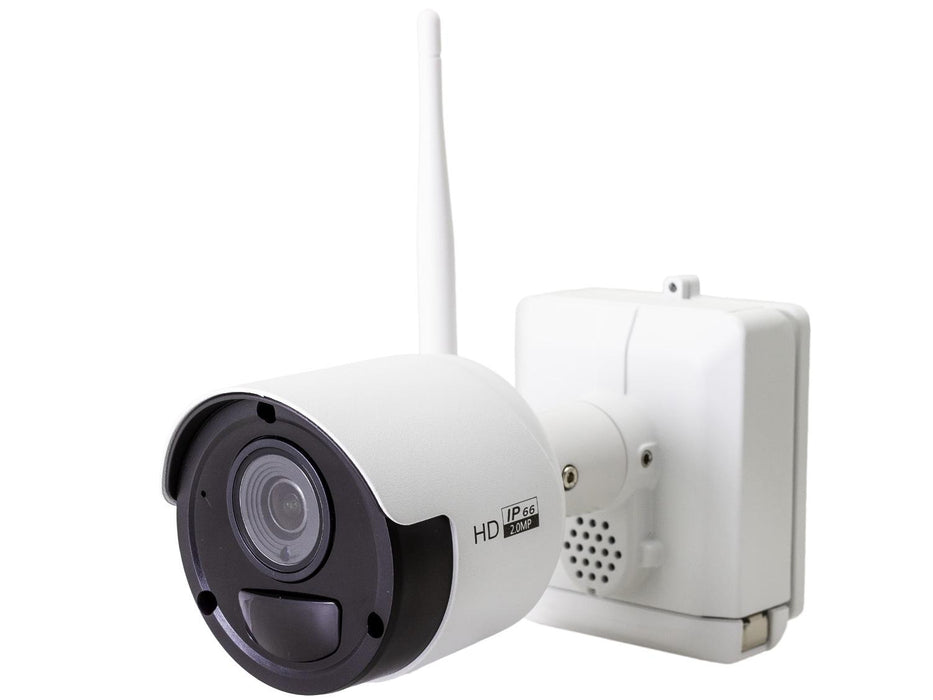 Refurbished Wireless Battery Powered CCTV Camera 1080p HD





Refurbished product: This item is a customer return or ex-display model. It is fully tested and working but the packaging and contents may have light cosmetic damage.
Battery Powered CCTV
Camera runs from rechargeable lithium battery, allowing installation on an outside wall without having to run cabling
1080p HD Video
Captures video in 1920x1080p Full HD, with plenty of usable picture detail
PIR Sensor
Built-in passive infrared sensor picks up body heat from subjects, triggering recording when it detects movement
Long Standby Time
Low power PIR detection allows the camera to remain on standby for up to 6 months on a single charge
Night Vision
Infra-Red LEDs provide 8m of night vision illumination, providing 24/7 security
Two Way Audio
Integrated speaker lets you talk back to nearby subjects through your phone
IP66 Rated
Heavy-duty housing protects the camera from the elements, allowing outdoor installation
Quick Battery Access
Battery slot is built into the camera base, allowing easy removal without having to take the camera down from the wall
What's in the box?
1x Battery powered wireless camera
1x Wall plate
Cut the cord to your CCTV! This additional camera for our Gamut battery powered CCTV system is completely wire-free, allowing you to install it outside your home without needing to run a cable through an exterior wall. This makes it perfect for DIY installers, or for use in a rented property.
Each camera is fitted with a PIR sensor, so it can detect a moving subject's body heat in order to trigger recording. Passive Infrared means the camera uses very little power when it's "asleep". This helps save battery power in between use, allowing up to 6 months' monitoring on a single charge. Do note: the camera will only record when triggered, and it can perform up to 12 hours recorded footage in total. So on one battery charge it can record in total for about 12 hours split over however many motion events that takes. For example, if the camera is recording 10 seconds of movement each time it is triggered, you could get, approximately, up to 7000 recordings from one battery.
Footage is recorded in crisp 1920x1080 Full HD, ensuring plenty of picture detail, with IR LEDs also providing 8m of night vision illumination for use after dark. The camera connects to the recorder using low interference wireless transmission, helping ensure a clean signal.
Imaging Sensor: 1/2.7 CMOS
Effective Resolution: 1920x1080
Synch: Internal
Sensitivity: 0.05 lux @f/1.2 (IR off) 0 lux (IR on)
S/N Ratio: 40dB
White Balance: Auto
AES Speed: Auto
AGC: Auto
Noise Reduction: 3D
Audio: Two way audio
Lens: 2.8mm f/1.8
Viewing Angle: 120 degrees (horizontal)
Protection Level: IP66
IR Range: 8m
PIR Angle: 115 degrees
PIR Detection Range: 10m
Battery Capacity: 2900mAh
Battery Life Cycle: Up to 350(t)
Power Input: 4.2V
Power Consumption: 1.8W
Current Consumption: 420mA (active) 400µA
Operational Temperature: -30 to +55c
Operational Humidity: <95%
Dimensions: 136x73x89mm