Refurbished Wireless Battery-Powered CCTV System 1080p HD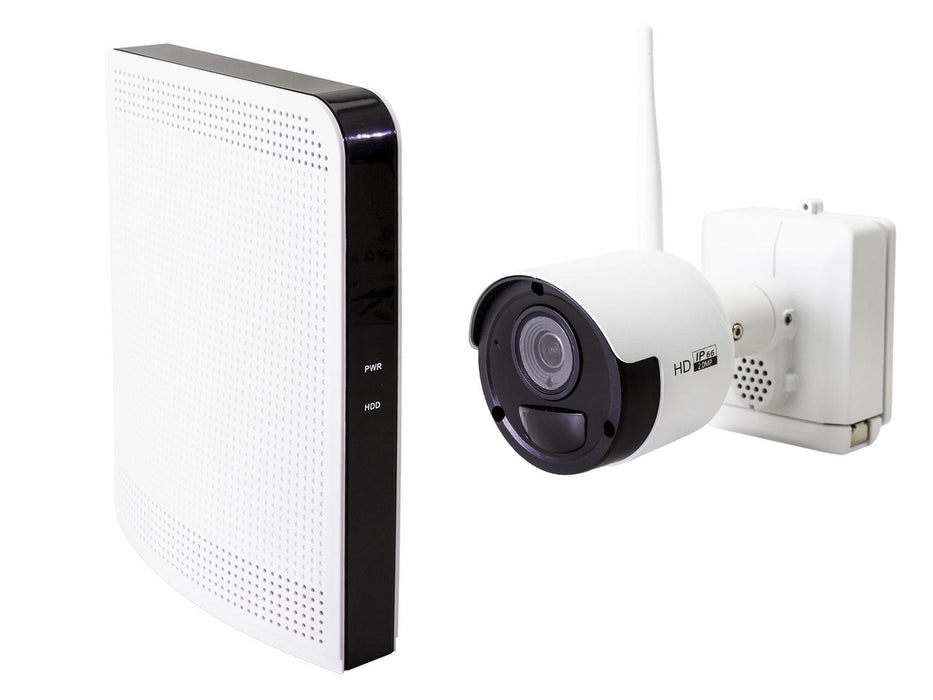 Refurbished Wireless Battery-Powered CCTV System 1080p HD










Refurbished product: This item is a customer return or ex-display model. It is fully tested and working but the packaging and contents may have light cosmetic damage.
Camera Features
Battery-Powered CCTV
Unlike most wireless cameras that still need a power supply, this camera boasts a Lithium rechargeable battery, for truly wire-free CCTV!
1080p HD Video
Records 1920x1080p Full HD footage, with plenty of usable detail
PIR Sensor
A built-in detector picks up movement from a subject's body heat, using it to trigger recording. This not only saves battery power but is far more accurate than standard motion detection
Night Vision
Infrared LEDs illuminate subjects up to 8m away, allowing 24/7 monitoring
Wide Angle Lens
2.8mm lens captures everything in a 120-degree field of view in front of the camera
Two-Way Audio
As well as a microphone, the camera features a small speaker, letting you talk back to subjects through your phone
IP66 Rated
Durable metal housing ensures the camera is completely weatherproof
Quick Battery Access
The battery slot is built into the camera base, allowing easy removal for charging without taking the camera down
Long Standby Time
Low power PIR mode allows the camera to remain on standby for up to 3 years in between triggers
Recorder Features
Wireless Recorder
Connects to cameras from up to 50m away in clear line of sight. Please note: the range can be significantly impacted by obstructions such as walls, and the effective operating range can vary from 25 to 50 metres.
6 Channels
The recorder works with up to 6 cameras, allowing you to easily expand your system with additional coverage
1TB HDD
The recorder is preinstalled with a 1TB hard drive, able to hold several weeks' worth of footage
HDMI Output
Easily view recordings and live pictures on a TV or monitor using HDMI
Discreet Design
Upright slimline recorder blends into your living room like a router
Remote Access
Connects to your network, allowing you to view and control your cameras from anywhere, using a PC or mobile device
Not sure where to start with network features? Don't worry - our remote setup service can get the kit configured for remote access for you. Just check the dropdown menu at the top of the page for more details!
What's in the box?
1x Battery-powered wireless CCTV camera
1x Wallplate
1x USB charging cable
1x USB plug attachment
1x Wireless recorder
1x Mains power supply for recorder
1x USB mouse
Quick start guide & software CD
Wireless cameras are one of the easiest ways to protect your home, with a much quicker set up than traditional CCTV. One common cause of confusion, however, is that wireless CCTV still needs to be connected to a power supply, so that it can transmit. So what if you're not able to run cables at all around your property? This new Gamut battery-powered CCTV system is the ideal solution, with a camera powered by a Lithium-Ion battery, for a completely wire-free installation.
The camera is fitted with a PIR sensor, so it can detect a moving subject's body heat in order to trigger recording. Passive Infrared means the camera uses very little power when it's "asleep". This helps save battery power in between use, allowing up to 6 months' monitoring on a single charge. Do note: the camera will only record when triggered, and it can perform up to 12 hours of recorded footage in total. So on one battery charge, it can record in total for about 12 hours split over however many motion events that takes. For example, if the camera is recording 10 seconds of movement each time it is triggered, you could get, approximately, up to 7000 recordings from one battery.
The footage is recorded in clear 1080p HD, with infrared LEDs providing 8m night vision. The camera even has a built-in speaker, so you can talk back to subjects near the camera from your phone. When the battery needs charging, you can easily un-dock it from the camera base without taking it down from the wall.
The kit also includes a wireless recorder with a preinstalled 1TB hard drive to store footage. The recorder can connect to up to 6 cameras at the same time, providing an easy way to expand your system at a later date. The recorder connects to your internet router, letting you securely watch & control your cameras from anywhere, using a PC or smartphone.
Please note: As with all wireless transmissions, the range of the camera will vary depending on the layout and materials used in the building. Obstructions such as walls and windows between the camera and receiver will affect the wireless signal. The range can be significantly impacted by obstructions such as walls, and the effective operating range varies from 25 to 50 metres. 
Camera
Imaging Sensor: 1/2.7" CMOS
Effective Resolution: 1920x1080
Synch: Internal
Sensitivity: 0.05 lux @f/1.2 (IR off) 0 lux (IR on)
S/N Ratio: 40dB
White Balance: Auto
AES Speed: Auto
AGC: Auto
Noise Reduction: 3D
Audio: Two-way audio
Lens: 2.8mm f/1.8
Viewing Angle: 120 degrees (horizontal)
Protection Level: IP66
IR Range: 8 metres
PIR Angle: 115 degrees
PIR Detection Range: 10 metres
Battery Capacity: 8700mAh
Battery Life Cycle: Up to 350(t)
Power Input: 4.2V
Power Consumption: 1.8W
Current Consumption: 420mA (active), 400µA (standby)
Operational Temperature: -30 to +55c
Operational Humidity: <95%
Dimensions: 136x73x89mm
Recorder

Channels: 6
Output: HDMI
USB: 3x USB2.0
Video Output Resolution: 1920x1080 1440x900 1280x1024 1280x720 1024x768
Live View Channels: 1/4/6
Live View Frame Rate: Up to 60fps @ 1080p
Recording Trigger: Manual
Playback Channels: 1/4/6
Playback Speed: Variable max 2x
Search: Time/date, MD
Storage: 1TB (SATA)
Backup: USB flash HDD network
Backup File Format: MP4 AVI H.264
Remote Access: iOS, Android
Protocol: HTTP IPv4 TCP/IP UPNP RTSP UDP SMTP NTP DHCP DNS PPPOE DDNS FTP
Network Interface: 10/100M RJ45
Network Bitrate: Max 32Mbps
Power Consumption: 3W (No HDD)
Power Input: 12V 2A
Operational Temperature: -10 to +55c
Operational Humidity: 10-90%