Green Feathers Hedgehog Box Camera Deluxe Bundle TV Cable Connection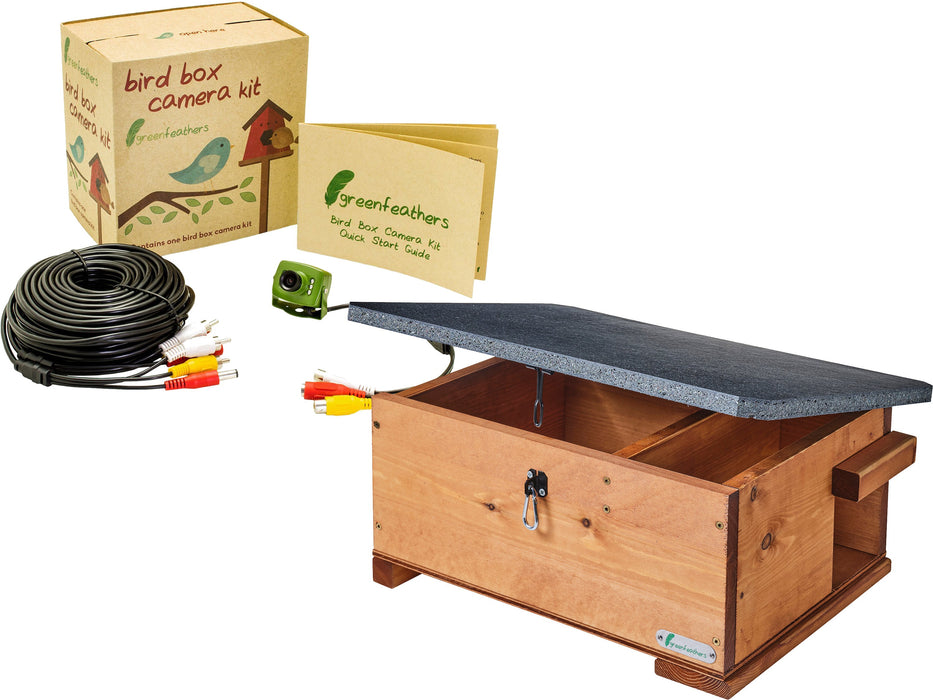 Green Feathers Hedgehog Box Camera Deluxe Bundle TV Cable Connection
In this excellent-value Hedgehog Box Camera bundle, we have paired together our tiny cable nest box camera with our handmade wooden hedgehog boxes to create an easy to use hedgehog viewing solution! Simply run the cable back to your house and connect into your television to watch live images from your garden hedgehog box.
Hedgehog Watching Camera Kit
Install the camera in your hedgehog feeding station or house to watch visiting hedgehogs up close and personal without disturbing them!
Quality Hedgehog Box
Includes a hand-crafted birdhouse from our UK workshop, made from sturdy thick timber.
Waterproof Recycled Eco Roof
The eco-roof is both UV and fully waterproof. It gently slopes to ensure water drains off quickly and underside grooves stop water coming in to keep the hedgehogs nice and dry. The roof is made out of a recycled plastic blend that doesn't rot and ensures longevity.
Tiny camera
Measuring just 30x25x20 mm it fits perfectly inside a hedgehog box without taking up too much room.
Easy-mount Corner Bracket
We've included our corner bracket so that you can easily install the camera yourself without needing to be a DIY expert! This allows you to get the best camera angle from inside the box.
Watch on your TV
To view live footage, simply connect the cable to your TV using the included cable. This gives you a simple way to watch wildlife in the comfort of your living room.
Wide-Angle Lens
Designed for use in enclosed spaces, the camera features a wide-angle lens. This gives a huge field of view and helps ensure you see more of the inside of the box in the frame.
Night Vision
Invisible infrared LEDs provide night vision for round-the-clock viewing, without disturbing the hedgehogs.
Easy Connectivity
Connects directly to TVs and recorders.
All-In-One Cable 
The cable carries video and power, which means you only need to install one cable between the camera and your house.
We've put together this great-value Hedgehog camera bundle to make it easier than ever to watch hedgehogs in your garden. We've paired together our best-value cable nest box camera with our handmade wooden hedgehog boxes to create an all-in-one solution for watching hedgehogs from your own garden on your TV.
This tiny camera is perfect for mounting inside the hedgehog box. It measures just 30mm across so it will barely take up any room in your box at all! Also included is our easy-mount corner bracket so that you can easily attach the camera inside the box and get the best angle possible. Simply run the cable back to your house to plug directly into your TV to start receiving images.
With invisible 'No-Glow' infrared night vision, a 2.8mm wide-angle lens and adjustable focus this camera is well-suited to cramped hedgehog boxes. 
Hedgehog House or Feeding Station (choose above)
Cable Nest Box Camera
UK mains power supply (3m cable included)
20-metre cable 
Easy mount corner bracket
Setup instructions
Camera
Video Standard: PAL/NTSC
Image Sensor: OV7949/OV7950
Vertical Resolution: 700 TV Lines
Pixel Resolution: 512(H) x 582(V)
Minimum Colour Illumination: 1 Lux
Minimum B/W Illumination: 0 Lux (IR On)
Lens: 2.8mm
Viewing Angle: 110 degrees
White Balance: Auto
S/N Ratio: >48dB(AGC Off)
Backlight Compensation: Auto
Electronic Shutter: 1/50(1/60)-1/100,000 seconds
Operation Temperature:-20 to 50 degrees C
Power Supply: 8V DC <500mA