Refurbished 1080p Wireless CCTV Camera for Touch Screen LCD Kit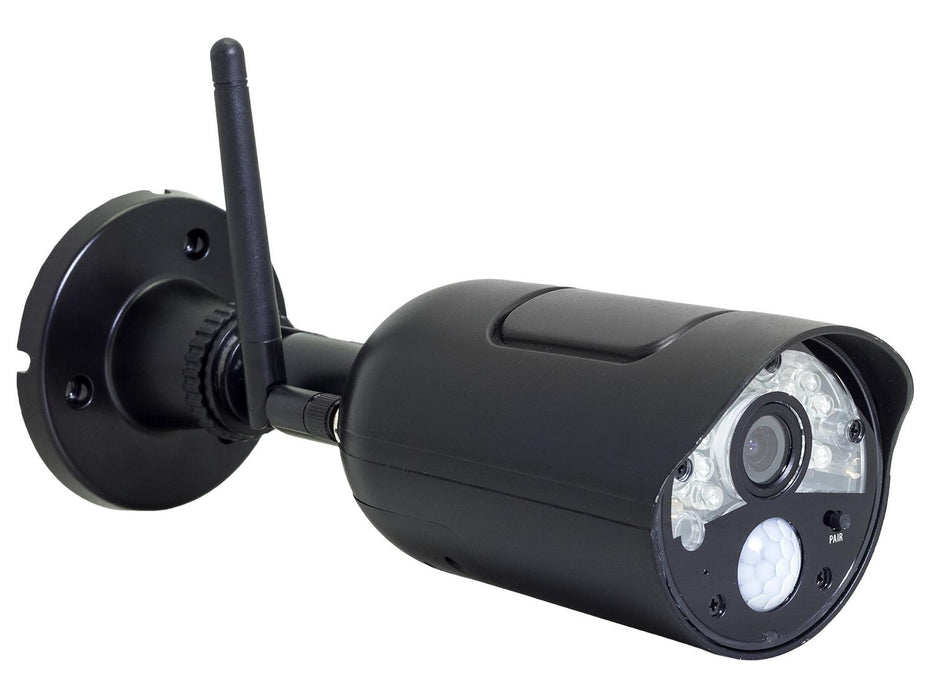 Refurbished 1080p Wireless CCTV Camera for Touch Screen LCD Kit
Product Code:
DIGIRC1005R







B-grade item: 30% off – this item is an ex-display model or a customer return. It may have some light cosmetic damage but it is in a fully tested and working condition.
Additional Camera for Touch Screen CCTV Kit
This is an extra camera for our popular 1080p wireless system. Please note this camera is only compatible with this system
Expand Your Coverage
The system's touch screen monitor is compatible with up to 4 of these cameras, letting you easily expand your home security system's view
1080p HD Video
Camera records in 1920x1080 Full HD, providing unmatched levels of detail for a wifi camera
PIR Sensor
A passive infrared sensor can detect a subject's body heat, and use it to trigger recording. This provides much more accurate triggering than standard motion detection, with less accidental recording
10m Night Vision
Infrared LEDs provide clear illumination even in completely unlit conditions
Digital Wireless Transmission
Allows a clean, secure signal with much less risk of interference & picture breakdown, as well as transmission up to 100m in clear line of sight
IP65 Housing
Camera is rated weatherproof, allowing installation both indoors or outdoors
Built-In Speaker
Allows two-way audio, to both listen to nearby subjects, and talk to them through your mobile device
3m Power Cable
Includes an extended power cable, providing flexibility when connecting it to mains
What's in the box?
1x Digital wireless CCTV camera
1x Mains power supply
This Digital Wireless CCTV camera is a perfect addition to our 1080p digital wireless kit, letting you easily expand your home security system's coverage. The recorder can work with up to 4 cameras, recording every one of them in 1080p Full HD quality.
New compression technology allows the camera to send 1920x1080 (2 megapixels) images over wireless - something previously impossible. The camera is also fitted with a passive infrared (PIR) sensor, able to detect a subject's body heat and use it to trigger recording. This is much more accurate than traditional motion detection, reducing the number of accidental recordings you have to review. The camera records in full colour during daylight, and after dark switches to night vision with 10m range.
The signal is sent to the receiver using advanced digital wireless transmission. This helps greatly reduce interference from other wireless devices and allows a much greater range than traditional wireless devices - up to 100m in clear line of sight. If you need more range, we also have an external antenna available that can be connected to the camera.
Frequency Range: 2.4-2.483GHz
Data rate: 6MBps
Transmitting Power: 16dBm (TYP)
Modulation Type: GFSK with FHSS
Transmission Range: 100m
Imaging Sensor: 1/2.7 CMOS
Resolution: 1920x1080
Image Processing: H.264
Lens: 3.6mm
Field of View: 92°
Minimum Illumination: 5 Lux (IR Off) 0 Lux (IR On)
IR LEDs: 16
IR Range: 10m
Power: 9V DC 600mA
Power Consumption: 540mA (max IR on)
Operational Temperature: -10°c to +40°c
Operational Humidity: 0-85%
Housing Material: ABS
Weather Proofing: IP65
DC power connecter: 3.5x1.3mm plug