Refurbished Gamut 1080p HD PTZ Bullet IP Camera 100m IR 10x Zoom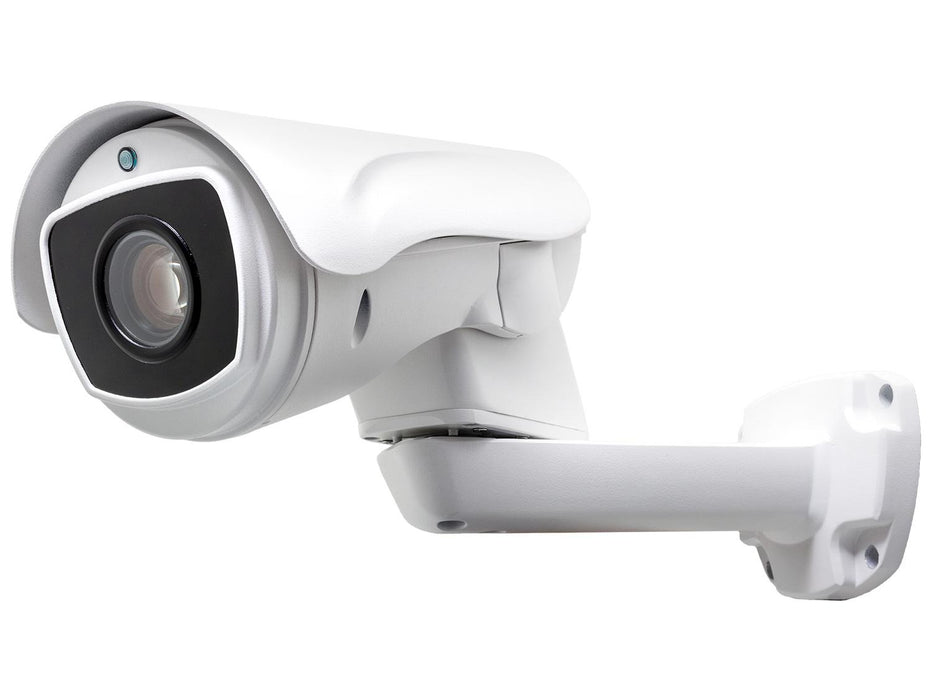 Refurbished Gamut 1080p HD PTZ Bullet IP Camera 100m IR 10x Zoom
Product Code:
GTIP210PTZR




Refurbished product: this product has either had their packaging opened, been used for testing & demonstration by our sales team or have been returned by a customer. They have only seen light use, but will have been removed from their boxes, and may show cosmetic signs of usage.
Bullet PTZ Camera
This heavy-duty camera is mounted to a motorised base, letting you remotely control its movements. Ideal for monitoring subjects moving across large properties such as car parks
1080p HD Video
Uses professional-grade Sony imaging chip to capture footage at 1920x1080 Full HD resolution
10x Optical Zoom
Lens can zoom from a wide-angle to a close crop. When combined with the HD picture, this lets you capture exceptional subject detail
100m Night Vision
Powerful infrared illuminators zoom with the lens, allowing it to see up to 100m in total darkness
Weatherproof Housing
Metal casing is IP66 rated, allowing it to be installed in exposed outdoor areas
Audio Input
Add one of our CCTV microphones to the camera to allow sound recording
Remote Access
Connects to your building's network, letting you view and control the camera from a PC or mobile app
Programmable Positions
Program up to 220 camera positions to quickly move to important points or up to 3 tours between positions
What's in the box?
1x HD PTZ bullet camera
1x Mains power supply
Pan-tilt-zoom (or "PTZ") CCTV cameras are mounted on motorised bases, letting you remotely control where they are looking. They're a fantastic option for monitoring larger outdoor spaces that would otherwise need multiple cameras, or for tracking moving subjects such as cars in a car park. This PTZ camera is housed in a bullet style casing, lending it an imposing presence when mounted to the outside of a building, ideal for deterring intruders or vandals - when this thing turns to look at them, you can be sure that they know they're on camera!
The camera is built around a professional-grade Sony imaging chip, letting it capture footage in 1080p Full HD. When combined with the 10x zoom lens, this allows you to view exceptional detail from even distant subjects. The camera is also fitted with powerful infrared LEDs that focus with the lens, allowing up to a huge 100m range at the top end of the zoom.
The IP camera connects to your building's network router using a standard ethernet cable. Once configured, you can view and control the camera remotely using a free PC or mobile app, or by connecting it to a network video recorder. You can even use it with one of our PTZ joysticks, providing fingertip control over the camera's movements. The camera's movements can also be automated, with 220 programmable positions, as well as up to 3 tours.
Imaging Chip: 1/3 Sony CMOS
Imaging Resolution: 1920x1080p
Lens: 5.1-51mm
Optical Zoom: 10x
Day/Night: IR Cut
BLC: Auto
White Balance: Auto
S/N Ratio: >50dB
Protocol: TCP/IP HTTP NTP IGMP DHCP UDP SMTP RTP RTSP ARP DDNS DNS PPPoE P2P
Software Control: IE CMS Management Platform
Video Compression: H.264 M-JPEG
Audio Compression: G711 PCM
Mobile View: Android iOS
Pan Range: 0–220°
Tilt Range: -45° – +40°
Preset Points: 220
Guard Tours: 3 (each with up to 16 presets)
Operational Temperature: -40°c to +60°c
Auto Control LED: PWN
IR Distance: Up to 100m
Power Consumption: <15W
Lightning Protection: 6000V
Weight: 1.25kg