Green Feathers Bird Box Camera HD Deluxe Bundle Network Cable Connection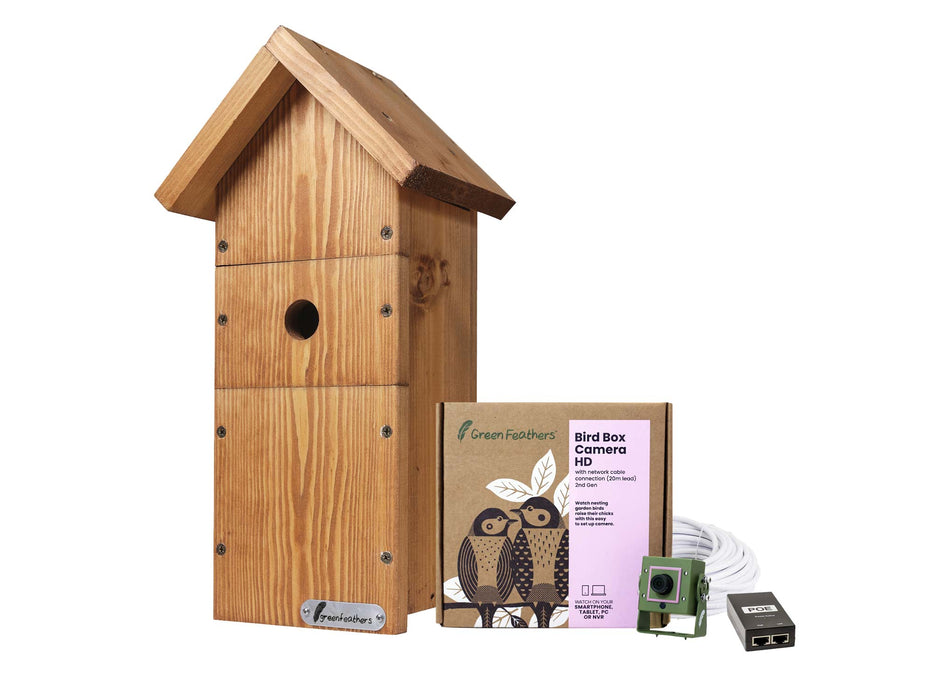 Green Feathers Bird Box Camera HD Deluxe Bundle Network Cable Connection
Our complete IP bird box camera kit bundle provides you with everything you need to get set up with an advanced HD camera monitoring solution for capturing nesting birds in your garden that you can watch live on your PC, smartphone or tablet. In this kit we've provided our 1080p HD camera kit, a 20-metre cable and our large handmade wooden bird box.

Buy from our bird box camera range.
Complete Bird Box Camera Kit
Includes everything you need to set up a bird box in your garden and watch the chicks hatch and grow right from your tablet or mobile device.
Watch on Your Smartphone & Tablet 
Watch live wherever you are using the free mobile app available on iOS and Android.
HD Video
Lets you see inside a nest box in clear 1080p HD. This makes it ideal for enthusiasts and professional nature watchers.
IP Network Camera
Captures digital video then sends it down a network cable.
Deluxe Bird Box
Includes a hand-crafted birdhouse from our UK workshop, made from sturdy 21mm thick timber.
Designed for Cameras
The box features a central mounting point, a removable front for easy access and vents to run cable.
Wired Reliability – No Wireless
Because the camera runs on professional network-grade cables, it provides a robustly reliable signal at all times. No need to worry about getting enough WiFi signal or being out of range!
Night Vision
Night vision is provided by invisible infra-red LEDs enabling 24/7 viewing.
Wide-angle Lens
Designed to capture as much of the inside of the bird box as possible.
Audio
Hear every cheep and ruffle thanks to the in-built microphone picking up every little sound from the nest.
True-to-life Colours
An IR-cut filter on the imaging chip helps prevent the strong colour cast seen in daylight with cheaper cameras and allows the camera to record vibrant, accurate colours.
Image Controls
Wide dynamic range and noise reduction modes allow you to adjust to get the best picture for your setup.
Watch on Your Computer Too!
Includes a free download of our PC software for Windows PC, letting you record clips directly to your computer or watch back footage.
Stream online
You can stream the camera online, with a bit of setup, to services such as YouTube to share the action with everyone!
In this complete deluxe IP bird box camera kit bundle we've paired together our 1080p HD IP bird box camera kit with our large wooden bird box handmade in the UK. This means you have everything you need to watch live images from nesting birds on your smartphone, tablet and PC.

The camera itself captures in 1080p HD, providing the clearest possible image of the birds at home in the nest. Clear night vision allows recording after dark and if there are good lighting conditions then the camera can record in vivid colour. A wide-angle lens also helps get everything in the frame, even in the most compact nest boxes.
In this kit, we've included a 20-metre network cable with waterproof connector, which runs straight from the camera to your router or network switch. Once configured via an app, you can then view the camera live on your mobile device. If viewing using a Windows PC, then the software lets you record footage, even using motion detection and scheduling.
HD IP Bird Box Camera
Large handmade wooden bird box
20m Network cable to camera
3m Network cable to router
PoE injector
UK Mains power supply
Quick start guide
Can I watch on my smartphone or tablet?
Yes! The free app allows you to stream the camera live.
Which devices does the app work with?
The app works on iPhones, iPads and Android phones and tablets. The app supports iOS 8.1 or later and Android 5 or later.
Can I watch on my computer?
Yes, you can download the software that supports Windows to watch the camera live, adjust settings and record footage onto your hard drive.
Will it work on a Mac?
While we don't supply software that works on macOS, if you can configure the camera using another device then there are workarounds to view the camera on a Mac.
Will it work on my TV?
This camera is not specifically designed to work on TVs unlike some of our other cameras that wire into the back of the TV. In some cases, the app can work with smart TVs, although this is not something we guarantee. The app works on Apple TV and may also work on smart TVs that are compatible with Android apps.
My camera is warming up, is this bad?
It is perfectly normal for the camera to feel warm to the touch while in operation. Don't worry this won't harm any nesting birds!
I'm not getting sound. How do I resolve this?
The microphone allows the camera to capture high-quality audio for such a small size. If you are not hearing any sound when you are watching your camera there are a couple of simple solutions.
First, ensure that any cables are not touching the microphone so that you get the best sound quality.
Second, audio streaming is turned off by default, so you'll need to turn this on. To do this go to Encoding Settings in the configuration menu and toggle on Audio.
I'm struggling to set up the camera on my network. What do I do?
Follow our help guides to get you up-and-running.
Camera
Imaging Chip: 1/3" Low light CMOS
Sensor Resolution: 1080p
Sensitivity: 0.5Lux (IR off), 0Lux (IR On)
Main Stream Resolution: 1920x1080 @ 15fps, 720p @ 25fps
Sub Stream Resolution: 4CIF @15fps, CIF @25fps
Video Compression: H.264 
DWDR: On/Off
3D DNR: Yes
Lens: 2.8mm
Field of View: 92°
Lens Mount: Board
Day & Night: Auto ICR switch
Configuration: Via web browser or CMS software
Recording: Continuous, Motion, Scheduled (via CMS)
Protocol: HTTP, TCP/IP, ARP, RTSP, RTP, UDP, SMTP, FTP, DHCP, DNS, DDNS, PPPOE, UPNP, NTP, 802.1x
Ethernet: 10/100 Base-T, Auto-sensing, Half/full duplex, RJ45
PoE: IEEE 802.3af compliant
Power Input: 12V DC or PoE
Power Consumption: 3.5W IR off, 7.5W IR on
Dimensions: 43x43x21mm (excluding cables & bracket)
Operating Temperature: -20°c to +55°c
Operating Humidity: 10-80%
Bird Box
Wood Thickness: 21mm
Entrance Hole: 32mm
Dimensions: 470x250x190mm