Green Feathers Bird Box Camera Deluxe Bundle TV Cable Connection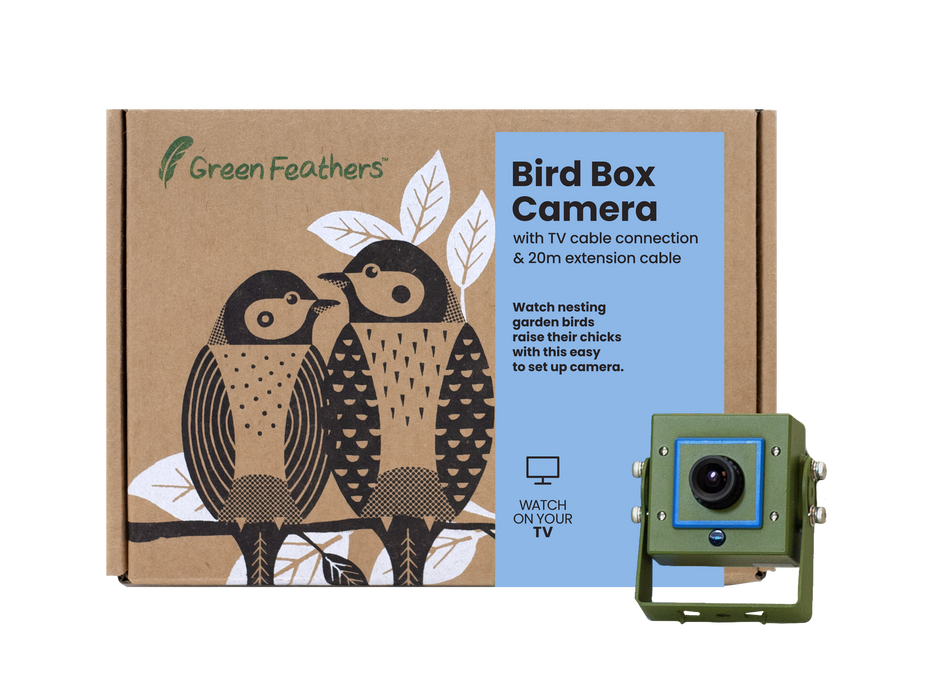 Green Feathers Bird Box Camera Deluxe Bundle TV Cable Connection
Product Code:
CMOSNC720MBB
Our complete bird box camera kit includes everything you need to get started for a bird nesting box camera solution in your garden. This bundle includes our handmade wooden bird box and tiny wired bird box camera for watching on your TV.

Complete Bird Box Camera Kit
Includes everything you need to set up a camera bird box, providing an easy way to watch birds nest and grow in your garden
Watch on your TV
To view live footage, simply connect to your TV using the included cable. This gives you a simple way to watch wildlife in the comfort of your living room.
Handmade Wooden Bird Box
Handmade by our UK-based artisan workshop, the birdhouse is built from sturdy 21mm thick panels using wood from sustainable sources.
Nest Box Designed for Cameras
Features a simple central mounting point, and air vents to let you easily run the cables into the box
Green Feathers Camera
This kit uses our popular wired camera, providing simple installation and a reliable connection
Night Vision
Uses invisible infrared LEDs to see inside the unlit box, without any visible glow that could distract the chicks
Wide Angle Lens
The wide-angle lens is ideal for use in small spaces such as bird boxes to get a better view of what is happening!

20m Cable
The included cable carries both power to the box and video back to your TV
HDMI Adapter
We've also included an adapter to let you easily connect the AV cable to HD TVs and monitors (HDMI cable not included). This is also powered directly from your TV using USB for ease of use 
For almost a decade now, our range of bird box and observation cameras have been helping families and schools get closer to the wildlife all around them. This complete kit provides everything you need to get watching wildlife, including the box and camera, as well as the cables and power supplies. It's perfect as a gift for bird lovers, or an educational project for a class.
The box is made from sturdy 21mm thick timber, making it much more sturdy than most of the other options on the market, perfect for a long-term installation. It's been specially designed for use with our cameras, featuring a central mounting point, and air slots through which you can run the cable. What's more, it's built from FSC Mix timber, ensuring the wood is from sustainable sources.
The tiny camera sits right in the top of the box, using invisible infrared to capture images at all hours without disturbing the birds. We have also fitted the camera with a wide-angle lens, so it can see everything that happens inside the box. We have included a 20m to both run power to the box and send video back. The RCA connections on the cable can either connect directly into the back of a television or be connected to an HDMI cable using the included HDMI video adapter. This lets you easily view the camera on HD TVs and monitors.
1x Wooden bird box
1x Bird box camera
1x 20 metre AV and power cable
1x RCA to HDMI adaptor
Quick start guide
Camera
Video: PAL/NTSC
Resolution: 700 TV Lines
Image form: JPEG
Image pixels: 512 x 582
Video form: AVI
Minimum illumination: 1 Lux
Lens: Super Wide 2.8mm
White balance: Auto
S/N ratio: >48dB(AGC Off)
Backlight compensation: Auto
Electronic shutter: 1/50(1/60)-1/100,000 seconds
Operation temperature:-20 to 50 degrees Celsius
Power Supply: DC 8V 500mA 

HDMI Adapter
Video Input: 1x Composite RCA
Power Input: USB
Output: 1x HDMI
Video Mode: PAL, NTSC
HDMI Output: 1080p/60Hz, 720p/60Hz
Dimensions: 66x55x20mm
Weight: 40g