Daylight White LED Light for Nest and Bird Boxes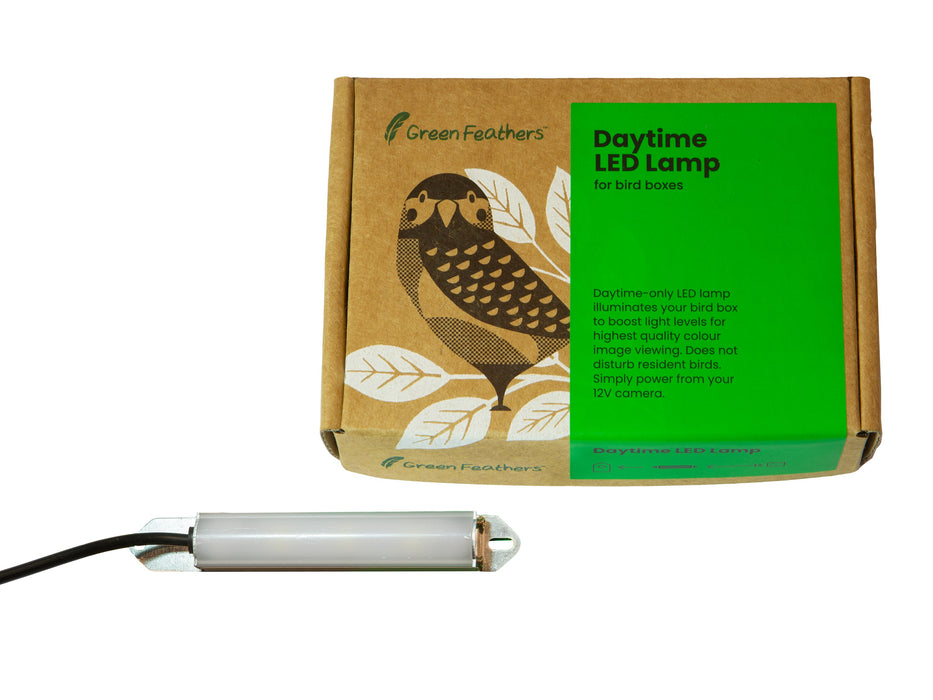 Daylight White LED Light for Nest and Bird Boxes
This energy-efficient LED lamp provides you with great daytime images from your nest box camera by illuminating the inside of the box.
LED Illuminator for Bird Boxes
Small light purpose-built to be installed inside of a bird or nest box
Improves Camera Footage
Allows bird box cameras to record without using night vision, improving image quality and colour recording
Daylight White
Uses true white LEDs, providing accurate colour balance
Night Time Cutoff
Built-in photometer automatically switches the light off when ambient light levels drop. This turns off the LEDs at night, so it won't disturb the sleep cycle of the chicks
In-Line Power
Includes 12V power supply, or can also be used in line with 12V cameras. Just connect it in between the camera and the power supply
What's in the box?
1x LED light for bird boxes
1x Mains power supply
Bird box cameras are an incredibly popular way to watch wildlife in your garden, capturing amazing close up views of chicks as they hatch and grow. One common issue, however, is that the inside of the unlit box is too dark. Whilst bird box cameras get past this using night vision, this is always monochrome, so you can't see the full glory of the bird's feathers.
This small LED light is a great solution to this issue. You can install it inside of the box, where it provides just enough illumination for the camera to record without having to use night vision. Importantly, it has a built-in photometer, which cuts off the LEDs when the ambient light levels drop. This means the light is off at night time, so it won't disturb the sleep cycles of your feathered friends!
Day/Night: Automatic Switching (Day on Night off)
Power Input: 12V DC
Power Consumption: 40mA
Illumination: 1300 Lumens
Rated Life: 50000 Hours
Light Source: 3x High brightness LEDs
Colour Temperature: 6000-6500k (Daylight)
Beam Angle: 120 degrees
Attached Cable Length: 50cm
Material: PC Aluminium
Operational Temperature: -20°c to +60°c
Approx. Dimensions: 90mm x 18mm x 10mm (LxHxD)
Cable length: 52cm