EZVIZ Dual-Lens Outdoor Smart WiFi Camera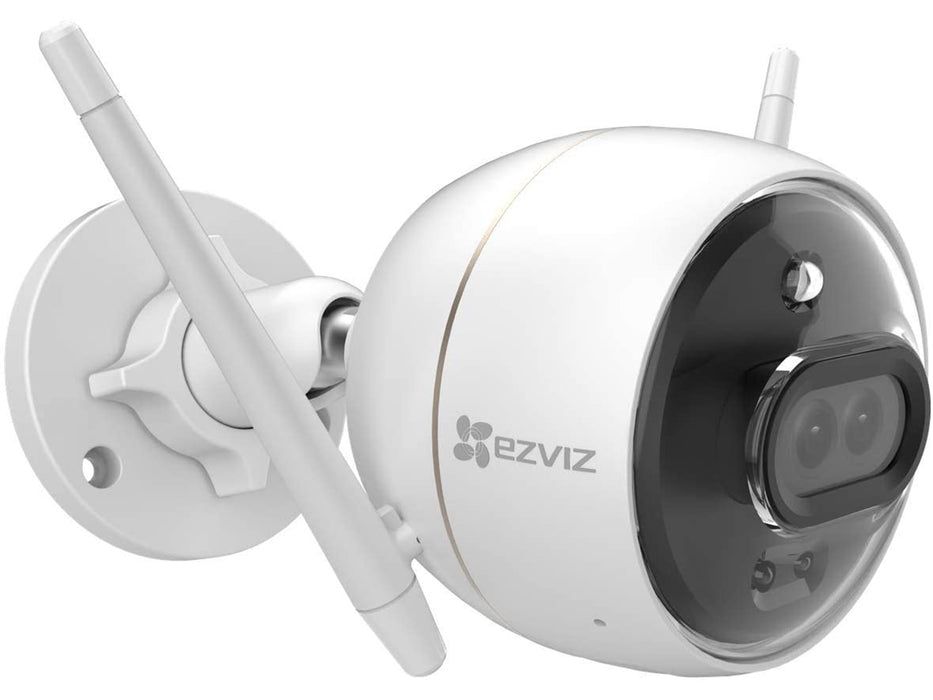 EZVIZ Dual-Lens Outdoor Smart WiFi Camera









This advanced dual-lens outdoor smart WiFi camera boasts full-colour night vision and is at the cutting-edge of home security. Smart algorithms detect people and vehicles that prevent any false motion detection alerts. You can create custom voice alerts to welcome – or deter – people. Built to last in British weather, you can mount up the camera outside and the powerful WiFi antennas send enough signal to connect to your router so that you can monitor the camera on your smartphone.
1080p Full HD Video
Featuring Full HD video capturing, this little camera captures detailed images.
Dual-lens
In the dual-2 MP camera setup, vivid colour imaging is accomplished using two lenses – one lens records the ambient brightness and the other captures colour information. Then the two images are merged using EZVIZ's own proprietary algorithm to create an image that is rich in details and realistic colour.
Enhanced WiFi Connectivity
The camera easily connects to your WiFi and the signal boasts wall-penetration and anti-interference capabilities thanks to two powerful external antennas. Even if your WiFi router is far away, the camera is still able to stay connected stably and reliably.
Colour night vision

The dual lenses and dual infrared lights render better colour images even in the lowest light conditions. There's no need for spotlights. The camera's colours are more natural, and the image is more evenly-illuminated.
AI-powered person detection
Goodbye, false alerts! 

The embedded AI algorithm intelligently detects the motion of human shapes in real-time. When people enter your customized detection area, you will be alerted immediately.
Vehicle Detection
With a built-in deep learning model, the camera can detect the motion of vehicle shapes in real-time. Now you can receive the precise motion alerts you've always wanted. 
Built to last

The smart camera's whole metallic enclosure provides stronger protection and enhanced heat dissipation. Plus, with an IP67 rating, it can withstand rainy, sunny, stormy, and even snowy days.
Custom voice alerts

The camera lets you record your own voice for customized greeting or deterrence. For example, when visitors park cars in prohibited areas, the camera will play a pre-recorded message and instruct the drivers to park elsewhere.
Hear what's happening
The built-in noise-cancelling microphone picks up clear audio up to 5m away. Now you can hear and see what's happening in your backyard no matter where you are.
Easy Installation
Features a 360° swivel and base so that you can install it on your ceiling or wall securely. With a few steps, your own sophisticated security system will be operating smoothly.
On-board microSD card recording
Simply pop in a microSD card (up to 256GB) into the camera for plenty of recording storage.
EZVIZ app 
Connect into the camera from your Apple or Android smartphone. 

With the EZVIZ App, you can capture, save, protect, and share what's valuable to you.
H.265 Compression
The camera features the advanced H.265 video compression technology, achieving better video quality with only half the bandwidth and half the storage space of the previous H.264 video compression standard.
What's in the box?
Outdoor Smart Wi-Fi Camera
Drill Template
Screw Kit
Waterproof Kit
UK mains power supply with 1.5m cable
Quick Start Guide
Dual-lens Wi-Fi camera with built-in AI.
Meet the world's first commercial-grade security camera with a dual-lens setup. Nighttime colour video has become a reality, even with the absence of supplemental lights. And built-in AI algorithms just made everything easier. Now you can get accurate alerts when people and vehicles appear in your specified zones. Get protection with the C3X, in high-tech and professional fashion.
Model CS-CV310-C0-6B22WFR
Camera
Image Sensor: 1/2.7" Progressive Scan CMOS
Shutter Speed: Self-adaptive shutter
Lens: 4 mm @ F1.6, view angle: 89° (Horizontal), 106° (Diagonal)
Min. Illumination: colour night vision, 0.005 lux
Lens Mount: M8
DNR: 3D DNR
WDR: Digital WDR
Compression
Video Compression: H.264 / H.265
Video Bit Rate: Ultra-HD; HD; Standard. Adaptive bit rate.
Image
Max. Resolution: 1920×1080
Frame Rate: 50Hz: 25fps; Self-Adaptive during network transmission
BLC: Supports
Interface
Storage: MicroSD card slot (Max. 256 GB)
Wired Network: 1x RJ45 (10M/100M self-adaptive Ethernet port)
Network
Smart Alarm: Motion detection, human shape detection, vehicle shape detection
Setup Motion Detection Area: Supports
Wi-Fi Pairing: AP paring
Protocol: EZVIZ cloud proprietary protocol
Interface Protocol: EZVIZ cloud proprietary protocol
Wi-Fi
Standard: IEEE 802.11b/g/n
Frequency Range: 2.4 GHz~2.4835 GHz
Channel Bandwidth: Supports 20 MHz
Security: 64/128-bit WEP, WPA/WPA2, WPA-PSK/WPA2-PSK
Transmission Rate: 11b: 11 Mbps, 11g: 54 Mbps, 11n: 144 Mbps
General
Power Supply: DC 12V±10%
Power Consumption: Max. 12W
IR Range: Max. 30 metres
IP Grade: IP67
Dimensions: 72x72x150 mm
Packaging Dimensions: 253.5x111.5x93.5 mm
Weight: 425g
Operating Temperature: -30°C to 60°C
Operating Humidity: 95% or less (non-condensing)
Certificates: UL / FCC / CE / WEEE / REACH / RoHS