Gamut TVI 1080p HD Covert Security System 2 Pinhole Cameras DVR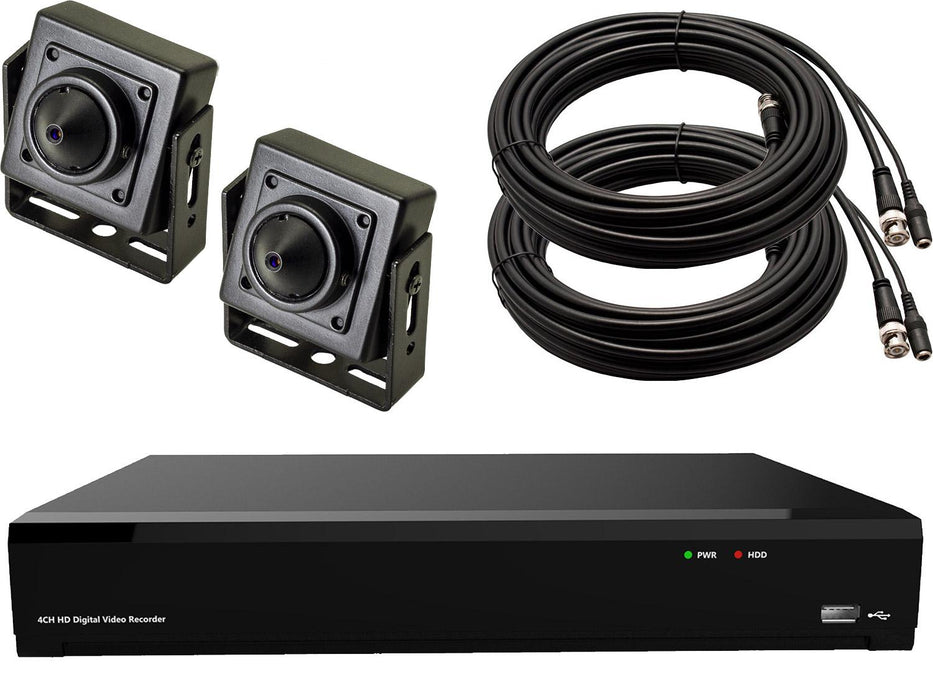 Gamut TVI 1080p HD Covert Security System 2 Pinhole Cameras DVR







What are the Benefits of TVI HD?
1080p HD Video
TVI technology allows footage to be recorded and played back at 1920x1080p Full HD. This helps capture the maximum amount of detail
Plug and Play
No network configuration is required to view or record the cameras, it's just a matter of plugging them into the DVR
RG59 Cables
TVI uses standard CCTV cables with BNC connectors, as used in many traditional analogue systems. This makes it simple to upgrade your current system.
No Delay
With HD IP cameras there can be a delay when watching a live camera. With TVI on the other hand, live means live!
Camera Features
Tiny Spy Camera
Includes 2 compact spy cameras, measuring only 35x35mm. This makes them easy to discreetly install
Pinhole Lens
Conical pinhole lens can see through gaps as narrow as 2mm, allowing you to hide the camera behind a shelf or ceiling tile whilst still recording
Colour Video
Records in full colour when in good lighting conditions
Low Light Mode
When there is less light, the camera switches to black & white, boosting sensitivity to 0.01 lux
Recorder Features
4 Channels of Video
Allows you to add up to 2 extra cameras to your system at a later date
Full HD DVR
Footage can be recorded and played back at 1080p over HDMI, so you won't lose any quality from the cameras
Hybrid Recorder
DVR can work with most formats of HD CCTV, as well as traditional analogue cameras. This means you can easily integrate other cameras into the system at a later date
Hard Drive Storage
The recorder comes pre-installed with your choice of hard drive. Just choose the required size from the drop-down at the top of the page
Professional Recording Settings
Includes motion detection and 7-day scheduling, all adjustable per camera
Remote Access
Connect DVR to your router in order to configure live viewing over PC & mobile device. Our remote set up service can help you get this up and running, and provide ongoing support. See here for more details
Alarm In/Out
Connect an alarm system to the recorder, letting the alarm trigger recording, or vice versa
What's in the box?
2x Gamut HD tiny pinhole cameras
2x Mains power supplies for cameras
2x 10m BNC video cables
1x 4 channel HD CCTV DVR
1x USB Mouse
A good quality CCTV system is one of the most important assets a small business can have, helping protect both people and property. There are some situations, however, where traditional dome or bullet cameras would not be suitable, such as trying to monitor a stock room for staff theft. With these delicate situations in mind, we have put together this complete 2 camera covert security system. Crucially, the included Gamut TVI pinhole cameras mean you don't have to choose between discreet cameras and a quality picture.
The included cameras are tiny – measuring only 35 millimetres across – allowing it to be concealed from view. The conical pinhole lens is designed to see through gaps as small as 2mm wide, so you can easily hide them out of view on a shelf or in a suspended ceiling. The cameras record in colour until it gets dark when they switch to black and white in order to boost sensitivity down to 0.01 Lux.
Our TVI cameras record in 1080p Full HD, making them amongst the highest resolution pinhole cameras on the market. They connect to the recorder using standard plug-and-play AV cables and BNC connectors, so if you have an existing CCTV system you may even be able to use your existing wiring!
The kit also includes a 4 channel Hybrid CCTV DVR, capable of recording and playing back the video in Full HD over HDMI. It features a full suite of settings such as motion detection and scheduling, as well as remote access via PC or mobile. The footage is recorded to a pre-installed hard drive - just select the size required from the drop-down menu at the top of the page. The recorder actually uses a hybrid HD system, which lets it capture footage from almost every HD CCTV format on the market, as well as traditional analogue cameras. This means it is incredibly easy to add up to 2 extra cameras to the recorder if you want to expand the system at a later date.
CAMERA
Imaging Sensor: 1/2.9 Sony EXMOR CMOS
Active Pixels: 1936x1097
Resolution: 1080p (TVI CVI AHD) 950TVL(CVBS)
S/N Ratio:>52dB
Video Output: TVI 2.0 AHD 2.0 CVI 2.0 CVBS
Minimum illumination: 0.08lux (colour) 0.008lux (B&W) 0.0008ux (B&W w sens-up)
Lens: 3.7mm Pinhole
White Balance: ATW AWC-SET INDOOR OUTDOOR MANUAL AWB
Exposure: DC MANUAL
Backlight Compensation: OFF BLC HSBLC
Privacy Masking: 4 zones
Day & Night: AUTO COLOUR BW EXT
Motion Detection: On Off
3DNR: OFF LOW MIDDLE HIGH (exc CVBS)
Digital Effect: OFF MIRROR V-FLIP ROTATE & FREEZE
Sharpness: Adjustable
Image Enhancement: D-WDR
Defog: On Off
Communication: Coax
OSD: OSD Controller
Language: ENG GER FRA ITA SPA POL RUS POR NED TUR KOR JPN HEB ARB
Power: DC 12V
Power Consumption: 1.2W
Operational Temperature: -10 to +50c
Dimensions: 25x25x16mm

RECORDER

Recording Bandwidth
Input: 4Mbps~24Mbps
Total decoding performance: 1080p @ 60fps
Output: 48Mbps
Analogue Camera input: 4 channels
IP Camera Input: 2 channels

Recording and Playback
Audio compression: G.711a
Video compression: H.264/H.265
Display resolution (analogue): 5MP-Lite@20fps, 4MP-Lite@30fps, 1080p/720p/960H@30fps
Display resolution (IP): 5MP/4MP/1080p/720p
Single IP channel: up to 2MP @ 30 fps
Frame rate per channel (analogue): 5MP-Lite@15fps, 4MP-Lite@18fps, 1080p@15fps, 720p@25fps
Frame rate per channel (IP): 25fps
Sub-stream: 704×576 @ 10fps
Event: Motion detection (Sensitivity Level 1–8), video loss
Notifications: Beep, Email, Push notification to app
Playback function: Fast forward/fast backward (2×, 4×, 8×, 6×)
Slow forward: (1/2×, 1/4×, 1/8×,1/16×)
Playback: 5MP-lite@45fps (max 3ch), 4MP-lite@54fps (max 3ch), 1080p@60fps (max 4ch), 720p@120fps (max 4ch)
UI/Monitoring
Local: UI 5.0, web browser
App: RXCamView
Push Notification: TUTK/RS
BNC Output: 1× BNC (704×576)
VGA Output: 1× VGA (1024×768, 1280×720, 1280×1024, 1440×900, 1920×1080)
HDMI Output: 1× HDMI(1024×768, 720p, 1280×1024, 1440×900, 1080p, 2K, 4K)
Ethernet: 1× RJ45 10/100 Base-T
USB: 1× front, 1× rear
Audio: 4× in, 1× out
Alarm: 4× in, 1× out
eSATA: 1× optional, not supported by default
HDD: 1× SATA HDD, up to 8TB default

General
Dimensions (W×D×H): 300×227×53mm
Input Voltage/Current: 1× HDD: DC 12V 2A; 2× HDD: DC 12V 5A
Operating Temperature: 0°C~+40°C
Operating Humidity: <90% RH