Refurbished Gamut TVI PTZ 4-in-1 2MP 10x Zoom Camera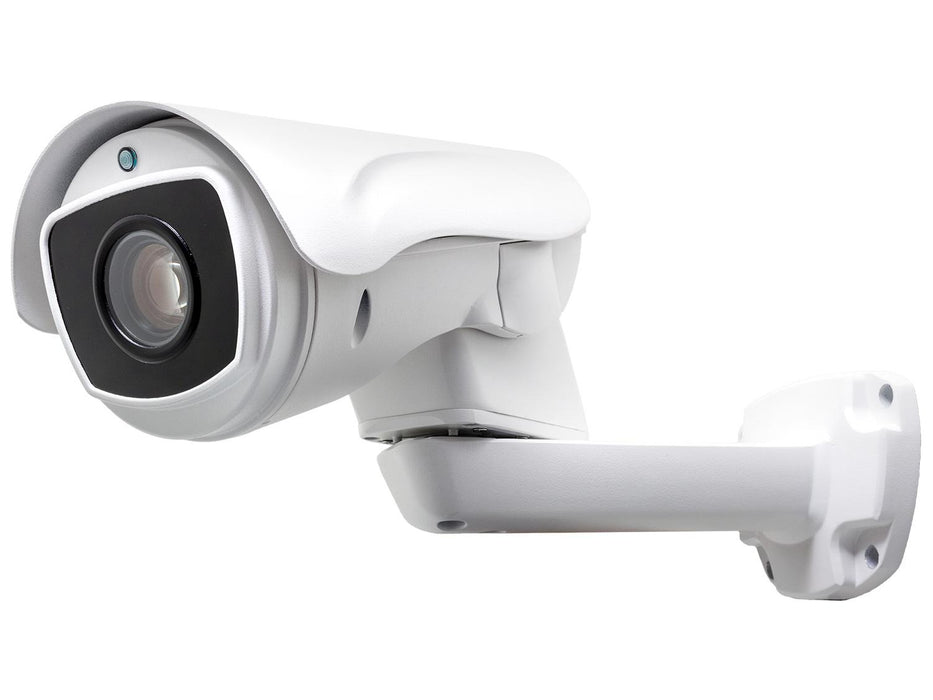 Refurbished Gamut TVI PTZ 4-in-1 2MP 10x Zoom Camera
Product Code:
GTTV210PTZR





Refurbished product: This product may be a customer return, ex-display or have been used for technical testing and will have been opened and have had some use. All our refurbished products have been fully tested and repackaged as best as possible but please be aware that some units may have cosmetic damage, such as damaged or missing packaging and screw fixings damage.
PTZ
This Pan Tilt Zoom camera allows viewing in all directions, along with a zoom function up to 10x
2MP Recording
Records in HD 1080p, ensuring high-quality footage with pin-sharp detail
100m Night Vision
This camera boasts a whopping 100m infrared night vision range, providing clear images both day and night
Weatherproof
The casing is rated IP66, so you can place the camera outside without rain ingressing into the delicate internals
Lightning Protection
Thanks to the lightning protection feature your camera will also be protected against lightning strikes up to 6000V!
Camera Position and Tours Presets
With this handy feature, you can set where you want your camera focus position to start from, and which other positions it will then move on to in a surveillance tour pattern. You can also preset the time intervals between these position switches
Smart Laser
This savvy laser will automatically adjust night vision: it will either increase or dim the strength of the IR laser light dependent on the proximity of subjects
4-in-1 Compatibility
The 4-in-1 flexibility allows excellent compatibility across TVI, CVI, AHD and CVBS systems and ability to capture plenty of fine detail
What's in the box?
1x TVI PTZ bullet camera
Please note: no power supply included 

With its Pan Tilt Zoom function, you can have a good view in all directions – and a detailed one at that, as you can zoom in up to 10 times.
That doesn't mean you have to keep steering the camera yourself all the time like some busy captain! Not only can you set a standard starting direction for the camera to focus in, but you can also preset a tour of different positions, along with different time intervals between each move, so the camera will pan, tilt and zoom in the directions you want, in your very own customised surveillance pattern. Let it do the work for you!
No matter what corner the subject may be pottering about in, you're sure to see it in clear detail, as the footage is recorded in high-quality 2MP, that's 1080p HD clarity alright.
But what about when it's dark? "Bring it on!" says this camera. With a whopping 100m night vision range there is simply no hiding in the dark.
What's more, there's a clever Smart Laser added that will automatically adjust laser focus, adapted to the proximity of the spotted subject. The brightness of the IR lamps will be either dimmed or increased, dependent on the distance of the subject, so you're sure to get the clearest view at all times no matter how far or dark it is.
There is one kind of hiding involved for the camera itself, however: from the weather! It's housed in a sturdy, weatherproof, IP66-rated casing, so you can hang it outside come rain or shine ..and lightning! It boasts actual lightning protection, so your camera is even protected against lightning strikes up to 6000V!
Setup will be a piece of pie with a very flexible 4-in-1 compatibility, making it work well across TVI, CVI, AHD and CVBS systems.
Module NO: 323AT/T/C-MX 321AT/T/C-MX
Sensor: 1/3 2MP Sony323
Lens: 4X f=2.8-12MM 10X f=5.1mm~51mm
LEDs: Array42Mil 6pcs Array42Mil 4pcs+2 laser Leds
D/N: IR-CUT
BLC: Auto
WB: Auto Auto/Indoor/Outdoor/Manual
S/N Ratio: >50dB
Pan Range: 0º-220º
Tilt Range: -45º~40º
Pan Speed: 0-30°/s
Tilt speed: 0-25º/s
Preset Points: 220
Guard Tours: 3 groups (each group 16 presets dwell time and speed selectable)
Guard Points: Max. 16 points dwell time user selectable
AB scan range: any point in range:-45º~40º and 0º-220º
AB scan speed: 1-9 grades
Operating temperature Outdoors: -40 to +60 degrees C
Operation menu: English
Auto Control IR LED: PWM
Support ambient light detection: IR illumination on 1-15 grades selectable;
IR distance: up to 100 meters
Humidity: 95% Non-condensing
Consumption: 15W
Lightning Protection: Transient voltage 6000V
Related validation: IP66/CE/FCC/RoHs
Weight: NW:1.25KG GW:1.6KG NW:1.32KG GW:1.67KG