Premium Priority 6 Service Package & 5 Year Extended Warranty (1 Year)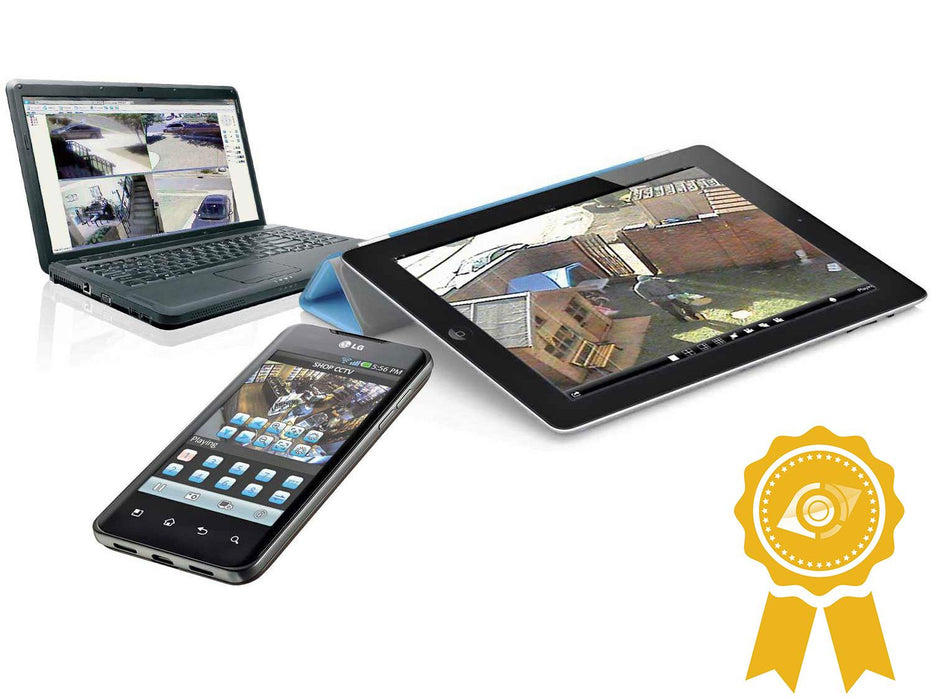 Premium Priority 6 Service Package & 5 Year Extended Warranty (1 Year)
Product Code:
PREMIUMSUP6
After purchase, please contact our Helpdesk team to book a time slot. *Please note this support is for retail customers only. Please click here for our trade support options.*
Fast Track Email Support
Email requests for support are prioritised and you are placed at the front of the queue
Same Day Telephone Support
You can expect the first response within 2 hours on working days over the phone (unless after 3pm)
System Setup Included
All system setup and configuration is included for free
Remote Viewing Configuration
Leave us to do all the hard work setting up your system so that you can connect into it off-site. We throw in a personalised DNS address for you free as well!
Remote Assistance
We can connect into your PC remotely to help configure system settings remotely (booking required)
Extended 5 Year Warranty
You can enjoy our 5 year extended warranty on items for as long as you are signed up to the service
Covers up to 6 Individual Items†
Covers up to six items including any camera, recorder or wireless bridge. 
What's included?
Everything in LIVEVIEW Support plus:
Fast track email support
Same working day telephone support within 2 hours (pre 15:00)
Includes system setup and configuration (no extra fees)
Includes personalised DNS address and configuration for remote viewing
Remote assistance via desktop sharing at no extra cost
5 Year extended warranty
Items more than £400 covered by our 3-year repair or replace warranty (see Specifications for more details)
On-site swap out for items identified as faulty
Covers up to six individual items† (£85 inc. VAT per year for every six additional items)
†An item is a camera, recorder, bridge or switch. Accessories such as cables etc in your system are not counted.
Below we go through the most common questions regarding your package and outline our terms and conditions of the Premium Service 6 package. These also cover the Premium Service 12 and 18 packages and extra 6, just the number of items covered would change. For details on the 5-year extended warranty and on-site swap out service, please see the specification tab.
FAQs
Can I buy the Premium Service 6 with extended warranty after I have purchased the goods?
Yes. You can sign up to the Premium service up to 30 days after you receive the goods. If you want to purchase the Premium Service to include the extended warranty after 30 days, we will need to backdate your payments to the date of purchase.
We take the first payment for the 12-month service the day you subscribe and then we send you a Direct Debit mandate that will be collected at the 12-month anniversary of the date you purchased the goods.
The 5-year extended warranty cannot be backdated more than 12 months. After 12 months, you can still sign up for the service, but you would benefit from everything apart from the extended warranty on the goods which would not be included.
How quickly should I expect assistance and support?
Our Premium service is our most comprehensive support and service package with the fasted Service Level Agreement (SLA) time. Upon calling our first line representative will assist with quick queries and questions. Should further information be required (longer than 5-10 minutes), your call will be logged into our ticketing system as a priority call back whereupon you will receive a call back within the SLA time frame.
Should you prefer support by email, please make sure you log a ticket through our help portal selecting the correct priority level. Your ticket will then be prioritised and dealt with as quickly as possible within the SLA timeframe. Alternatively, email help@spycameracctv.com.
Our first response is always within the SLA timeframe but if you require additional assistance on your system, we will work with you to prioritise further analysis on a case by case basis. On some occasions, you may need to be booked in with one of our engineers. In all circumstances, we aim to conclude your query as a priority and will work with you to deliver this to suit your needs.
What do I do when I receive my system and am setting up for the first time?
Before the set-up booking, you should take some time to review any schematic wiring diagrams and manuals supplied with each product and check you have everything you ordered. We then recommend you set the system up on your workbench or table. Our team can field initial calls to help you with wiring as necessary, but a booking will be required for configurations and full set up including the remote viewing configuration.
IMPORTANT: Please do not mount your cameras and other equipment on walls etc. until you are happy it is working correctly. If you encounter problems, the first thing we ask is you bring the item back to your office/workbench.
What do I have to do before the system set up with your engineer?
When you purchased the system from us and signed up to the Premium Service 6 package, you will have been offered a booking time or informed of the need to book. Our set up service is very popular and can take a couple of hours to complete, so please make sure you book early to avoid disappointment. As a Premium Service 6 customer, we always try and prioritise your set up.
Before the booking, you need to make sure you have downloaded our remote software to avoid delay. If you do not you may miss your appointment slot and we may have to rearrange. This software link is sent to you on the email following the booking confirmation.
What happens during the booking for my remote set up with an engineer?Firstly, and if you have not managed to already, we will configure your system and get everything working. You may be required to assist during this stage plugging in and rebooting items as appropriate. We advise you do this BEFORE installing anything on walls or in place. Once set up, you can go ahead and install, checking everything is still connecting at each stage before drilling the final hole!
Secondly, we will configure your system with a personalised address so you can access it remotely. We just need access to a local PC, recorder and your permission to access your router. This is a professional DNS set up allowing a more stable connection to your recorder giving greater user access and additional features when compared to the standard setup via a mobile device and PC applications.
Finally, our engineer will give you a tour of the key features of the system including recorder and smart cameras so that you can manage the settings yourself to best suit your requirements. If you need to call back or more help, we will, of course, prioritise your call and assist you accordingly.
Please do not be tempted to reset your system, recorder or router. If you reset any of the items we have configured within the first 6 months of our set up booking, you will be required to pay £15 set up fee per item for us to get you up and running again.
What if I need further assistance and help?
Your call will always be prioritised. If one of the items forgets its settings or you need us to help with tweaking the settings, we are here to help. Firstly, we will offer you instructions on how to find the settings on your system and where necessary, we can book a time and log in to configure them with you, showing you how to do it next time.
All the things we normally charge our engineer help and set up service at £15 are included in your Premium Service 6 package.
Are there any additional costs for this service?
The simple answer is no. Unlike our other packages, we do not charge for extra services. This includes such things as router resets, new internet connections, password resets and tweaking camera settings. However, as you will appreciate, if you called us repeatedly having lost your password, there would be a point where you might face additional fees. The engineer would make this clear on the call prior to this happening.
We may charge should you have issues with third-party products that interfere or result in conflict with our own and/or where your third-party equipment inhibits our ability to deliver a fast service. As a rule of thumb, we allocate around 20 minutes for setting up each item, but if you have slow internet or equipment, we might charge £15 to cover the extra time taken with things that are out of our control.
How do I make sure I maintain my 5-year warranty and service level?
When you purchased the Premium Service 6, you will have paid using a Direct Debit, where you would have paid the Premium Service 6 fee alone. If not, please let us know straight away. Under normal circumstances, we will contact you after 12 months if there was any problem with payment. Should your service go unpaid for 14 days after the anniversary of your sign up, your extended warranty would be invalidated, and your personalised remote viewing address would be discontinued.
What if I expand my system to more than 6 items?
No problem. We have an extra 6 package for just £85 to cover the new items.
The Legal Bit
Cancellations and if you change your mind: If you decide to cancel your Premium service, this can be done within 30 days of purchase providing you have not received any of our services. If you have benefitted from our services, you will be charged based on the £15 per item set up fee.
If you cancel your Premium service, the personalised remote address will also be cancelled unless you downgrade to the Direct Secure Live View Addon. This addon includes the DNS address and set up, and you would be charged £15 on a per item basis for other services delivered.
Excessive use of service: We are always here to offer a reasonable level of service and support given the cost of this package and what is included. We are here to log into your system where necessary to offer hands-on assistance to your system. However, we do reserve the right to charge for extra services where excessive use of our assistance occurs. Excessive use would be more than 5 hours of ongoing support across 12 months. Our commitment is to enable you to understand and manage your own system and help in those situations where you are genuinely stuck. It is not an offsite monitoring service or computer support service.
Price increases: We reserve the right to increase prices from time to time and in line with the market costs of delivering comprehensive value for money service. We will give you a minimum of 30 days' notice by email prior to your renewal before any price increases take effect.
Changes to our terms: We may make changes and amend our terms from time to time to improve clarity. Any substantial changes affecting your warranty or SLA service times will be sent to you by email 30 days before they take effect. Improvements that are to your benefit will be instantaneous.
More FAQs and terms regarding the 5-year extended warranty are on the specifications tab.
If you have any further questions or something is not covered above, please get in touch with our sales team.
This page goes through the most common questions regarding the 5-year extended warranty and on-site swap out included with your Premium Service 6 package and outline our terms and conditions. These also cover the Premium 12 and 18 packages and extra 6 just the number of items covered would change. For details on the other parts of the service related to this package please read the description page.

If you have any further questions or something is not covered that you have a question on please get in touch with our sales team.

What is the 5 Year Extended Warranty?
Our warranty offers an extended period of peace of mind. You will be offered a like for like replacement within this 5-year period or a credit to use against another product based on the current market value of the item (or similar) that is faulty.

What does the 5-year extended warranty cover?
Only those faults deemed caused by the manufacturer are covered under this 5-year extended warranty. We may request pictures and videos of the product during our analysis of the fault. Faults or damage caused by accident negligence or usage not in accordance with manufacturers guidelines will not be covered.

If we reasonably suspect the fault is not a manufacturing fault we reserve the right to request an item be returned for further analysis. In these situations an advance replacement can be offered for critical items such as a recorder or bridges however the cost would be met by the customer and refunded if the fault is verified to be a manufacturing fault. Postage would also be refunded if the fault is verified as a manufacturing issue.

If an item is returned to us following an onsite swap out and we can identify it is not a manufacturing fault the customer will be liable to pay for the replacement item(s) and postage of the new items.

What products are included?
Each item you purchase with an individual cost of £333.33 excluding VAT is covered under the extended warranty.

What about the items £400 or more?
With items that exceed the cover of £400 including VAT we will require the item to be returned to us for assessment. We will cover the repair of the item up to a cost of £400 inc VAT or if the item is too expensive to repair you will receive a credit of £400 inc VAT towards a new item.

How do we make a claim?
All faults and issues will need to be verified by one of our engineers by either email or telephone. You will be required to provide photo and sometimes video evidence of the issue. Our engineer may also need to log onto your system using remote software to identify the fault. In most situations returns can be avoided by simple fault rectification.

Please have your order number date of purchase and product name available when you contact us. If a return or exchange is required advice will be given as to the next step in the process to get your item exchanged or assessed. In the event we receive notification from our assessment team or the nominated repair agent that the fault occurrence is due to an issue outside the warranty remit we will contact you. If we have already exchanged the item you would be liable for the cost of the new item if the fault is not covered under warranty.

How long will a repair take?
If we are able to determine the item is faulty over the phone or by email we will simply provide you with an on-site swap out for a like for like age and specification item this may be brand new or used depending on the age and condition of the item that is faulty. If this is in stock this could be as fast as next day. If not it could take a few days depending on availability from our main warehouse or supplier.

If you wish to upgrade your system or item you will be credited the current market value of the faulty product towards a new item.

For repairs unfortunately we cannot offer a definite timescale for fault resolution. This is mainly because we do not have an in-house repair team. Any necessary repairs are carried out by either the product manufacturer or an accredited agent. Generally, most repairs will take between 5 and 8 weeks to complete. Temporary replacement items can be offered in special circumstances; however, the cost of this item must be met by the customer until it is returned to us.