Green Feathers Bird Box Camera Deluxe Bundle Wireless Transmission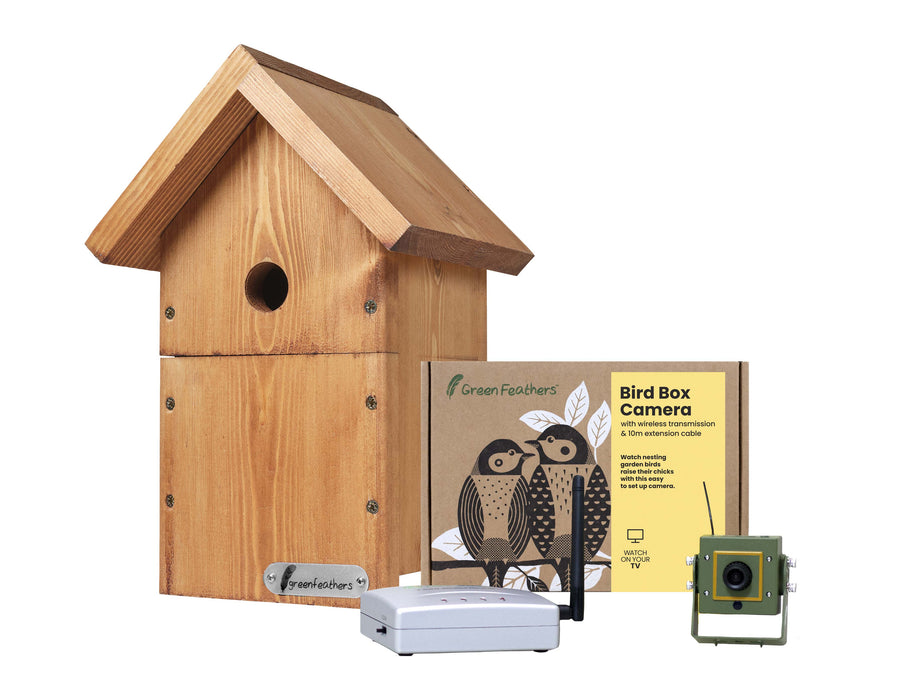 Green Feathers Bird Box Camera Deluxe Bundle Wireless Transmission
Product Code:
GFTX1GB-BBBDLX
This bird box camera deluxe bundle includes everything you need to get started with a wildlife camera solution in your garden. This bundle features our handmade wooden bird box and tiny wireless bird box camera. Watch wildlife on your TV in the comfort of your own living room.

Complete Wireless Bird Box Camera Kit
Includes everything you need to set up a birdhouse with a wireless camera in your garden, letting you watch birds hatch and grow on a TV or monitor.
Watch on your TV
To view live footage, simply connect the receiver to a TV or monitor using the included cable. This gives you a simple way to watch wildlife in the comfort of your living room.
Tiny Camera
Fits into the bird box via the dedicated mounting point.
Night Vision
Uses invisible infrared LEDs to record inside the dark nest without any glow that could disturb the chicks.
Wide Angle Lens
With its wide-angle lens, the camera has a huge field of view. It's designed for use in enclosed spaces which means more of the bird box fits in the frame.

User Switchable Wireless Channels
Provides an easy way to adjust the frequency should you encounter wireless interference.
Wireless Transmission
Sends video to the receiver up to 25 metres away, so the only thing you need to plug it in to is power. Please note - obstructions such as walls and glass will reduce this range.
Handmade Wooden Bird Box
Handmade by our UK-based artisan workshop, the birdhouse is built from sturdy 21mm thick panels using wood from sustainable sources.
Custom Designed for Cameras
The box has been made to our exacting specifications, including slots to run the cable, and a pre-drilled mounting point.
10m Power Cable
Helps run power out to the camera in the box from the included mains power supply.
RCA to HDMI Adapter
Also Includes an adapter to let you easily view footage on an HD TV or monitor. This is also powered directly from your TV using USB for ease of use
Setting up a bird box camera is a fantastic way for any nature lover to get closer to the wildlife right in their garden. Thanks to our talented UK workshop, we are now able to offer our popular wireless bird box camera as part of a complete kit, including a wooden bird box, and everything you need to get it up and running. This makes it a great project for families, or a learning aid for schools.
The kit is built around our most popular wireless camera for watching on your TV. This tiny device can be installed inside the bird box and captures clear video of everything inside thanks to its night vision LEDs and wide-angle lens. It can then transmit video over wireless to the receiver. This means that all you need to connect it to is a power supply, using the included 10m cable. The camera can transmit up to 25 metres in direct line of sight, however solid obstructions such as walls will reduce this significantly.
The bird box itself is specially designed for use with our cameras, featuring a simple mounting point, and slots to easily run the cable. What's more, the box is handmade in the UK with FSC certified timber. Also included with the pack is an RCA to HDMI adapter, letting you easily connect the receiver's AV cables to any modern HDTV or monitor (HDMI cable not included).
1x Wooden birdhouse
1x Wireless bird box camera
1x Wireless receiver
1x Mains power supplies
1x 10m power extension cable
1x RCA to HDMI adaptor
Quick start guide
Bird Box
Wood Thickness: 21mm
Entrance Hole: 32mm
Dimensions: 340x250x190mm
Camera
Imaging Sensor: 1/3 inch OMNIVISION colour CMOS
Horizontal Resolution: 700 TV lines
CMOS Total Pixels: 628 x 582 (PAL) / 510 x 492 (NTSC)
Scanning Frequency(H): 15.625kHz 15.734kHz
Scanning Frequency(V): 50Hz 60Hz
Angular Field of View: 110 degree (f=2.8mm)
Minimum Illumination: 3.0Lux (F1.2)/ 0Lux (IR LED on)
Infrared LED: 6EA Invisible IR LED 940nm
Consumption Current: 150 mA
Wireless Frequency: ISM 2.414 - 2.468GHz
Wireless Range: 10-20m/50m (obstructed/unobstructed)
Transmission Power: 10mW
Gain Control: Automatic
Modulation Mode: FM
Bandwidth: 18m
Power: DC 8V, 500mA
Operating Temperature: -10°C ~ +40°C
Operating Humidity: 85%RH
Dimension (WxLxH): 42x35x35mm
Weight: 65g

Receiver
Frequency: ISM 2414 - 2468MHz 4 Channel
Antenna: Omni-directional antenna
Channel: 1-4 (Flip-type switch)
Intermediate Frequency: 480MHz
Frequency Stabilization: +/- 100kHz
Demodulation Mode: FM
Receiving Sensitivity: 85dBm
Video Output: 1Vp-p@75 ohm, S/N>38dB
Power: DC 12V, 500mA
Operating Temperature: -10°C to +40 °C
Operating Humidity: 85%RH
Dimension (WxLxH): 80x68x16mm
Weight: 120g 
HDMI Adapter
Video Input: 1x Composite RCA
Power Input: USB
Output: 1x HDMI
Video Mode: PAL, NTSC
HDMI Output: 1080p/60Hz, 720p/60Hz
Dimensions: 66x55x20mm
Weight: 40g