Green Feathers WiFi Bird Box Camera Deluxe Bundle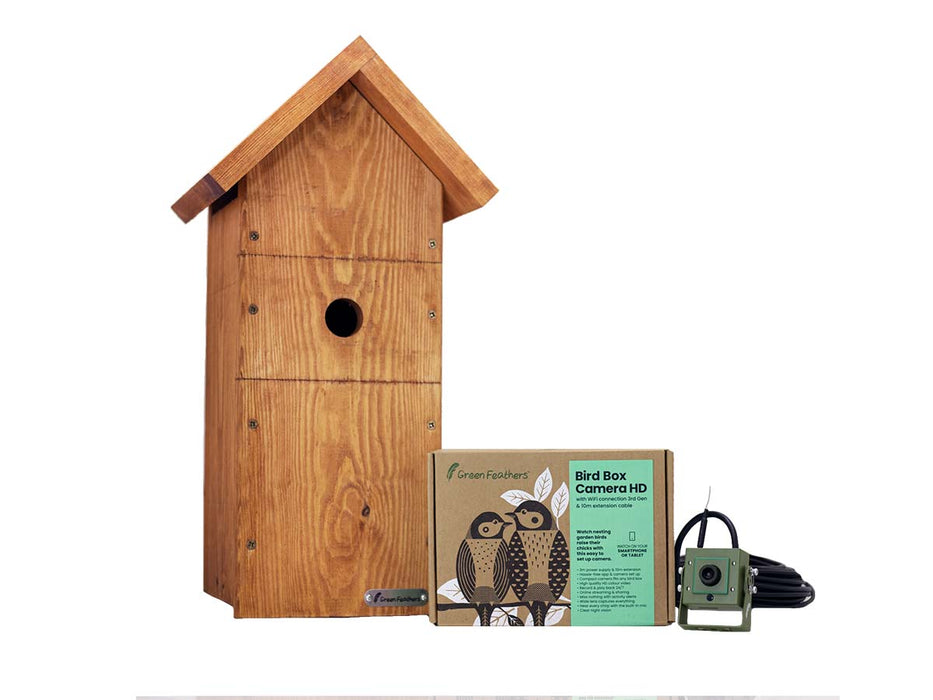 Green Feathers WiFi Bird Box Camera Deluxe Bundle
Product Code:
GFWF3GB-BBADLX








Our complete WiFi bird box camera kit is all you need to get set up with an advanced HD camera monitoring solution for your garden. This bundle pairs our popular 3rd Gen WiFi camera with our large bird box handmade in the UK. This enabled you to directly watch nesting birds on your smartphone and tablet in HD.
Bird Box Camera Kit
Includes everything you need to set up a bird box in your garden and watch the chicks hatch and grow right from your tablet or mobile device
Watch on Your Smartphone & Tablet
Using the free app, you can easily watch live or recorded footage of the nesting birds using an iOS or Android device.
WiFi Camera
Uses our flagship WiFi camera, that connects to your home's existing wireless internet network
Deluxe Bird Box
Includes a hand-crafted birdhouse from Riverside Woodcraft's UK workshop, made from sturdy 21mm thick timber
Designed for Cameras
The box features a central mounting point, a removable front for easy access and vents to run cable
HD Video
Records pin-sharp video in up to 1080p HD with true to life colour in good light
Invisible IR
After dark, the camera uses night vision LEDs to keep recording without disturbing the chicks
Wide Angle Lens
103° field of view captures everything happening inside the box
MicroSD Card Slot
Allows you to record clips of video, and even set up motion detection, without needing an external recorder. Compatible with cards up to 128GB (not included)
Includes Power Cable Extension
Also includes a 10-metre power extension cable to run mains power out to the bird box
Stream online
You can stream the camera online, with a bit of setup, to services such as YouTube to share the action with everyone!
What's in the Box?
1x Deluxe wooden bird box
1x WiFi bird box camera - 3rd Gen
1x UK mains power supply
1x 10-metre power extension cable
We have a decade of experience providing specialist cameras for watching birds and other wildlife. Now we can proudly say that we have partnered with Riverside Woodcraft - foremost manufacturers of handcrafted birdhouses - to provide our own birdhouses, specially designed for use with cameras. This kit pairs the larger, deluxe bird box with our market-leading WiFi bird box camera. It includes everything you need to get the box installed, and the camera up and running on your phone or tablet.
The box is handmade from sturdy 21mm thick wood, significantly thicker than most other boxes on the market. Purpose designed for use with our cameras, it features a central mounting point, as well as air vents through which you can run the power cable. The front of the box is removable, both allowing easy installation of the camera, and use by species such Robins that prefer an open-fronted nest. Importantly, it's made from FSC Mix certified timber from sustainable sources.
The camera is our flagship model, connecting to your home's WiFi network to let you view from anywhere using an Android or iOS device. The digital sensor records pin-sharp video in HD resolution, with true-to-life colour in daylight. When light levels are low, it uses invisible IR LEDs to keep recording without any glow that could distract the chicks. The camera has a MicroSD card slot, letting you easily record footage - and even set up motion detection - without needing to connect it to an external recorder. The only connection the camera needs is to mains power, using the included power extension cable.
Please note that the camera operates on 2.4 GHz WiFi networks only.
The camera records in clear colour during the day, provided there is enough light in the box. In the dark, the built-in infrared lamps will automatically record in black and white Night Vision mode. If you want to get extra daytime light for more clarity, you can mount a daylight LED lamp inside the box. It's much better than making a hole or window in the habitat as that could expose the wee critters too much and can cause overheating. One daytime LED lamp will be more than enough to provide sufficient natural lighting so you can see full, colourful detail of the baby birds' growing feathers or the spikes of your huddled hedgehogs. It will only light up during the day. 
Please note: make sure everything is set up before the animals have started nesting - disturbing the nest is illegal as it can cause nest abandonment. 
Camera
Image sensor: 2MP 1/3" CMOS image sensor
Lens: 2.8mm
Resolution: Main stream: 1920×1080; Sub-stream: 640×480
Frame rate: 20fps
Compression format: H.264
Audio: Yes, in-built microphone
Speaker: Yes (used in setup only)
On-board storage: microSD card up to 128GB
Recording Modes: Continuous, motion detection
ONVIF: Supports ONVIF protocol
Night Vision: Invisible infra-red 4x LEDs (1m night vision range)
IR cut: Built-in
Shutter: 1/25–1/10000
White balance: Automatic
Backlight compensation: Yes
Noise reductions: 3D DNR
Network: 2.4GHz Wi-Fi
Operating temperature: −20°C–+50°C
Camera dimensions: 44×44×33 mm
Power: DC 12V input, 2.1mm jack
App supports: iOS 10.0 or later and Android 4.4 and up

Please note that this camera is not waterproof.
Bird Box
Wood Thickness: 21mm
Entrance Hole: 32mm
Dimensions: 470 x 250 x 190mm