Green Feathers Mini HD Recorder with HDMI Cable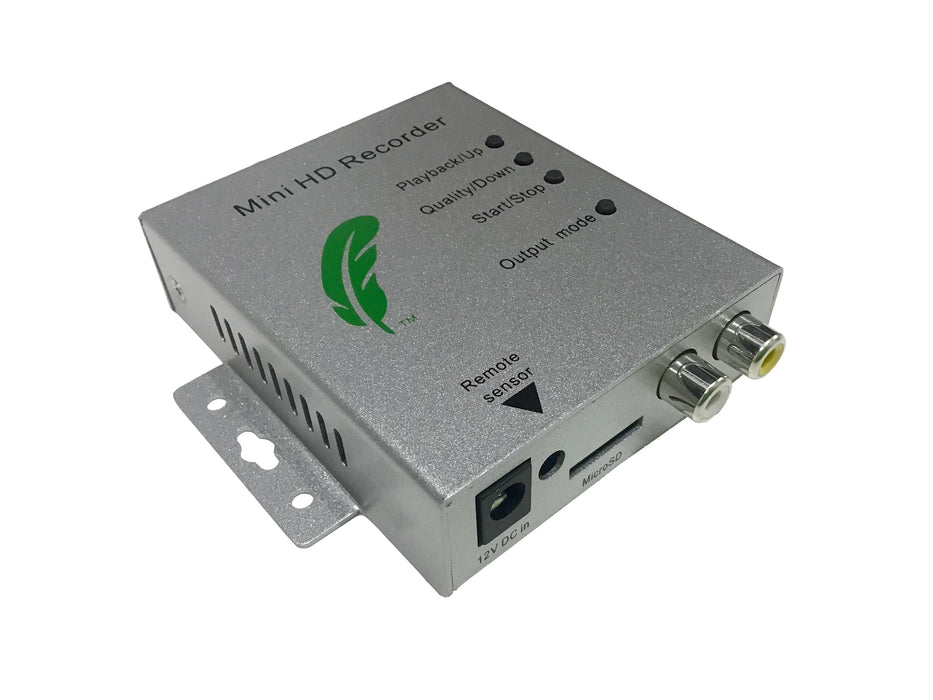 Green Feathers Mini HD Recorder with HDMI Cable




The Mini HD Recorder with HDMI Cable is perfect for those looking to record camera footage and audio of birds and garden wildlife directly to a MicroSD Card. It will save you from the headaches of downloading an app or playing around with your network settings.
Different Recording Modes
Continuous: Records video for up to five minutes at a time. A new file is created every five minutes so you can easily manage and edit recordings. 
Motion: Once movement is detected, it records for thirty seconds, allowing you to save storage and only record what you want to see. 
Power Up Recording
When set to motion recording mode, this recorder detects motion and records as soon as it's powered up.
Easy to Use
Configure and control the recorder using the included remote control.
Backup Controls
If you lose your controller, don't worry! Basic functions can be performed using the buttons on the recorder.
Loop Recording
Once storage is full, it can be set to overwrite oldest recordings, or to stop recording.
What's in the box?
1× Mini HD Recorder

1× Remote Control
1× HDMI Cable
1× UK Mains Power Supply
Quick start guide
This device allows you to record footage and audio from your camera directly to a microSD card – no need to download an app or fiddle with your network settings!
Connect everything together and record birds, hedgehogs or any other kind of wildlife that comes your way. Use the remote control to view recordings using the playback menu.
Set it to continuously record or to record only when motion is detected. To back up videos, remove the microSD card or connect the recorder directly to a computer using a Micro-USB cable.
Video Input: AHD/TVI/CVI/CVBS @ 2MP
Recording: 1080p HD 
Storage: microSD card (up to 256GB capacity)
Video Out: 1× HDMI @ 720p, 1× RCA