Green Feathers Solar Powered WiFi Bird Box Camera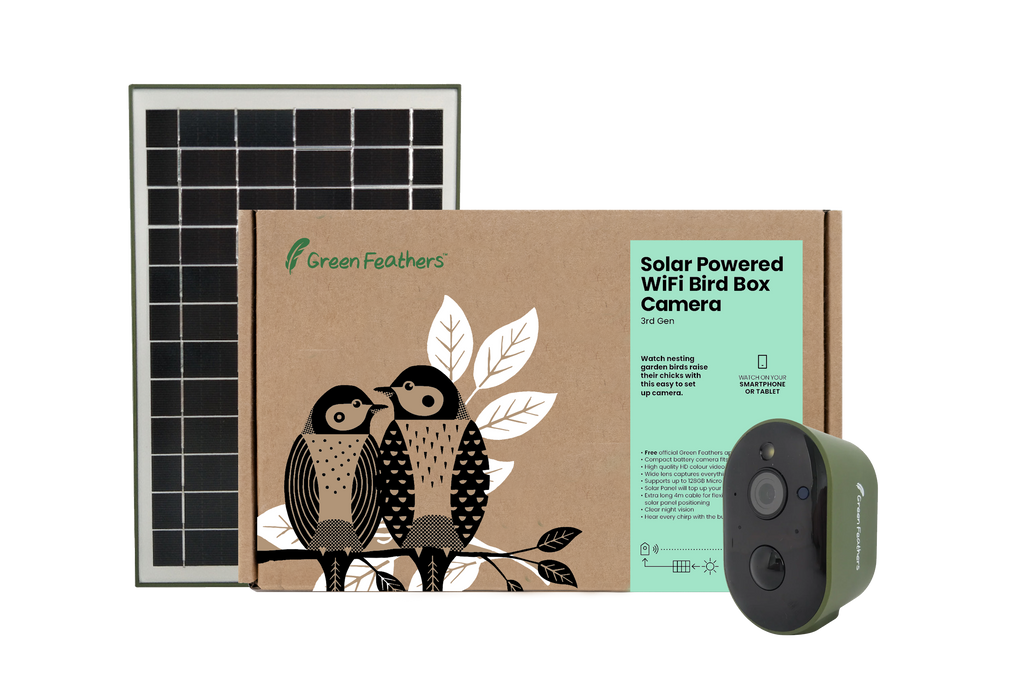 Green Feathers Solar Powered WiFi Bird Box Camera
Product Code:
GFWF3R1S1-B07
Our Solar Powered Bird Box camera with WiFi connection is a wire-free solution to birdwatching. Watch live and recorded footage from inside your bird box; using renewable energy to charge your camera. Best suited to live viewing, watch videos of nesting birds on your smartphone or tablet using the free official Green Feathers app.

No More Wires

 

– Battery powered camera and solar panel getting the most from nature
Quick & Easy to use

 

– Simple set up methods backed up with our renowned guides and support if you get stuck
Bespoke GF App

 

- specially designed for easy set up and getting the best from you bird box camera with remote viewing
LED Night Vision

 

technology giving you great images even at night
Extra-long 4m Lead

 

between Camera and Panel for positioning flexibility of bird box and solar panel
Our striking green camera, coloured to blend in with foliage 
2 x ¼ inch mounting holes

 

allows flexibility of mounting options as a nest camera or garden camera.
¼ inch mount provides the flexibility to attach a tripod or any other standard camera mount, allowing for versatile mounting options.
Carefully considered optional extra's include

 

Spike for Solar Panel to mount solar panel when attaching to a tree or using as a wildlife camera in your garden.
12v Low-power extension lead enables you to recharge both the solar panel and camera battery, providing additional camera life during the busy nesting season. Mains on option
Eco Friendly Gift Packaging making it the perfect gift for bird and nature lovers
Removable SD Card Upgrade
Work with the best,

 

Leaders in wildlife and garden cameras

 

since 2009. 15 years' experience of developing wildlife cameras for your garden.
Use with our Free official Green Feathers app
Compact battery operated camera fits inside bird boxes & habitats
Crisp High Quality HD colour video (3MP)
Wide angle lens captures more inside your habitat
Solar Panel to recharge your camera daily
Clear night vision with built-in infrared
Hear every chirp with built-in mic
Extra long 3m Solar Panel cable for flexible mounting options
12v Power Cable for additional charging with 'Mains On' Option 
Please read our article:  Exploring the Realities of Solar-Powered Bird Box Cameras: Advantages, Limitations & Compromises
Battery powered Camera with WiFi connection (9000mah)
Solar Panel & Wall bracket (inc. 15600mah battery)
Type C USB power lead
Mounting bracket for your bird box
Screws & fixings
Quick start guide
How does the Green Feathers Solar Camera work?   The Green Feathers Solar Camera harnesses solar energy through its built-in solar panel, which charges its internal battery. This battery powers the camera and enables it to capture and transmit video footage using low power WI-FI.

What is the purpose of a solar-powered camera?   A solar-powered camera like the Green Feathers Solar Camera provides a sustainable solution for surveillance and security purposes. It eliminates the need for constant battery replacements or wired power connections, making it ideal for remote locations or areas without easy access to electricity. Great flexibility and easy to set-up.

How long does the solar panel take to charge the camera?   The charging time for the Green Feathers Solar Camera varies depending on the amount of sunlight available. Based on 4 hours a day of sunlight, the solar panel with day approx 14 days to fully charge.

Can the Green Feathers Solar Camera be used indoors?   Yes, the Green Feathers Solar Camera can be used indoors as well. While its primary feature is the solar panel, it also includes a rechargeable battery that can be charged using a USB cable for indoor use or in low-light conditions.

How is the camera powered during nighttime or cloudy days?   The Green Feathers Solar Camera's battery stores energy from the solar panel, which can be used to power the camera during nighttime or cloudy days when sunlight is limited. The camera automatically switches to battery power when solar charging is not sufficient.

What is the range of the camera's wifi connectivity?   The best way to test the Wi-Fi connectivity is by going to the location where you want to use your camera and checking the strength of signal that you get on your mobile device. We recommend having at least 50% signal but you can test the signal by seeing how well it streams a HD video while on Wi-Fi. As a guide 20m max, but this will vary depending upon many factors. This can also be boosted if required (ask about wi-fi panel extenders).

Does the camera support remote viewing on smartphones and tablets?   Yes, the Green Feathers Solar Camera supports remote viewing on smartphones and tablets. By downloading the dedicated app and connecting the camera to your Wi-Fi network, you can access the live video feed and recordings remotely using your mobile device. The camera can also support SD Cards and Cloud Storage.

What is the storage capacity of the Green Feathers Solar Camera?   The Green Feathers Solar Camera supports microSD cards up to 128GB (not included) for storage. This allows you to save a significant amount of video footage depending on the resolution and compression settings. You can also subscribe to our cloud storage where we have packages to either store footage for 14 days or 30 days.

Is the camera weatherproof and suitable for outdoor use?   Yes, the Green Feathers Solar Camera is weatherproof and designed for outdoor use(IP rating IP65). It is built to withstand various weather conditions such as rain, snow, and dust, ensuring reliable performance and durability. As the camera uses a ¼ inch mount you can purchase one of our tri-pod mounts or use your own to watch wildlife in your back garden.

How easy is it to install the Green Feathers Solar Camera?   The Green Feathers Solar Camera is designed for easy installation. It comes with special mounting bracket and screws, allowing you to securely attach it to a wall, fence, or other surfaces. Additionally, it is a wireless camera, so you don't have to worry about complex wiring during the installation process. Also ¼ mounting screw means its compatible with tripods and other industry standard camera mounts. Solar panel can wall mount OR ground mount with the spike (optional).
Camera Resolution: 1080p Full HD
Video Compression: H.264
Field of View: 110 degrees
Wireless Connectivity: 2.4GHz Wi-Fi (IEEE 802.11b/g/n)
Wireless Range: Up to 300 feet (90 meters) in open space
Night Vision: Yes, with infrared LEDs for up to 32 feet (10 meters) of visibility
Motion Detection: Yes, with adjustable sensitivity levels
Storage: Supports microSD cards up to 128GB (not included)
Power Source: Solar panel and rechargeable battery
Solar Panel Output: 5V/1.5W

Camera battery

 

2 x 4500mAH batteries

Solar panel battery

 

6 x 2600mAH batteries

Camera charge time

 

8 hours with 5V 2A // 

10 hours with 5V 1A

Solar panel charge time

 

18 hours with 5V 2A // 20 hours with 5V 1A
PIR detection

 

Detects heat for more accurate detection
Wake up time

 

<500ms
Power usage while in use

 

260mA/3.7V
Power usage when on standby

 

200uA/3.7V
Operating Temperature: -20°C to 50°C (-4°F to 122°F)
Weatherproof Rating: IP65 (suitable for outdoor use)
Mobile App Compatibility: iOS and Android
App Features: Live video streaming, playback, motion alerts, two-way audio

Camera running time

 

32 hours of continuous running 

time




- 5 triggers a day will last 6 months




- 30 triggers a day will last 2 

months




- 100 triggers a day will last 25 

days

Solar panel running time 52 hours continuous running time
Dimensions: 6.8 x 3.9 x 3.3 inches (173 x 99 x 85 mm)
Weight: 1.3 lbs (590g)