Green Feathers Handmade Wooden Bird Box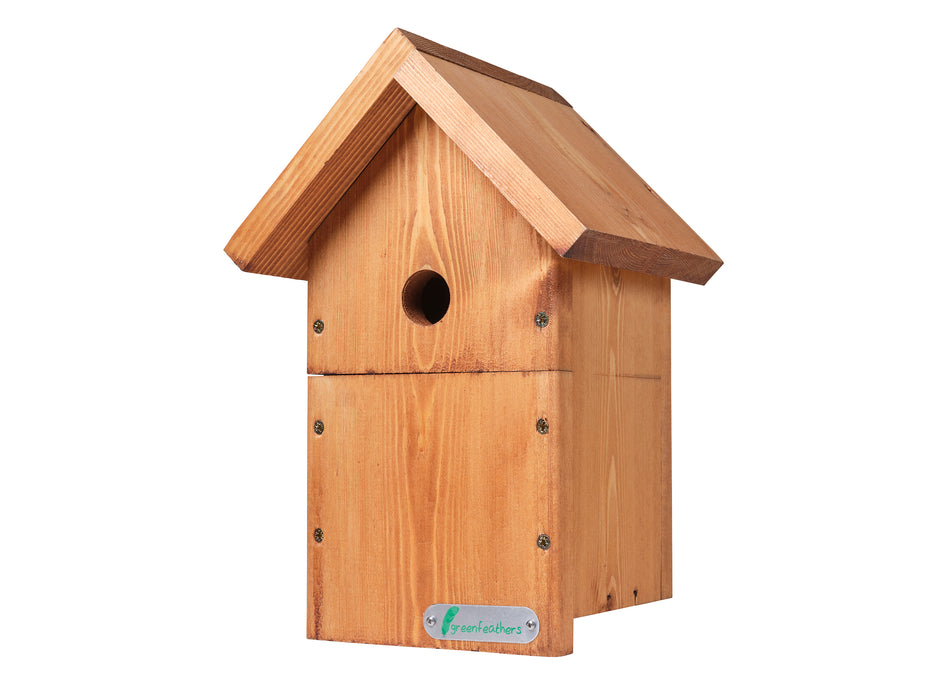 Green Feathers Handmade Wooden Bird Box
This quality wooden bird box is handmade in the UK and designed to be used with our bird box cameras.
Wooden Bird Box
A sturdy home for common garden bird species such as Blue Tits, Coal Tits, Great Tits and Sparrows
Perfect for Cameras
Purpose-designed by Green Feathers for use with bird box cameras, with a roomy interior and simple mounting point
21mm Thick Panels
Constructed from much thicker wood than most other boxes on the market, providing extra durability for years of use
FSC Certified
Built using wood from sustainable sources
Made in UK
Hand-built by the team at Riverside Woodcraft
Ventilation Slots
Narrow slots underneath the roof allow ventilation for the chicks and also provide a handy place to route power and video cables
Removable Panels
Large section of front panel and roof can easily be unscrewed, providing easy access when attaching the camera or light
Camera Mounting Hole
4mm hole at back of box is perfectly sited for fixing your camera's bracket
What's in the box?
1x Wooden bird box
2x Metal mounting brackets
8x Mounting screws
Our Green Feathers team has over a decade's experience designing and selling camera kits for watching wildlife and birds. Now we have teamed up with the folks over at Riverside Woodcraft to produce our first bird house, designed from the ground up to be perfect for setting up a bird box camera. It's a perfect project for families or schools, letting you watch in amazing detail, as birds investigate the box, then build a nest and raise their chicks.
The box itself is incredibly solid, built from 21mm thick wood, unlike most of the thinner, less durable boxes on the market. Importantly, it also carries the FSC label, ensuring the timber only comes from responsible sources. Not only that, but all of the boxes are handmade in the UK.
The interior of the box has been designed to be as spacious as possible, leaving room for the installation of your camera. There is a small mounting hole in the back of the box, perfectly sized to fit the camera's bracket. Slots run underneath either side of the roof to add ventilation for the birds, and also providing a neat way to route power and video cables out of the box. The kit also includes a set of mounting plates and screws, letting you easily attach the box to a tree.
Wood Thickness: 21mm
Entrance Hole: 32mm
Dimensions: 340x250x190mm