Gutter Inspection Camera Kit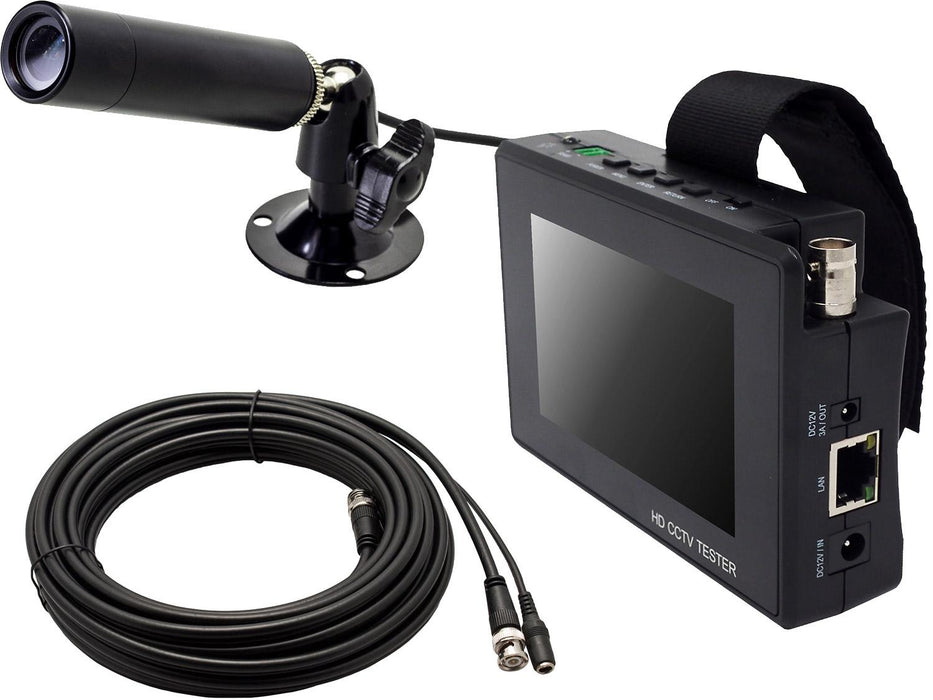 Gutter Inspection Camera Kit



We've put this kit together for those trying to inspect hard to reach places, whether they're high up, down low or awkward to get access to. This makes it ideal as a way of inspecting guttering on buildings.
Gutter Inspection Camera Kit
This camera and monitor kit is designed to inspect hard to reach places, such as guttering.
Discreet Mini Bullet Camera
This 1080p HD camera is tiny enough to allow you to position the camera in tight spaces.
Low Light
Features a sensitive imaging chip, which means it produces clear pictures at very low light levels without the need for IR LEDs.
Weatherproof
The casing is rated IP66, which means you can use the camera outside without rain ingressing into the delicate internals.
Plug-and-Play
Simply connect the camera's video and power into the portable monitor using the included coax cable.
Wide Dynamic Range
This camera is suited to outdoor high-contrast lighting conditions created by the sun, thanks to its WDR capability.
Portable Monitor
Featured in this kit is the clever portable CCTV 4-inch monitor, which allows you to get a live view.
Battery Powered
The monitor powers both itself and the camera down the cable so you don't need to run any extension cables from a mains power source.
What's in the box?
1x Mini Bullet Outdoor Spy Camera
1x 5-in-1 Portable CCTV Monitor
1x 10m BNC Coax Cable
Pole not included
In this kit, we have paired our tiny HD mini bullet camera with a portable 4-inch CCTV monitor so that you can view a live image on screen. The monitor simply attaches to your wrist and you can place the camera into position with an extendable pole (not included) so you can immediately get a good view of what you are trying to inspect.
Featuring a rechargeable battery, the monitor is able to power itself and the camera for up to 8 hours so that you don't have to try power extension cables from a mains source. It's just the matter of connecting the included coax cable from the camera to the monitor and powering it on!
Please note that there is a 2-day lead time on this product.
Camera
Image sensor: 1/3 2.12MP Panasonic CMOS
Total pixels: 1956 x 1266
Effective pixels: 1944 x 1092
Scanning system: Progressive
Resolution: TVI AHD CVI 1080p/CVBS 950TVL
Min. illumination: 0.005 Lux (Colour)/0.0008 Lux (B&W)
Video output: TVI/AHD/CVI/CVBS
S/N ratio: >52dB (AGC off)
Lens: 3.6mm fixed
Field-of-View: 96° - D 115°/H96°/V51°(1/3" LENS)
Shutter speed: 1/25 ~ 1/50000 sec
Sens-up: Auto (x6)/x2/x4/x6/x8/x10/x15/x20/x25/x30
Exposure: DC/Manual
Backlight compensation: Off/BLC/HSBLC
Image enhancement: D-WDR
Defog: On/Off
Day & Night: Auto/Colour/B&W/Ext
White balance: ATW/AWC-Set/Indoor/Outdoor/Manual/AWB
3D-DNR: Off/Low/Mid/High
Digital effect: Off/Mirror/V-Flip/Rotate & Freeze
Sharpness: adjustable
Privacy mask: 4 masks
Motion detection: Off/On
IR Cut: Yes
Communication: coaxial
Language: Eng/Chn/Ger/Fra/Ita/Spa/Pol/Rus/Por/Ned/Tur/Jpn
OSD: Controller supplied
Power input: DC 12V (100mA)
Power consumption: 1.2W
Operating temperature: -10 to 50 degrees
Storage temperature: -20 to 60 degrees
Dimensions: 19mm diameter x 72.5mm

Monitor
Display: 4" IPS touch screen
Resolution: 800x480
CVBS: 1 channel BNC input NTSC/PAL (Auto adapt)
PTZ control: RS485 control Baud 600-115200bps compatible with more than 30 protocols such as PELCO-D/P Samsung Panasonic etc
IP camera compatibility: 4K/H.265/H.264
IP: Discovery/Quick ONVIF/IPC test /RTSP play/Client APK
Rapid Video: Auto view the video create testing report
Coaxial HD test: 8MP TVI camera test 3840 x 2160P 15 FPS UTC control/call OSD menu; 4MP CVI camera test 2560 x 1440P 25/30 FPS UTC control/call OSD menu; 5MP AHD test 2560x1944P 12.5F/20F UTC control/call OSD menu
Zoom Image: Zoom Screen snapshot record save view record and playback
Power Output: DC 12V 3A power out
PoE power output: 48V PoE power output max power 24W
Network test: Link monitor port flashing Ping test
Audio test: 1 channel audio signal input test whether sound normal 1 channel audio signal to connect headphone
Data monitor: Captures and analyzes the command data from controlling device also can send hexadecimal
Drop-down menu: You can select PoE power switch IP setting CVBS LAN info etc in any interface
External power supply: DC 12V 1A
Battery: Built-in 7.4V 2400mAh Lithium polymer battery
Rechargeable: After charging 4~5 hours normal working time 8 hours
Auto-off: 1-30 (mins)
Working Temperature: -10C – +50C
Working Humidity: 30%-90%
Dimensions: 126mm x 83mm x 33mm
Weight: 0.32kg