Green Feathers Bird Box Camera HD Network Cable Connection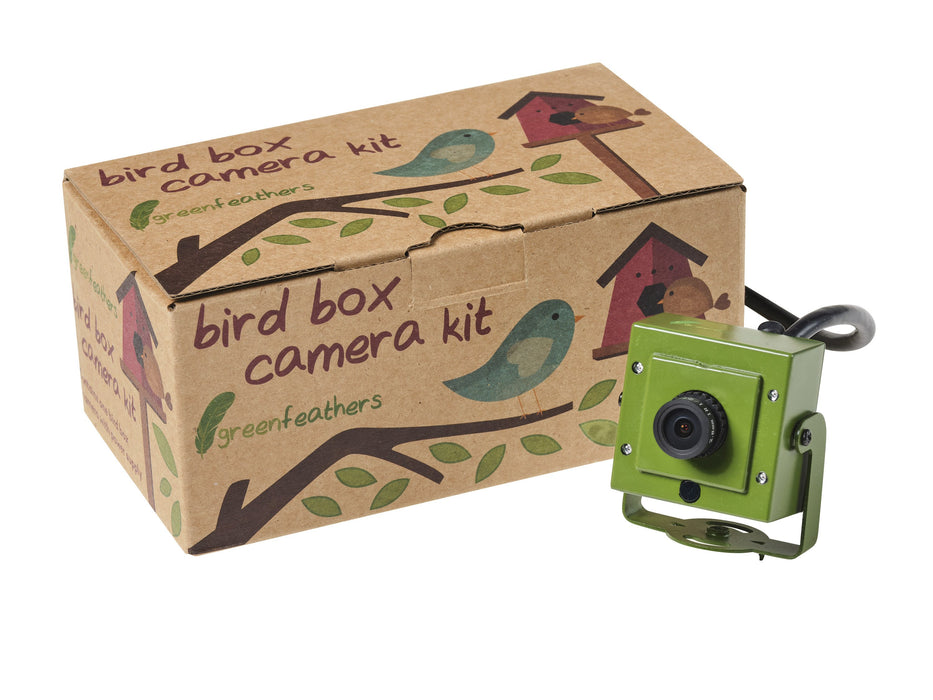 Green Feathers Bird Box Camera HD Network Cable Connection
Product Code:
NCIP220M-B04







Our best resolution HD IP Bird Box Camera allows you to watch garden wildlife on your PC, smartphone and tablet – all in 1080p HD. Mount the camera in your nest box and connect the provided cable into your network to start watching live images. With its advanced imaging, this kit is ideal for nature enthusiasts!
HD Bird Box Camera
Lets you watch chicks grow in a nest house in clear 1080p HD. This makes it ideal for enthusiast and professional nature watchers
IP Network Camera
Records digital video then sends it down a network cable straight to your router or network switch
Mobile & iPad Access
In addition to watching on PC, you can also watch live, wherever you are using the free mobile app. This camera needs an initial easy configuration on PC, after which you can simply log in using a mobile device
Night Vision
IR LEDs (= No-Glow, so they don't disturb the birds) allow camera to record even in complete darkness
Colour Video
Records in full colour when in good lighting conditions
Wide Angle Lens
2.8mm lens is designed to capture as much of the inside of the bird box as possible, with a 92° field of view
True-to-life Colours
IR-cut Filter on the imaging chip helps prevent the strong colour cast seen in daylight with cheaper IR cameras and allows the camera to record vibrant, accurate colours
Image Controls
Wide dynamic range and noise reduction modes allow you to adjust to get the best picture for your setup
PC Recording
CMS software lets you record footage straight to your PC
NAS Drive Compatible
Allows motion detection and scheduled recording to network-attached drives
Stream online
You can stream the camera online, with a bit of setup, to services such as YouTube to share the action with everyone!
What's in the box?
1x HD IP bird box camera
1x 20m Network cable
1x 3m Network cable
1x PoE injector
1x Mains power supply
We are proud to present the UK's first HD IP bird box camera, from our exclusive Green Feathers brand which allows you to watch the inside of your bird box over the internet via smartphone or iPad - all in incredible HD! There's no other bird box camera on the market that is true HD or accessible over the internet.
Our wireless bird box camera has been one of our most popular cameras, letting you easily watch your little feathered family from the comfort of your TV. However, we often get asked if you can also view it on a mobile or tablet, and this isn't really possible without using a recorder. But hurray! For we now have some chirpy news: with our new HD IP model, you can plug it straight into your router, and, after an initial simple setup using a PC, log in via a mobile or tablet to have a live view of your hatching chicks in their nest box, wherever you are!
The camera itself has also been upgraded, now recording in 1080p HD, providing the clearest possible image of the birds at home in the nest. IR LEDs provide clear night vision for recording after dark, and if there are good lighting conditions, the camera can record in colour. A wide-angle lens also helps get everything in the frame, even in the most compact nest boxes. Perfect for whenever Tweety is dozing off in a far corner for a bit.
The kit includes a 20m Cat 5e ethernet cable with waterproof connector, which runs straight from the camera to your router or network switch. Once configured via an app, you can view the camera live on your mobile device. If you're viewing via a PC, the CMS software lets you record footage, and, if used with a NAS drive, you can even set up motion detection and scheduled recording.
We also offer a remote setup service to completely configure the camera for you, and provide ongoing support, through our Freshdesk site, and via our support ticket system, email and phone service. See here for more details about the setup. A little side note: we always welcome happy stories and new videos of your feathered friends, so feel free to share them!
Imaging Chip: 1/3 Low light CMOS
Sensor Resolution: 1080p
Sensitivity: 0.5Lux (IR off) 0Lux (IR On)
Main Stream Resolution: 1080p @ 15fps 720p @ 25fps
Sub Stream Resolution: 4CIF @15fps CIF @25fps
Video Compression: H.264
DWDR: On/Off
3D DNR: YEs
Lens: 2.8mm
Field of View: 92°
Lens Mount: Board
Day & Night: Auto ICR switch
Configuration: Via web browser or CMS software
Recording: Continuous Motion Scheduled (via CMS)
Protocol: HTTP TCP/IP ARP RTSP RTP UDP SMTP FTP DHCP DNS DDNS PPPOE UPNP NTP 802.1x
Ethernet: 10/100 Base-T Auto-sensing Half/full duplex RJ45
PoE: IEEE 802.3 af compliant
Power Input: 12V DC or PoE
Power Consumption: 3.5W IR off 7.5W IR on
Dimensions: 43x43x21mm (excluding cables & bracket)
Operational Temperature: -20°c to +55°c
Humidity: 10-80%