Green Feathers Hedgehog Box Camera HD Deluxe Bundle TV Connection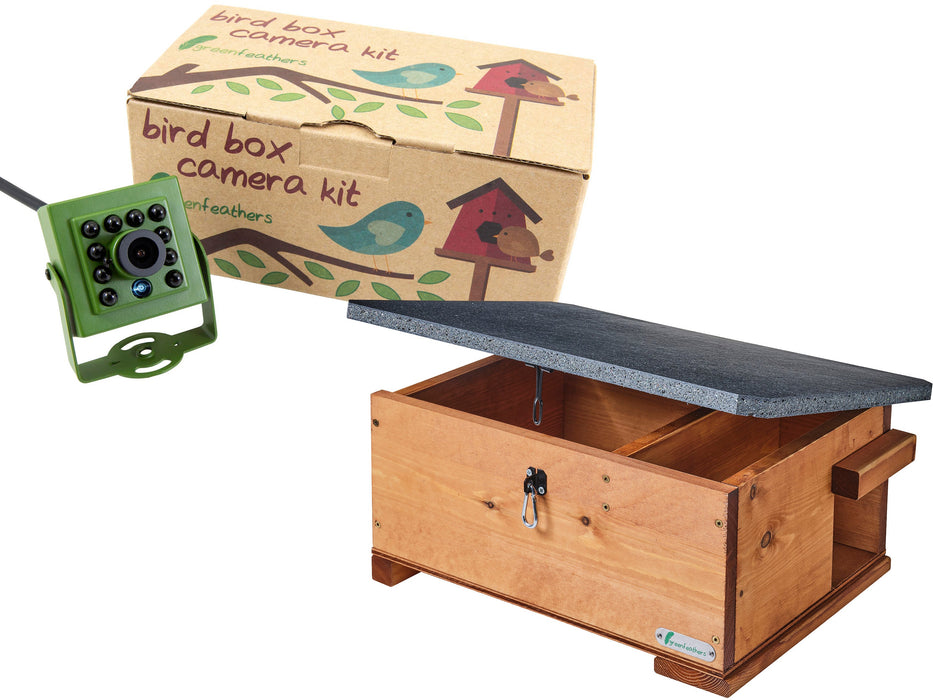 Green Feathers Hedgehog Box Camera HD Deluxe Bundle TV Connection
Our hedgehog box wired camera kit bundle allows you to get up close and personal with visiting hedgehogs in your own garden. This kit includes everything you need to get started: our hi-res wired nest box camera, a 20-metre video/audio/power cable for the camera and our handmade wooden hedgehog box of your choice. The camera kit is designed to be connected up to your TV directly and includes an HD upscaler for direct connection to your TV via HDMI.
Our hedgehog box features an eco-roof made of recycled composite materials with the added benefit of being completely waterproof and rot-proof. It's built with a sloping roof for water drainage along with additional grooves on the top of the side panels. The lid is hinged and lockable. Ventilation is provided by a clog-proof, narrow gap under the roof along the front.
Hedgehog Watching Camera Kit
Install the camera in your hedgehog feeding station or house to watch visiting hedgehogs up close and personal without disturbing them!
Quality Hedgehog Box
Includes a hand-crafted birdhouse from our UK workshop, made from sturdy thick timber
Waterproof Recycled Eco Roof
The eco-roof is both UV and fully waterproof. It gently slopes to ensure water drains off quickly and underside grooves stop water coming in to keep the hedgehogs nice and dry. The roof is made out of a recycled plastic blend that doesn't rot and ensures longevity.
1080p Full HD from Camera
This camera produces fully detailed HD video. When connected directly into your TV using the AV input the video is downscaled, but you can use one of our Mini HD Recorders to watch it in Full HD!
Television Connectivity
Simply power up the camera, connect the cable to the camera at one end and to your TV at the other, and you'll be up and running.
In-Camera Microphone
Hear every cheep and ruffle thanks to the in-built microphone picking up every little sound from the nest.
Low Light
This camera features the latest Starlight chip, which enables create quality images even in low-light situations.
Night Vision
24/7 viewing with infra-red night vision so that you can see what is happening even in pitch black.
Easy-mount Corner Bracket
We've included our corner bracket so that you can easily install the camera yourself without needing to be a DIY expert! This enables the wide-angle lens to get the best angle from inside the box.
Wired Reliability – No Wireless
Because the camera runs on professional-grade cables, it provides a robustly reliable signal at all times. No need to worry about getting enough WiFi signal or being out of range!
Another first for Green Feathers! We have worked closely with our geeky CCTV friends at our sister company to bring you this fantastic Full HD hedgehog box camera. This is our best resolution plug-and-play camera with very little setup! 
We are proud to bring you the best technology to your garden and this camera is no different. It boasts the latest 4-in-1 technology, which means you can have fantastic high definition images on your TV when using our Mini HD Recorder.
Unlike other cameras on the market, this camera features Full High Definition video at 1080p. It uses the latest ultra-low light imaging technology and when coupled with one of our bird box daylight lamps you will achieve the best crystal-clear daytime colour images.
Options for watching:
SD Viewing on TV
To view on a TV using its AV (RCA) inputs, connect the cable directly into the TV. This will reduce the definition so it will play straight through the TV without a converter or decoder. We've also included our RCA to HDMI upscaler so you can connect to your TV via an HDMI connection.
HD Viewing using Mini HD Recorder
Our Mini HD Recorder (sold separately) allows you to watch true 1080p HD images straight from your TV and records to a microSD card using motion detection. Simply plug the camera into the recorder and run an HDMI cable to your TV or monitor.
Viewing and Recording Multiple cameras through a DVR
For advanced enthusiasts
This camera provides a low-cost way to run multiple HD cameras. Using modern CCTV DVR recorders, you can watch and record 4, 8, 16 or 32 cameras at a time – even remotely on your phone or PC anywhere in the world.
Hedgehog House or Feeding Station (choose above)
HD Wired Nest Box Camera with audio
20-metre video/power/audio cable
UK mains power supply
RCA to HDMI upscaler
RCA adaptor
Easy mount corner bracket
Optional (add from drop-down menu):
Mini HD Recorder
Camera
Sensor: 1/2.8" NVP2441+IMX307
Format: PAL/NTSC
Effective Pixel: 1920×1080 FPS: 1080p @ 25fps
Illumination: 0.0001 Lux (F1.2, AGC ON), 0 Lux with IR
Shutter: Auto
D/N Mode: EXT (Default) /AUTO/COLOR/B/W
Synchronous: Internal
Video Output: AHD/TVI/CVI/CVBS 4-in-1 switch
Exposure: Brightness / Exposure Mode / Gain
White Balance: ATW/MWB
D/N Mode: Infrared/Internal Auto/Color/B&W
Video Setting: Contrast/Sharpness/Color/GAIN/DNR/Format/WDR
Language: CHN1/ESPANOL/CHN2/ITALIANO/ENGLISH
Operating Temperature: -20°C to 60°C
Working Humidity: < 90%
Power: DC 12V 1A
Weight: 0.2kg
Audio: Yes