Hikmicro Thermal Surveillance Monocular Gryphon Pro 50mm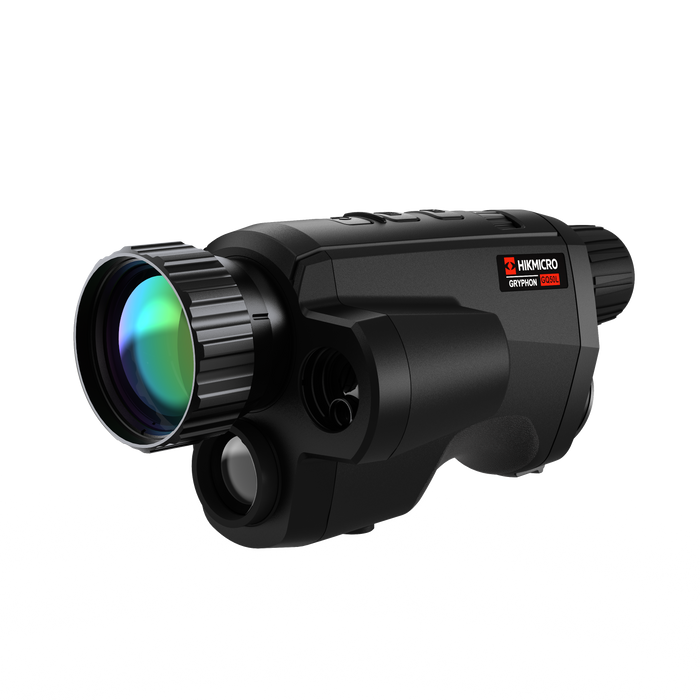 Hikmicro Thermal Surveillance Monocular Gryphon Pro 50mm
Product Code:
HIKMICRO-GQ50L(50mm)
High magnification image from 50mm lens system +
High quality SUB 35 NETD 640px sensor
Very compatible with the shooting style in the UK.
All Black Chassis
Thermal + Optical cameras included
Laser Range Finder
18650 detachable battery
The HikMicro Gryphon GQ50L 50mm Pro LRF is the newest high-resolution, high-magnification thermal monocular in the Gryphon family, offering a sophisticated solution for surveillance tasks.
Sporting a 640x512px, sub 35mk NETD sensor and a high-quality 50mm lens system, this pocket-sized powerhouse provides a detailed thermal image and a compact 2.9x magnification.
This thermal monocular doesn't just stop at providing high-grade thermal imaging; it also features a low-light optical camera. This combination creates a dual-purpose tool that functions effectively as both a thermal and night vision monocular, perfect for surveillance tasks in varying lighting conditions.
Key among its features is a built-in 600m Laser Range Finder, a crucial tool for accurate distance judgement to the target, with options for single readings and scan mode.
A distinctive feature of the Gryphon GQ50L is its jog wheel, providing a user-friendly experience akin to conventional optical scopes. This jog wheel lets you smoothly adjust the magnification, as well as navigate the menu system.
Adding to its impressive suite of features, the Gryphon GQ50L uses a removable 18650 battery, ensuring power longevity for extended surveillance operations.
The Fusion mode in the Gryphon GQ50L combines the detail from the optical image with the thermal channel, delivering the ultimate blend of detection and detail, an essential element in surveillance applications.
As with all HIKMICRO products, the Gryphon GQ50L allows access to the HIKMICRO Sight App for streaming, recording, and control, along with a built-in 16GB internal memory for recording images and videos.
All these features are housed in a newly designed chassis, developed for easy one-hand operation, and backed by a 3-year HIKMICRO UK warranty for peace of mind.
In short, the Gryphon GQ50L is a high-specification, versatile thermal monocular that is a perfect tool for surveillance tasks requiring high-resolution thermal and night vision. It offers unrivalled performance and value for money in the field of surveillance.
Objective Lens (Focal Length)
50mm
Detection Range (Human 1.8 x 0.5m)
2600m
Type
VOx Uncooled Focal Plane Arrays
Resolution, pixels
640 x 512
Magnification (Optical)
2.9x
Magnification (Digital)
1x, 2x, 4x, 8x
Field of view 
8.78°× 7.03°(H × V)
Sensor resolution
1920x1080px 
Wavelength sensitivity
400-1000 nm
Measurement accuracy
± 2m
Resolution, Pixels 
1024 ×768
Colour Palettes
White Hot, Black Hot, Red Hot, Fusion, Visible, Thermal & Visible Fusion
Build in memory, Gb
16 gb
HIKMICRO Connect App support
YES
Degree of protection, IP code
IP67
Dust protection
Protected against dust ingress
Water protection
Protected against temporary submersion in water
Operating temperature range
-20 °C to 55 °C
Dimensions, mm
87mm x 73mm x 167mm
Operating time on battery (WiFi & Hot tracking disabled)

4.5 Hours
Charging interface
Removable 18650 battery
High magnification image from 50mm lens system +
High quality SUB 35 NETD 640px sensor
Very compatible with the shooting style in the UK.
All Black Chassis
Thermal + Optical cameras included
Laser Range Finder
18650 detachable battery
HIKMICRO Gryphon GQ50L 50mm Pro 640x512 12µm Thermal Monocular With LRF 
Charger
USB-C Cable 
18650 Battery