Hikvision 16 Channel NVR with 4K, PoE Switch & 4TB HDD - 256Mbps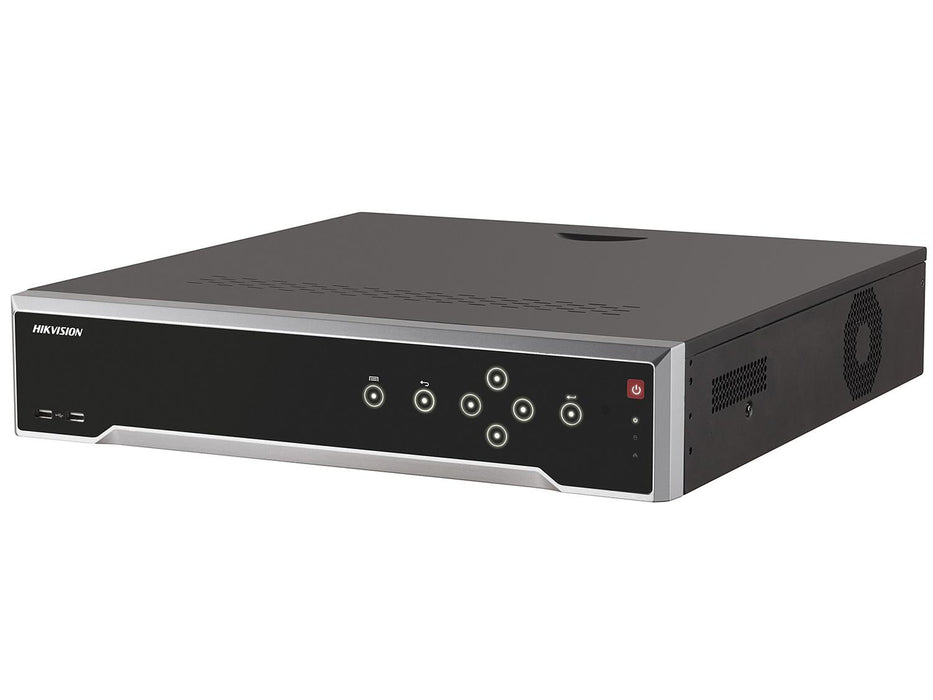 Hikvision 16 Channel NVR with 4K, PoE Switch & 4TB HDD - 256Mbps
Product Code:
DS-7716NI-I4/16P4TB







Hikvision 16 Camera NVR
Professional recorder designed for large, demanding systems in commercial environments
256Mbps Bandwidth
Has enough processing power to record 16x 2 megapixel (1080p) cameras, or four 8 megapixel (4K) cameras
Up to 12MP Resolution
Compatible with individual cameras up to a huge 12 megapixels
16 Port PoE
Built-in Power-over-Ethernet switch provides power to the cameras down the network cable, removing the need for setting up separate power supplies
4 Hard Drive Bays
NVR can be upgraded to hold up to 24TB, allowing storage of huge quantities of footage
4TB Hard Drive
Ships with a preinstalled 4TB drive, however, this can be upgraded
H.265 Compression
Uses advanced video compression technology to allow high-resolution files that don't chew through your hard drive space
Advanced Automation Options
Includes a complete suite of motion detection and scheduling options, all adjustable on a camera by camera basis
Analytics Settings
Compatible with the latest cameras' analytics features, including line crossing, intrusion, object removal and face detection. These provide an extra level of fine-tuned customisation for your system
Remote Access
Connect NVR to your router to allow viewing live and recorded footage from anywhere using a PC or mobile device. The PC app can even be used to adjust recording settings
HDMI Output
Connect to an HD TV or monitor to easily view footage locally. Outputs video at up to 4K resolution
What's in the box?
1x 16 Channel Network Video Recorder with 4TB HDD
1x USB Mouse
1x Mains Power Supply
1x Software & manual CD
When you've invested money in the best 4K CCTV cameras on the market, it's important to use a recorder that can manage the demands of such high-resolution footage. This commercial quality 16 camera HIkvision NVR is an ideal choice. It has 256Mbps of bandwidth, providing enough processing grunt to handle four 8 megapixel cameras at the same time - or 16 2MP cameras. This makes it a great choice for properties that require extensive coverage, or systems with a mix of different types, such as car parks.
The recorder uses a built-in 16 port Power-over-Ethernet (PoE) switch to send power to the cameras down the network cable, helping prevent the need for extra power supplies and keep installation simple. It ships with a 4TB hard drive built-in as standard, but has four internal hard drive bays, allowing it to be upgraded to up to 24TB if required.
As you'd expect with one of HIkvision's professional NVRs, it's kitted out with the best automation features on the market. These not only include motion detection and scheduling but compatibility with the most recent camera's behavioural analytics settings such as line crossing, object removal, intrusion and face detection. All of these can be set directly on the recorder using a monitor, or remotely via HIkvision's PC app. Live & recorded footage can also be viewed on the go via iOS or Android devices.
IP Video Input: 16 Channels
IP Input Resolution: Up to 12MP
Two Way Audio: 1x RCA
Incoming Bandwidth: 256Mbps
Outgoing Bandwidth: 256Mbps
Recording Resolution: 12Mp 8MP 6MP 5MP 4MP 3MP 1080p UXGA 720p VGA 4CIF DCIF 2CIF CIF QCIF
HDMI Output Resolution: 3840x2160 60HZ 3840x2160 30Hz 1920x1080 60Hz 1600x1200 60Hz 1280x1024 60Hz 1280x720 60Hz 1024x768 60Hz
VGA Output Resolution: 1920x1080 60Hz 1280x1024 60Hz 1280x720 60Hz 1024x768 60Hz
Audio Output: 1x RCA
Decoding Format: H.265 H.264+ H.264 MPEG4
Synchronous Playback: 16ch
Capability: 4ch @ 4K 16ch @ 1080p
SATA: 4x SATA Interfaces
Capacity: Up to 6TB per drive
Network Interface: 1x RJ45 10/100/1000 Mbps self adaptive
Serial Interface: 1x RS485 1x RS232
USB Interface: 2x (front panel) 1x (rear panel)
Alarm In/Out: 16/4
PoE Interface: 16x 10/100 Mbps self adaptive
PoE Output: 200W
PoE Standard: IEEE 802.3 af/at
Power Supply: 100 to 240V AC
Power: 300W
Consumption: 20W (without HDD or PoE)
Operational Temperature: -10° to +55°c
Operational Humidity: 10-90%
Chassis: 19 Rack Mount 1.5U
Dimensions: 445x390x70mm
Weight: 5Kg (without HDD)