Hikvision 4K AcuSense Strobe Light and Audible Warning Fixed Turret Network Camera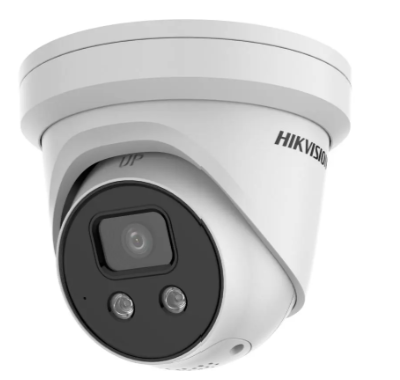 Hikvision 4K AcuSense Strobe Light and Audible Warning Fixed Turret Network Camera
Product Code:
DS-2CD2386G2-ISU/SL(2.8mm)(C)
Hikvision AcuSense technology is driven by powerful deep learning algorithms, elevating the classification alarms for human and vehicle targets to new heights. With a laser-like focus on these crucial targets, the system significantly improves the efficiency and effectiveness of alarms. Whether it's on front- or back-end devices, this advanced technology guarantees precise identification and prioritization of human and vehicle-related incidents, setting a new standard in alarm systems.
AcuSense Turret Network Camera

Empowered by deep learning algorithms, Hikvision AcuSense technology brings smart human or vehicle tracking that greatly reduces false alarms generated by random movement in the image.
Up to 30m Night Vision Range

Infrared LEDs allow the camera to keep recording even in complete darkness, with enough range for large outdoor spaces.
DarkFighter Technology

Excellent low-light performance with DarkFighter technology to ensure great images even without infra-red night vision.
Wide-angle lens

This model includes a 2.8mm lens, which provides a diagonal field-of-view of 131°.
Onboard recording storage

Features a microSD card slot that supports cards up to 256GB in capacity.
Audio

Built-in microphone for real-time sound.
Power-over-Ethernet

The camera draws power from the network cable, so there's no need to run a separate power supply. Requires a compatible PoE switch or NVR.
Remote Access

Connect the camera into your network to view live or recorded footage from anywhere using a PC or mobile device.
H.265+ Compression

Efficient compression allows more footage to be recorded on less storage.