Hikvision 5 Port PoE Network Switch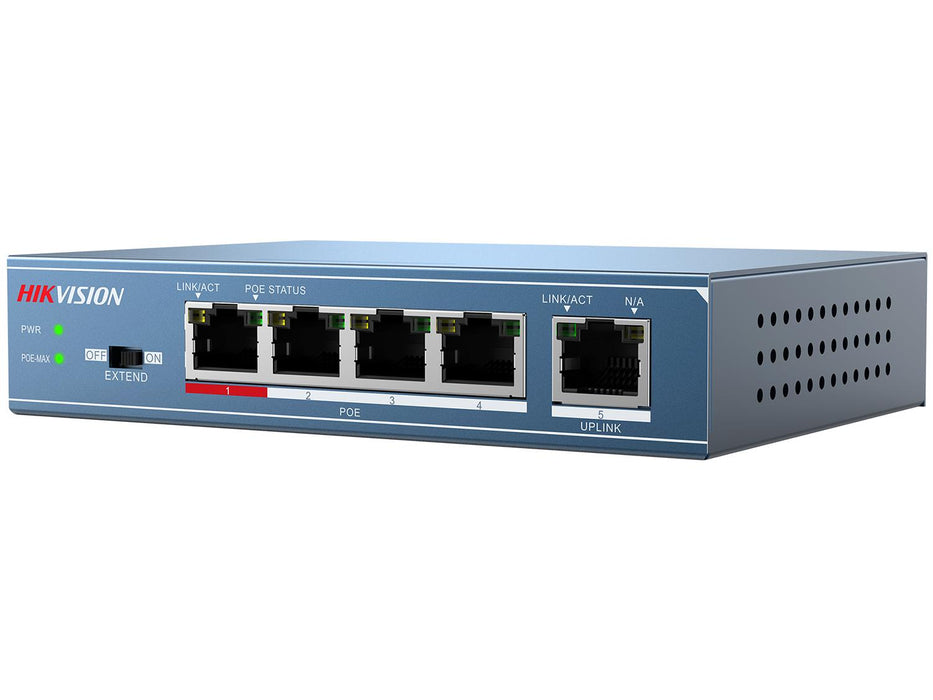 Hikvision 5 Port PoE Network Switch
Product Code:
DS-3E1106HP-EI
PoE Network Switch
Provides power to PoE IP cameras, preventing the need for additional power supplies
4 PoE Ports
Powers up to 4 cameras, in addition to connecting to your router
10/100Mbps Switching
Ports automatically switch connection speeds
250m Transmission
Sends power down up to 250m of Cat5E cable
What's in the box?
1x Hikvision PoE Network Switch
1x Mains Power Supply
English setup instructions
Power over Ethernet (or PoE) cameras help make it a breeze to set up an IP security system. They draw power from the same cable as they use for data, preventing the need for annoying external power supplies. In order to use them, however, you need a device with the right interface. This Hikvision PoE network switch can power up to 4 IP cameras, whilst also helping your network manage the increased data traffic.
The device features 4 PoE ports for the cameras, as well as one uplink port to connect to your router. This allows you to set up multiple IP cameras without having to wire them all directly into the back of an NVR.
Network Ports: 5
PoE Ports: 4x 10/100Mbps RJ45
Uplink Port: 2x 100Mbps Ethernet
Network Protocol: IEEE 802.3at/af/bt standard for PoE ports
Switching Capacity: 1Gbps
Max Forwarding Rate: 0.74Mpps
High Priority Ports: Port 1
Forwarding Mode: Store-and-forward
MAC Address Table: 1k
Flow Control: IEEE802.3x full-duplex
PoE Standard: IEEE802.3af IEEE802.3at
PoE Power Budget: 58W
Working Mode: 300m 10M Cat5e (Extend On) 100m (Extend Off)
Power Supply: 21V DC 1.25A
Power Consumption: 63W
Surge Protection: 6KV
Operational Temperature: 0°c to +40°c
Operational Humidity: 10-90%
Storage Temperature: -40°c to +70°c
Weight: 299g
Dimensions: 132x93.3x27.6mm