Hikvision 5MP PoC TVI CCTV Camera with 40m Night Vision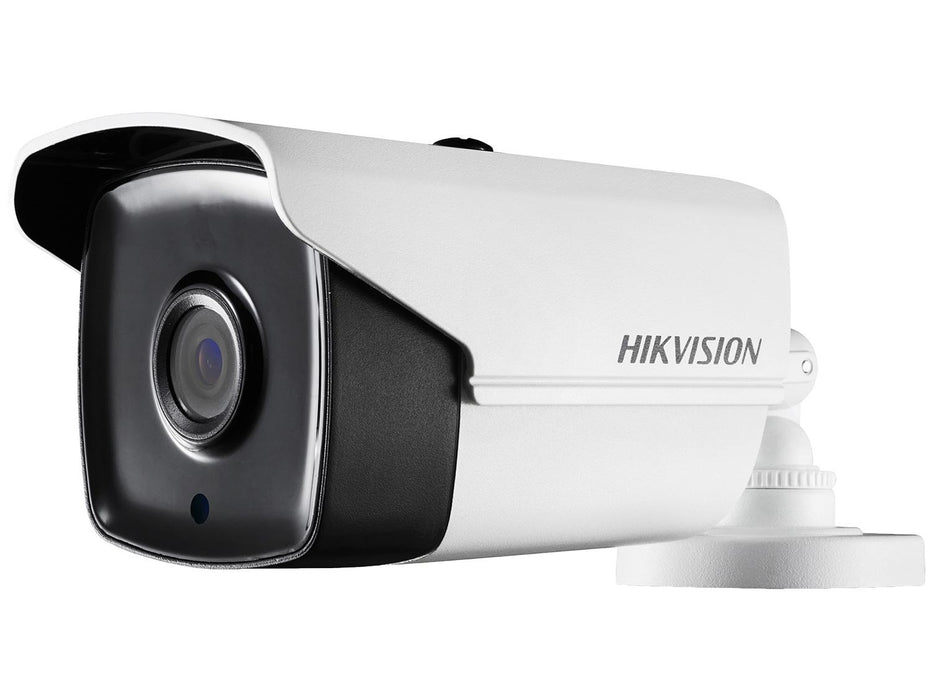 Hikvision 5MP PoC TVI CCTV Camera with 40m Night Vision
Product Code:
DS-2CE16H0T-IT3E(3.6mm)





Hikvision Bullet Camera
Professional grade bullet CCTV camera from the largest manufacturer of security equipment in the world
5 Megapixel Resolution
Captures video at 2592x1944 resolution, providing over twice the detail of 1080p Full HD. All this without the added configuration hassle of an IP camera!
Plug and Play
Connects to your recorder using a simple test-fit BNC connector. Please note 5MP compatible DVR required
40m Night Vision
Illuminates subjects for clear recording even in unlit areas at the dead of night
EXIR LEDs
Hikvision's advanced night vision illuminators help provide clear and even illumination even in the corners of the image
Power-over-Coax
Can draw power directly from PoC compatible Hikvision recorders via an RG59 cable. This means you don't need to sire an additional power supply
IP67 Housing
Professional grade bullet housing is completely weatherproof, allowing outdoor installation
3.6mm Lens
Provides a 70° horizontal field of view
Please note: this PoC camera does not include a mains power supply as standard, however, you can add one using the drop-down menu at the top of the page
What's in the box?
1x Hikvision 5MP bullet camera
Hikvision's Turbo HD-TVI range is an incredibly popular combination of high-resolution images and a simple plug-and-play setup. This 40m bullet camera is part of the latest generation of TVI gear, capturing huge 5 megapixel (2592x1944) video images, packed with fine detail. The result is a professional-grade camera that can compare with all but the most advanced IP cameras, all without the hassle of configuring it to your network.
It's not just the resolution that's impressive, either - the camera also features 40m of night vision, making it suitable for monitoring larger unlit areas round the clock. The camera uses Hikvision's advanced EXIR LEDs, helping provide uniform and clear illumination right across the image. The bullet camera is also protected by an IP67 rated housing, providing complete protection from the elements. This makes it a perfect option for security in an outdoor area. Image settings such as contrast and backlight correction can also be adjusted using the built-in menu system, ensuring you have precise control over the image.
The camera uses a standard twist-fit BNC output, so can plug straight into any HD-TVI compatible recorder. It even supports Power-over-Coax (PoC), letting it draw power from a compatible DVR over the RG59 cable, and removing the need for an additional power supply.
Imaging Sensor: 5MP CMOS
Effective Pixels: 2592x1944
Minimum Illumination: 0.01Lux (IR Off) 0Lux (IR On)
Shutter Speed: 1/25 - 1/50000s
Lens: 3.6mm
Field of View: 70.1°
Day & Night: ICR
Lens Mount: M12
Synchronisation: Internal
Video Frame Rate: 2592x1944 @ 20fps
Output: 1x BNC
AGC: Supported
D/N Mode: Auto/Colour/Black & White
White Balance: ATW/MWB
BLC: Supported
Language: English Chinese
Menu Functions: Brightness Sharpness DNR Mirror Bad pixel correction Smart IR
Operational Temperature: -40°c to +60°c
Operational Humidity: <90% (non condensing)
Power Supply: 12V DC
Power Consumption: Max 5W
Protection Level: IP67
IR Range: 40m
Communication: UTC
Dimensions: 86.7x81.6x226mm
Weight: 680g