Hikvision 5MP CCTV Camera with Motorised Zoom, 40m IR, PoC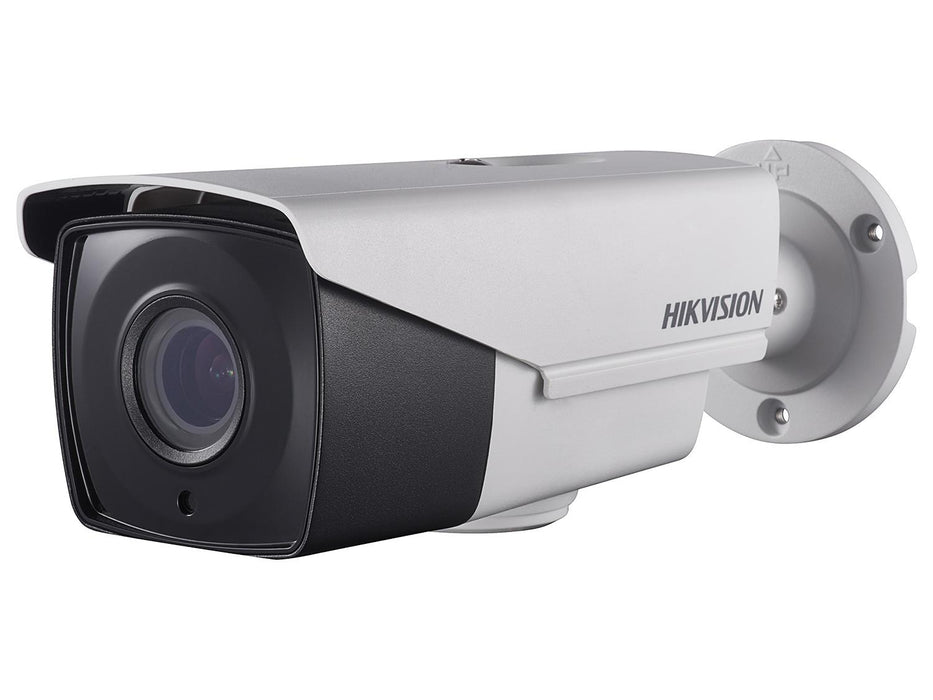 Hikvision 5MP CCTV Camera with Motorised Zoom, 40m IR, PoC
Product Code:
DS-2CE16H0T-IT3ZE





Hikvision Turbo HD-TVI Camera
Part of one of the most popular ranges by the largest manufacturer of CCTV on the planet, and trusted by security professionals the world over
5 Megapixel Resolution
Captures video images at 2592x1944 resolution, allowing you to see fine subject details like faces and clothing
Motorised Lens
Can be remotely zoomed from an 87° wide-angle to a 27° close crop. Combined with the incredible recording resolution, this allows it to make out important details on subjects from farther away
Power-over-Coax
Draws power from compatible Hikvision recorders via an RG59 cable, so there's no need to set up an additional power supply
40m Night Vision Range
The camera can be used for monitoring completely unlit areas at all hours, even larger outdoor spaces
EXIR LEDs
Uses Hikvision's latest infrared technology, ensuring night vision images have even illumination with no shady corners
Plug and Play
TVI technology provides you with the same recording quality as an IP camera, but without having to configure it to your network. Just plug it into a compatible recorder! Please note 5MP compatible DVR required
IP67 Housing
Weatherproof housing suitable for installation even in the most exposed outdoor locations
Please Note: This Power-over-Coax camera does not include a mains power supply as standard, but you can add one from the drop-down at the top of the page
What's in the box?
1x Hikvision 5MP bullet camera
Hikvision's Turbo HD-TVI is one of the most popular CCTV camera ranges on the market today, combining detail-packed HD recording with a simple plug-and-play installation. This professional-grade bullet camera is one of the latest models in this range, packing an immense recording resolution of 5 Megapixels (2592x1944), which is over twice the detail of Full HD! The TVI interface makes all of this possible without the complex configuration required for an IP camera. It even supports Power-over-Coax (PoC), letting it draw power from a compatible DVR over the RG59 cable, and removing the need for an additional power supply.
The camera also features a motorised lens, letting you remotely zoom the camera from an 87° wide-angle to a 28° close crop. Combined with the massive recording resolution, this makes the camera ideal for monitoring large spaces such as car parks or long driveways, where traditional cameras might not be able to make out subject detail such as faces or licence plates.
Other features include 40m clear night vision from Hikvision's EXIR LEDs, and a fully weatherproof IP67 rated housing to allow outdoor installation. The camera connects to a compatible recorder using a standard twist-fit BNC connector, just plug it in and you're good to go! Don't forget to make sure your DVR can work at 5MP resolution - our range of 5MP Hikvision recorders are an ideal choice.
Imaging Sensor: 5MP CMOS
Effective Pixels: 2592x1944
Minimum Illumination: 0.01Lux (IR Off) 0Lux (IR On)
Shutter Speed: 1/25 - 1/50000s
Lens: 2.8 to 12mm
Field of View: 87° to 28°
Day & Night: ICR
Synchronisation: Internal
Video Frame Rate: 2592x1944 @ 20fps
Output: 1x BNC
AGC: Supported
D/N Mode: Auto/Colour/Black & White
White Balance: ATW/MWB
BLC: Supported
Language: English Chinese
Menu Functions: Brightness Sharpness DNR Mirror Bad pixel correction Smart IR
Operational Temperature: -40°c to +60°c
Operational Humidity: <90% (non condensing)
Power Supply: 12V DC
Power Consumption: Max 6W
Protection Level: IP67
IR Range: 40m
Communication: UTC
Dimensions: 92x84.8x269.6mm
Weight: 900g