Hikvision 5MP Turbo HD Dome Camera with 20m IR, PoC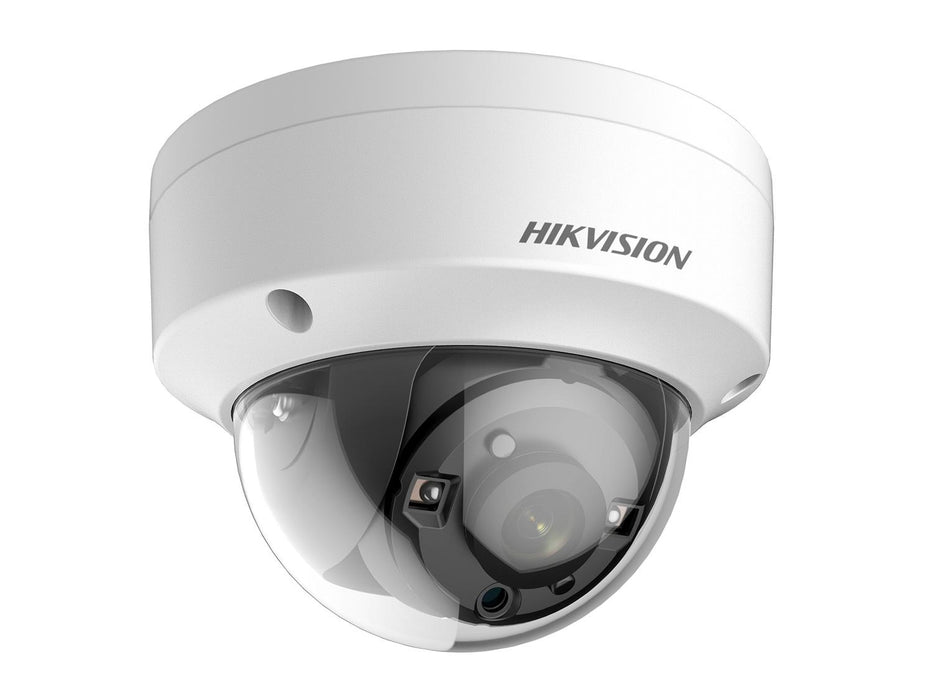 Hikvision 5MP Turbo HD Dome Camera with 20m IR, PoC
Product Code:
DS-2CE56H0T-VPITE(2.8mm)





Hikvision Turbo HD Camera
Part of Hikvision's popular professional range, using plug-and-play HD-TVI technology. No configuration required!
5 Megapixel Video
Captures 2560x1944 resolution video, with over twice the subject detail of Full HD
Vandalproof Dome
The camera is housed inside a durable, IK10 rated plastic dome, protecting it from physical damage
Wide Angle Lens
2.8mm lens captures everything in a 94° field of view in front of the camera, especially useful for indoor security
Power-over-coax
Draws power from compatible Hikvision recorders via an RG59 cable, so there's no need to set up an additional power supply
20m Night Vision
Infrared LEDs provide illumination, even in total darkness
EXIR LEDs
Uses Hikvision's advanced IR technology, ensuring even lighting across the image and no dark corners
IP67 Housing
The camera is also rated as weatherproof, though we do not recommend this camera for outdoor use
We do not recommend this camera for outdoor use.
What's in the box?
1x Hikvision 5MP dome camera
Hikvision's Turbo HD-TVI range allows a simple plug-and-play installation, whilst still providing amazing resolution and subject detail. This compact dome camera is no exception, capturing 5 megapixel (2560x1944) images with over twice the detail of Full HD. Unlike IP camera systems, there's no configuration required, just plug them in using standard RG59 cable and they're ready to use.
The camera itself is housed inside an IK10 rated vandal-proof dome, making it a great option to install in high risk, prominent locations. Infrared LEDs provide 20m of night vision range, and the housing is also IP67 rated weatherproof. This all means the camera is versatile enough to be used anywhere from the inside of a bar to the exterior of a warehouse.
The camera also supports Power-over-Coax (PoC), letting it draw power from a compatible DVR over the RG59 cable, and removing the need for an additional power supply.
Imaging Sensor: 5MP CMOS
Resolution: 2560x1944
Minimum Illumination: 0.01Lux (IR Off) 0Lux(IR On)
Shutter Speed: 1/25 to 1/50000s
Lens: 2.8mm
Horizontal Field of View: 94 degrees
Lens Mount: M12
Day & Night: IR Cut
Synchronisation: Internal Sync
Frame Rate: 2560x1944@2012.525fps 1920x1080@25fps
AGC: Supported
D/N Mode: Auto/Colour/B&W
White Balance: ATW/MWB
BLC: Support
DWDR: Support
Language: English Chinese
Functions: Brightness Sharpness DNR Mirror Smart IR
Video Output: 1x BNC
Operational Temperature: -40 to +60°c
Operational Humidity: 90% or less
Power Supply: 12V DC PoC
Power Consumption: Max 4.5W
Protection Level: IP67 IK10
Material: Metal
IR Range: 20m
Communication: Up the Coax (Hikvision-C)
Dimensions: 111x82.4mm
Weight: Approx 350g