Hikvision 8 Camera 4MP IP CCTV System with 50m Night Vision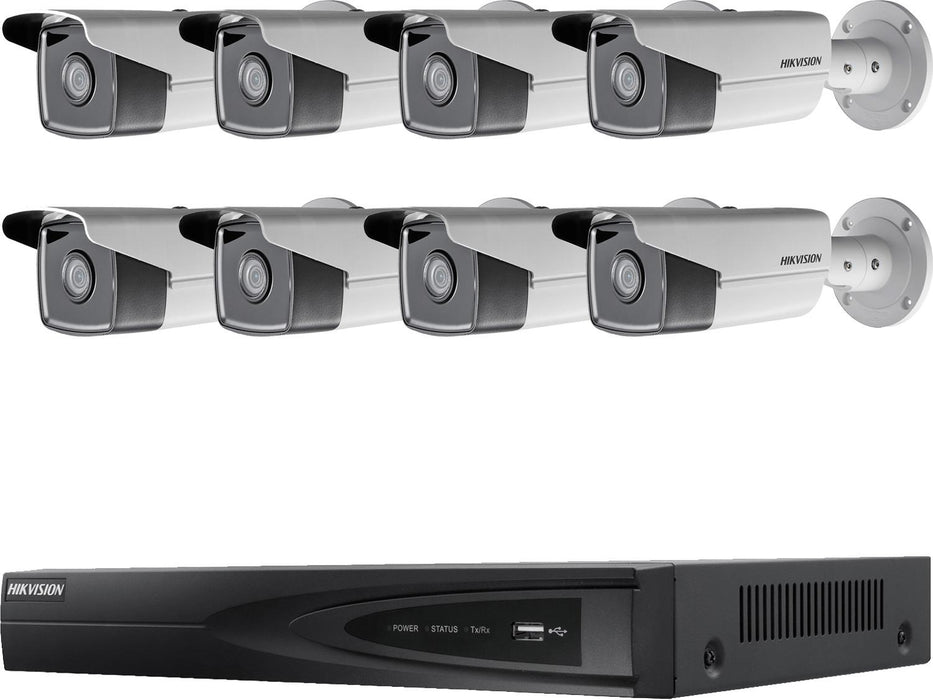 Hikvision 8 Camera 4MP IP CCTV System with 50m Night Vision








4 Megapixel Resolution
Cameras record video in 2560x1440 resolution, capturing far more subject detail than even Full HD. This is perfect for use in areas with crowds or high foot traffic
Hikvision
Both cameras and recorder are supplied by Hikvision, the largest manufacturer of CCTV in the world
50m Night Vision
IR LEDs allow cameras to record subjects even in completely unlit areas
IP67 Rated
Durable camera casings allow use even in outdoor locations exposed to the worst of the elements
Wide Dynamic Range
Imaging sensors are designed to cope with high contrast scenes, such as areas backlit by a window
Power Over Ethernet
Recorder sends power to the cameras down the included cables, preventing the need for external power supplies
8 Channel Recorder
Includes a professional grade network video recorder (NVR), capable of capturing camera footage at full resolution
Mobile Access
Connect NVR to your router to allow remote access. This lets you watch live or recorded footage from anywhere using a PC or mobile device
Hard Drive Storage
The recorder is shipped pre-fitted with your choice of hard drive. Just choose the amount of storage you need from the drop-down at the top of the page
Advanced Recording Modes
Features a full range of recording settings, including scheduling and motion detection adjustable camera-by-camera
HDMI Output
Easily monitor cameras in HD by connecting to a monitor or TV using HDMI (cable not included)
Alarm Connectors
Integrate your cameras into an existing alarm system using the terminals on the back of the recorder. These let the alarms trigger the recorder or vice versa
10m Precut Cables
The system includes a precut cable to connect each camera to the recorder
What's in the box?
8x Hikvision 4MP bullet cameras
8x 10m Ethernet cables
1x Hikvision 8 camera NVR
1x Mains power supply
1x USB mouse
Software & manual CD
Hikvision is the single biggest name in the security industry, with their cameras watching over everything from airports to football stadiums. It's no surprise then, that they are often at the cutting edge of surveillance technology. This 8 camera 4-megapixel security system is no exception, boasting network IP cameras that record amazing quality footage with even more detail than 1080p Full HD. It's a fantastic choice for demanding jobs such as monitoring a busy bar or shop.
Don't be fooled by their small size, the 8 bullet cameras included in the kit feature night vision for subjects up to 50m away, allowing round the clock monitoring. They are also IP67 rated, allowing them to be installed in exposed outdoor locations. As IP cameras, they record lossless digital footage and send it down data cables directly to the recorder.
The kit also includes a professional grade Hikvision NVR, capable of recording the cameras at full resolution. Handily, the recorder features Power-over-Ethernet (PoE), letting it send power to the cameras over the network cables used to connect the kit together. As with all of our CCTV recorders, it's also kitted out with a complete suite of recording modes, including motion detection and 7-day scheduling. Connect the NVR to your network router to enable remote access. Once configured this lets you watch live or recorded footage from anywhere using a PC or mobile device. This means that you can keep one eye on your property, no matter where you are!
Some basic networking knowledge is recommended for configuring remote access. If you need a bit of help getting it running then we also have a great remote setup service to get it all sorted for you. See here for more details
Camera
Image Sensor: 1/2.5 Progressive Scan CMOS
Min. Illumination: Color: 0.008 lux @(F1.2 AGC ON) 0.014 lux @(F1.6 AGC ON) 0 lux with IR
Shutter Speed: 1/3 s to 1/100000 s
Slow Shutter: Yes
Day & Night: IR Cut Filter
Wide Dynamic Range: 120dB
Angle Adjustment: Pan: 0° to 360° tilt: 0° to 100° rotate: 0° to 360°
DNR: 3D DNR
Lens: 4mm
Auto-Iris: No
Aperture: F1.6
Focus: Fixed
FOV: horizontal FOV: 88° vertical FOV: 46° diagonal FOV: 105°
Lens Mount: M12
IR Range: Up to 50m
Wavelength: 850nm
Max. Resolution: 2688 x 1520 @ 25 fps
Video Compression: H.265/H.264
Video Bit Rate: 32 Kbps to 16 Mbps
Behaviour Analysis: Line crossing detection intrusion detection object removal detection unattended baggage detection
Region Of Interest: Support 1 fixed region for main stream and sub-stream
Image Enhancement: BLC/3D DNR/HLC
Image Setting: Rotate mode saturation brightness contrast sharpness and white balance adjustable by client software or web browser
Target Cropping: No
Day/Night Switch: Day/Night/Auto/Schedule
Network Storage: Support microSD/SDHC/SDXC card (128G) local storage and NAS (NFSSMB/CIFS) ANR
Protocols: TCP/IP ICMP HTTP HTTPS FTP DHCP DNS DDNS RTP RTSP RTCP PPPoE NTP UPnP SMTP SNMP IGMP 802.1X QoS IPv6 Bonjour
API: ONVIF (PROFILE S PROFILE G) ISAPI
Simultaneous Live View: Up to 6 channels
User/Host: Up to 32 users 3 levels: Administrator Operator and User
Client: iVMS-4200 Hik-Connect iVMS-5200 iVMS-4500
Alarm Trigger: Motion detection video tampering network disconnected IP address conflict illegal login HDD full HDD error
Communication Interface: 1 RJ45 10M/100M self-adaptive Ethernet port
On-Board Storage: Built-in microSD/SDHC/SDXC slot up to 128 GB
Firmware Version: V5.5.80
General Function: One-key reset anti-flicker three streams heartbeat mirror password protection privacy mask watermark IP address filter
Reset: Yes
Startup And Operating Conditions: -30 °C to +60 °C humidity 95% or less (non-condensing)
Power Supply: 12V DC ±25% 5.5 mm coaxial plug power PoE (802.3af class 3)
Power Consumption And Current: 12 VDC 0.7 A max. 7.5 W PoE (802.3af 36V to 57V) 0.3 A to 0.1 A max. 9.5 W
Material: Metal
Dimensions: Camera: 104.8 mm (diameter) x 299.7 mm
Weight: 1200 g
Interface Protection: IP67
Face Detection: Yes
Exception Detection: Scene change detection

DVR
IP Video Input: 8 Channels
Audio Input: 1 Channel 2 way RCA Composite
Incoming Bandwidth: 50Mbps
Outgoing Bandwidth: 80Mbps
Remote Connection: 128
Recording Resolution: 5MP/3MP/1080p/UXGA/720p/VGA/4CIF/DCIF/2CIF/CIF/QCIF
Frame Rate: 50fps (main stream) 50fps (sub-stream)
HDMI/VGA Output: 1ch 1920x1080p/60Hz 1600x1200/60Hz 1280x1024/60Hz 1280x720/60Hz 1024x768/60Hz
Audio Output: 1ch RCA
Live View Resolution: 5MP/3MP/1080p/UXGA/720p/VGA/4CIF/DCIF/2CIF/CIF/QCIF
Live View Capability: 8 channels @ 720p 6 channels @ 1080p
HDD: 2x SATA interface
Capacity: Up to 4TB per disk
Network Interface: 1x RJ45 10/100/1000 Mbps
USB Interface: 1x USB 2.0 1x USB 3.0
Alarm In/Out: 4/1
Interface: 8x 100Mbps PoE network
Max PoE Power: 120W
Supported Standard: AF AT
Power Supply: 220V AC
Power Consumption (without HDD): 10W
Working Temperature: -107°c to +55°c
Working Humidity: 10-90%
Chassis: 19" rack mounted 1U chassis
Dimensions: 445x290x45mm
Weight (without HDD): 1Kg