Hikvision 8 Channel NVR with 8 Port POE Switch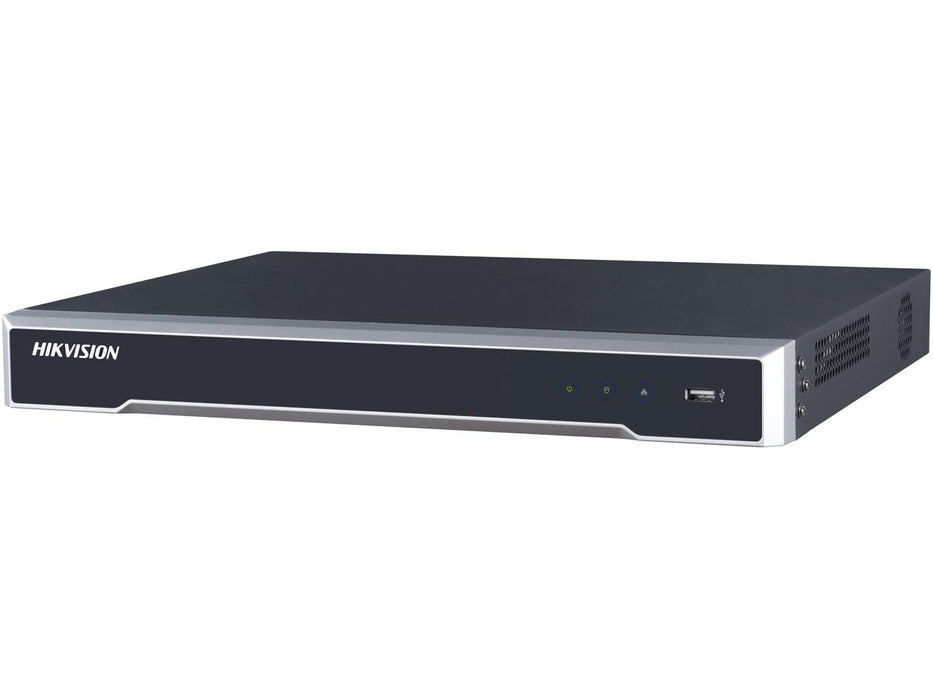 Hikvision 8 Channel NVR with 8 Port POE Switch
Product Code:
DS-7608NI-K2/8P







Hikvision 8 Channel NVR
This network video recorder can handle up to 8 IP cameras with a resolution of up to 8 megapixels.
8 Port PoE Switch
An integrated Power over Ethernet switch can directly power 8 IP cameras connected via network cables removing the need for external power supplies.
Up to 8MP Video
Records footage at up to 8MP resolution.
80 Mbps
Supports 80 Mbps of incoming bandwidth so that it can support more higher quality cameras than other NVRs.
Remote & Mobile Access
Connects to your internet router letting you view live & recorded footage over the internet via a PC or mobile device.
Remote Control
Hikvision's app lets you remotely change the recorder's settings.
Easy Setup
Recorder's setup wizard makes installation simple.
Hard Drive Storage
Includes your choice of preinstalled HDD, just select the amount required from the drop-down at the top of the page.
Smart Features
Software features various applications such as smart search.
4K HDMI Output
In addition to viewing online, simply plug the recorder into a TV or monitor to watch footage locally in resolutions up to 4K.
Motion Detection
Advanced recording modes include fully customisable motion detection, as well as a 7-day, 24-hour schedule. All of these can be configured on a channel by channel basis.
What's in the box?
1x Hikvision 8 channel NVR
1x Mains power supply
1x USB mouse
1x Software & manual CD
Inputs
IP video input: 8 channels
Incoming bandwidth: 80 Mbps
Outgoing bandwidth: 160 Mbps

Outputs
HDMI output resolution: 4K 2K 1920x1080 1600x1200 1280x1024 1280x720 1024x768
VGA output resolution: 1920x1080 1280x1024 1280x720 1024x768
Audio output: 1-ch RCA (Linear 1kohm)

Decoding
Decoding format: H.265/H.264/H.264+/MPEG4
Recording Resolution: 8MP/6MP/5MP/4MP/3MP/1080p/UXGA/720p/VGA/4CIF/DCIF/2CIF/CIF/QCIF
Synchronous playback: 8-ch
Capability: 2-ch @ 4K or 8-ch @ 1080p

Network
Network protocols: TCIP/IP DHCP Hik Cloud P2P DNS DDNS NTP SADP SMTP NFS Iscsi UPnP HTTPS

Hard disk
SATA: 2x SATA interfaces
Capacity: Up to 6TB capacity per disk

External Interface
Two-way audio: 1-ch RCA (2.0 Vp-p 1kohm)
Network interface: 1x RJ-45 10/100/1000 Mbps self-adaptive Ethernet interface
USB interface: Front: 1x USB 2.0; Rear: 1x USB 3.0
Alarm in/out: 4/1
Power supply: 48V DC
Power: 40 W
Consumption (without HDD): 15 W
Operating temperature: -10ºC to +55ºC
Operating humidity: 10 to 90%
Chassis: 385mm chassis
Dimensions: 385x315x52 mm
Weight (without HDD): 1 kg