Hikvision Bi-Spectrum Thermal Bullet Camera - 2MP Visual, 7mm Thermal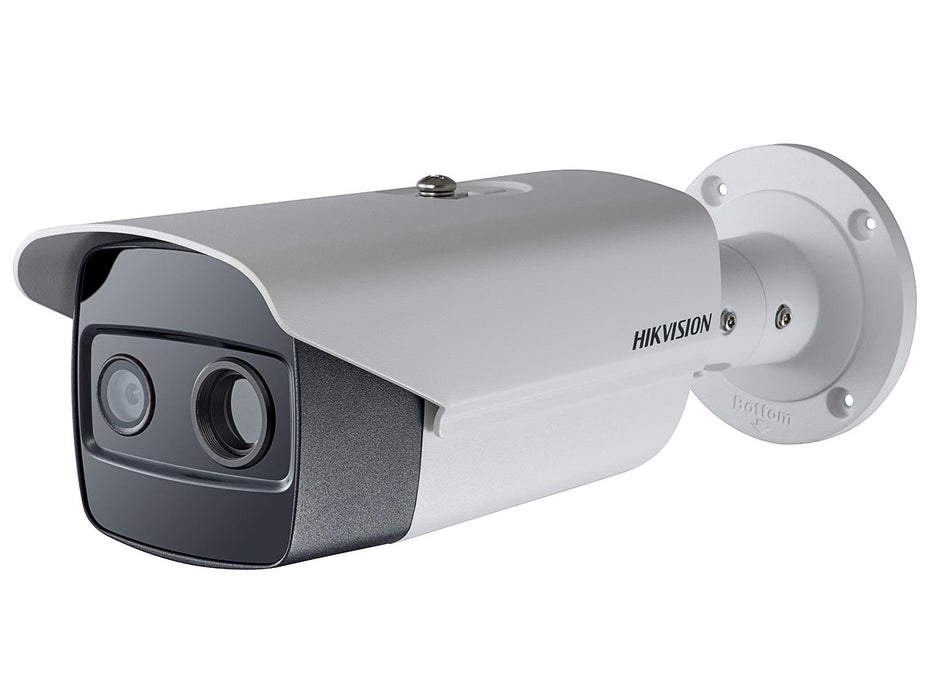 Hikvision Bi-Spectrum Thermal Bullet Camera - 2MP Visual, 7mm Thermal
Product Code:
DS-2TD2615-7







Bi-Spectrum Thermal Camera
Combines a high sensitivity thermal module with a high definition visual IP camera, providing versatile monitoring in all conditions
Thermal Modules
160x120 thermal imaging camera captures heat emitted by any subjects in view
7mm Lens
Thermal camera captures a focussed 33° field of view
2MP Visual Camera
Standard IP camera also records 1920x1080p full-colour HD video
Smart Detection
Supports Hikvision's analytics, including intrusion, line crossing and region enter/exit detection. This makes it one of the most effective tools on the market for watching a perimeter
Fire Detection
Can be set to trigger an alarm when a fire is detected in a specific area
Temperature Alarm
Can also trigger an alarm if the temperature in region rises above a specific point. This is especially useful for QA and safety monitoring on industrial sites
Image Fusion
Advanced imaging mode combines thermal video with a detail overlay from the optical camera
30m IR
Optical camera features 30m night vision illumination
IP67 Housing
Fully weatherproof and suitable for outdoor use
Supports PoE
Draws power from Power-over-Ethernet switches and recorders
MicroSD Storage
Built-in card slot lets you record footage without an NVR, or can be used as an automated backup. Supports cards up to 128GB, not included
What's in the box?
1x Hikvision Bi-Spectrum thermal camera
Hikvision has pioneered the field of thermal imaging, providing groundbreaking security technology at prices that simply wouldn't have been possible 5 years ago. This bi-spectrum bullet camera is a great example, combining a highly sensitive thermal module with a 2MP visual spectrum IP camera. This provides a versatile device that provides clear real-colour footage in good light, and still easily pick out subjects when the view is obscured by vegetation or smog. Because of this, it's one of the best cameras on the market for perimeter security and intrusion detection.
The thermal module captures the heat emitted by any subject within a 33-degree field of view, creating a 160x120 image. This is useful by itself for monitoring, but when combined with Hikvision's range of analytics features it truly comes into its own. These include intrusion, line crossing, and region entrance/exit detection, all set to custom zones that can be added to the image using in Hikvision's PC app. Other unique features include fire detection, and a temperature alarm, that can be used to trigger an alert when a region rises above a set level - perfect for industrial QA and safety monitoring.
The camera can be manually switched between thermal and HD visual modes, or combine them using an innovative Image Fusion overlay. The camera itself supports Power-over-Ethernet and includes a MicroSD card slot for recording footage without an NVR or to use as an emergency automated backup. A durable IP67 housing ensures the camera can be installed outdoors exposed to the elements.
Thermal Imaging Sensor: Vanadium Oxide uncooled focal plane arrays
Thermal Resolution: 160x120
Pixel interval: 25μm
Response Waveband: 8-14μm
NETD: >50mk
Lens: 7mm
Field of View: 33x25 degrees
Minimum Focusing Distance: 0.8m
f Number: 1.0
Optical Imaging Sensor: 1/2.8 CMOS
Optical Imaging Resolution: 1920x1080
Minimum Illumination: 0.002 lux (colour) 0.0002 lux (B+W)
Shutter Speed: 1-1/100000s
Focal Length: 6mm
Field of View: 53x30 degrees
WDR: Digital WDR
Day & Night: Auto IR cut
Image Mode: Bi spectrum image fusion picture-in-picture manual switching
Analytics: Intrusion line crossing region entrance region exit
Temperature Range: -20 to +150c
Temperature Accuracy: +/-8c
Temperature Measurement: Supports 10 points 10 regions 1 line
Fire Detection: Supports 10 points
IR Distance: 30m
IR Intensity: Automatic
Main Stream Resolution: 1920x1080@25fps 1280x960@25fps 1280x720@25fps (visible) 320x240@50fps (thermal)
Sub Stream Resolution: 704x576@25fps 352x288@25fps 176x144@25fps (visible) 320x240 (thermal)
Video Compression: H.264+ H.264 MJPEG
Protocols: IPv4 IPv6 HTTP HTTPS 802.1x Qos FTP SMTP UPnP SNMP DNS DDNS NTP RTSP RTCP RTP TCP UDP IGMP ICMP DHCP PPPoE
Simultaneous Live View: Up to 20
User/Host Level: Up to 32 Users 3 Levels (admin operator user)
Security Measures: User ID & PW MAC address binding HTTPS encryption IEEE 802.1x access control IP address filtering
Alarm Inputs: 2x
Alarm Outputs: 2x relay configurable responses
Alarm Action: SD recording relay output smart capture FTP upload Email link
Audio Input: 1x 3.5mm Jack
Audio Output: Linear level impedance 600 ohms
Reset: 1x Button
Ethernet: 1x RJ45 10/100M Self adaptive
SD Card: Built-in MicroSD slot supports MicroSD/SDHC/SDXC up to 128Gb (not included)
Analogue Output: 1x BNC
Application Programming: API ONVIF PSIA ISAPI Hikvision SDK
Client: iVMS-4200
Browser: IE7+ Chrome18+ Firefox5+ Safari5.02+
Menu Language: English
Power: 24V AC 12V DC PoE+
Operational Temperature: -40 to +60c
Operational Humidity: <90%
Protection Level: IP67
Dimensions: 314x104x292mm
Weight: Approx 1.55 Kg