Hikvision Fisheye IP Camera - 12MP with 15m Night Vision, Audio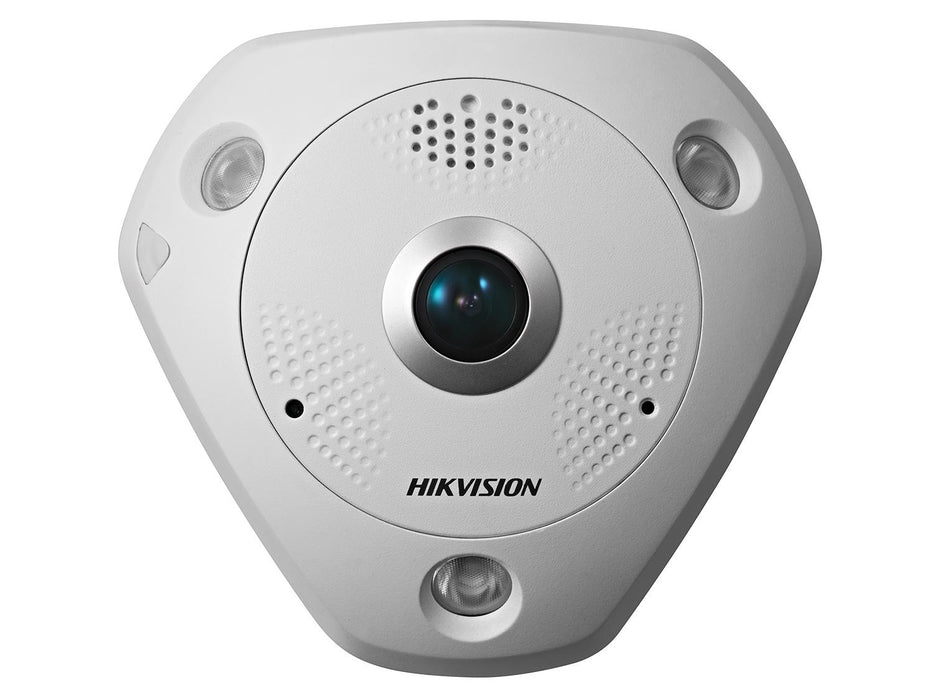 Hikvision Fisheye IP Camera - 12MP with 15m Night Vision, Audio
Product Code:
DS-2CD63C5G0-IVS(1.29mm)






Hikvision Fisheye Camera
Uses a specialist lens to record a 360° field of view, allowing you to cover a huge area with just one camera. Perfect for open-plan offices and warehouses
12MP Resolution
The camera uses an incredible 12-megapixel sensor to record video at 4000x3072. This lets you crop into tiny areas of the image but still retain fine details
Remote Access
Use Hikvision's software to view the camera from any PC. The camera's imaging processing "unwraps" the feed, letting you watch it in several different ways
Fisheye Mode
Displays a circular image, showing the camera's entire field of view
PTZ Mode
Probably the most commonly used mode, lets you select IP to 4 regions of interest that can be moved around in the field of view. Despite being small crops, these can still record at up to 1600x1200 resolution
Panoramic Mode
Unwraps the image into horizontal panoramas from around the camera's circumference
Customisable Playback
Hikvision's IVMS software lets you combine these views, for example showing a fisheye along with 3 regions of interest (see screenshots above)
Multiple Mounting Modes
Mount camera from the ceiling, on a wall, or on a table
15m Night Vision
Three sets of IR LEDs provide clear night vision all across the frame
2 Way Audio
Inbuilt microphone and speaker allow you to listen to subjects in the room, as well as using remote talk-back through the camera
IP66
Fully weatherproof housing allows the camera to be used indoors or outdoors
Power over Ethernet
Draws power from the network cable, removing the need to install a separate power supply
What's in the box?
1x Hikvision 12MP fisheye IP camera
Planning the location of cameras is one of the most tricky parts of purchasing a security system - do they focus on high traffic areas like doorways, or get it all in a wide field of view? By capturing a complete 360-degree field of view with a huge 12MP resolution, this Hikvision fisheye IP camera makes the entire argument redundant. It's a perfect solution for large spaces with multiple areas of interest, all without the size and complexity of a pan-tilt-zoom camera.
The camera is built around a massive 4000x3072 sensor, fitted with a circular fisheye lens. When mounted on the ceiling, this captures everything that is happening below the camera in incredibly high detail. When used with Hikvision's IVMS software, you can choose from a range of viewing modes, including panoramic, and up to 4 simultaneous regions of interest. That's like having 4 PTZ cameras in one location! It's a perfect solution for sites such as warehouses or open-plan offices.
In addition to the advanced imaging functions, the camera also boasts IR LEDs for 15m of night vision range in every direction. A microphone and small speaker also provides 2-way audio, letting you listen to subjects as well as talking back through the camera. The camera housing is also IP66 rated, allowing installation indoors or outdoors.
Imaging Sensor: 1/1.7 CMOS
Minimum Illumination: 0.01Lux (IR off) 0Lux (IR on)
Shutter Speed: 1/25-1/100000s
Lens: 1.98mm F/2.4
Angle of View: 360°
Lens Mount: M12
Day & Night: ICR
Video Compression: H.264 MJPEG
H.264 Type: Baseline Main High
Video Bitrate: 32Kbps-16Mbps
Audio Compression: G.711 G.726 MP2L2
Audio Bitrate: 64Kbps 16Kbps 64Kbps
Max Resolution: 4000x3072
Viewing Modes: 1) 1x Fisheye or 4x PTZ 2) 1x Fisheye (main) + 1x Fisheye (sub) + 3x PTZ 3) 1x Panorama (main) + 1x Panorama (sub)
Mode 1 Frame Rates: 1x Fisheye (4000x3072 @20fps 3072x3072 2560x2560 @25fps) or 4x PTZ (1600x1200 @12fps)
Mode 2 Frame Rates: 1x Fisheye (2048x2048 1280x1280 @12fps) + 1x Fisheye (720x720 @ 12fps) + 3x PTZ (1600x1200 @ 12fps)
Mode 3 Frame Rates: 1x Panorama (3072x2304 3072x1152 @ 12fps) + 1x Panorama (704x576 @ 12fps)
Noise Reduction: 3D DNR
Image Setting: Saturation Brightness Contrast Hue Sharpness AGC White Balance
Wide Dynamic Range: Digital WDR
Day/Night Switch: Auto Schedule Trigger
Region of Interest: Up to 4 in each stream
Network Storage: NAS Supported
Alarm Trigger: Line crossing Intrusion detection Motion detection Dynamic analysis Tampering Network disconnect IP address conflict Storage exception
Protocols: TCP/IP ICMP HTTP HTTPS FTP DHCP DMS DDNS RTP RTSP RTCP ONVIF (SG) PSIA CGI ISAPI
Security: User authentication Watermark IP address filter Anonymous access
Communication Interface: 1x RJ45 10/100/1000M Ethernet 1x RS485
Audio Input: 1x 3.5mm plug Built in Mic
Alarm Input: 1x
Alarm Output: 1x
On Board Storage: Buitl in MicroSD up to 128GB
Operational Temperature: -10°c to +50°c
Operational Humidity: <95% (non condensing)
Power Supply: 12V DC PoE
Power Consumption: 12W
IR Range: 15m
Ingress Protection: IP66
Dimensions: 164x152.8x43.8mm
Weight: 1400g