Hikvision IP Decoder - 1 Channel Output, for up to 4 8MP Cameras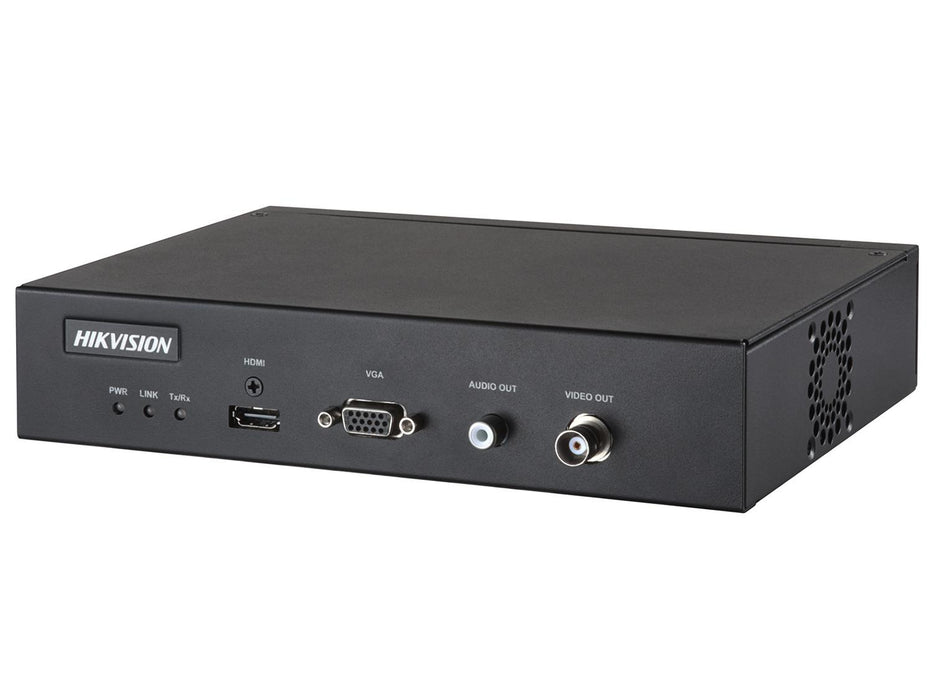 Hikvision IP Decoder - 1 Channel Output, for up to 4 8MP Cameras
IP Video Decoder
Effective solution for live monitoring high-resolution IP cameras in professional security systems
High Frame Rate
The dedicated processor allows video to be streamed at a smooth 30fps, without the stuttering and dropped frames that can result when viewing through an NVR
Ultra High Resolution
The decoder can process up to 2x 12 megapixel, 4x 8 megapixel, 6x 5 megapixel, or 16x 1080p cameras at a time
HDMI Output
Features one HDMI output, for easy viewing on any HD TV or monitor, including 4K screens at native resolution. This makes it perfect for use in a dedicated security office
Audio In/Out
3.5mm jack plugs let you easily monitor and playback audio as well as video
Alarm In/Out
Includes 8 alarm inputs and outputs, letting you integrate the unit into a larger security system
PTZ Compatibility
A Pan-tilt-zoom controller can connect to the decoder, letting you remotely move compatible cameras whilst monitoring
Network Interface
LAN connection means there's no need to directly connect cameras or NVR to the decoder, it just needs to be on the same network
What's in the box?
1x IP decoder
1x Mains power supply
IP camera systems provide the highest resolution cameras available on the market, capturing more detail than ever previously possible. There can be a downside to this though, the high processing demands mean it can be difficult to find a way to monitor all of your cameras without a slow, stuttering frame rate - even with a high-end recorder. Luckily, we have a solution. This IP decoder from Hikvision has a dedicated processor, letting you watch live footage from 8 megapixel IP cameras at a smooth 30 fps. This makes it a perfect tool for dedicated security offices.
This model decoder has one HDMI output, letting you watch up to 4 8MP cameras in a split-screen view on a 4K UHD monitor. It's adaptable to other formats as well, letting you watch 2x 12MP, 6x 5MP, or even 16x 1080p cameras, all with perfectly smooth motion. The LAN connection means it doesn't need to be directly connected to the cameras or a recorder, just connect it to a switch on the same network. The professional-grade device also features alarm in/out, and connections for a PTZ controller, letting it seamlessly integrate into an existing security system.
HDMI Output: 1920x1080/50 1600x1200/60 1280x1024/60 1280x720/50 1024x768/60 3840x2160/30
VGA Output: 1920x1080/50 1280x1024/60 1280x720/50 1024x768/60
BNC Output: 1x Composite
Decoding Resolution: Up to 12MP
Decoding Channels: 16x
Decoding Capability: 2x 12MP @20fps 4x 8MP @30fps 6x 5MP @30fps 10x 3MP @30fps 16x 2MP @30fps
Split Screen: 146891216
Network Interface: 1x 10/100/1000Mbps self adaptive ethernet
Serial Interface: 1x RS 232 1x RS 485
Audio Input: 1x 3.5mm plug
Audio Output: 1x 3.5mm plug
Alarm In: 8 channels
Alarm Out: 8 channels
Power Consumption: >15W
Working Temperature: -10 to +55c
Working Humidity: 10-90%
Dimensions: 220 x 148 x 45mm
Weight: 1.2kg