Hikvision IP PTZ Camera 4MP with 25× Zoom 100m Night vision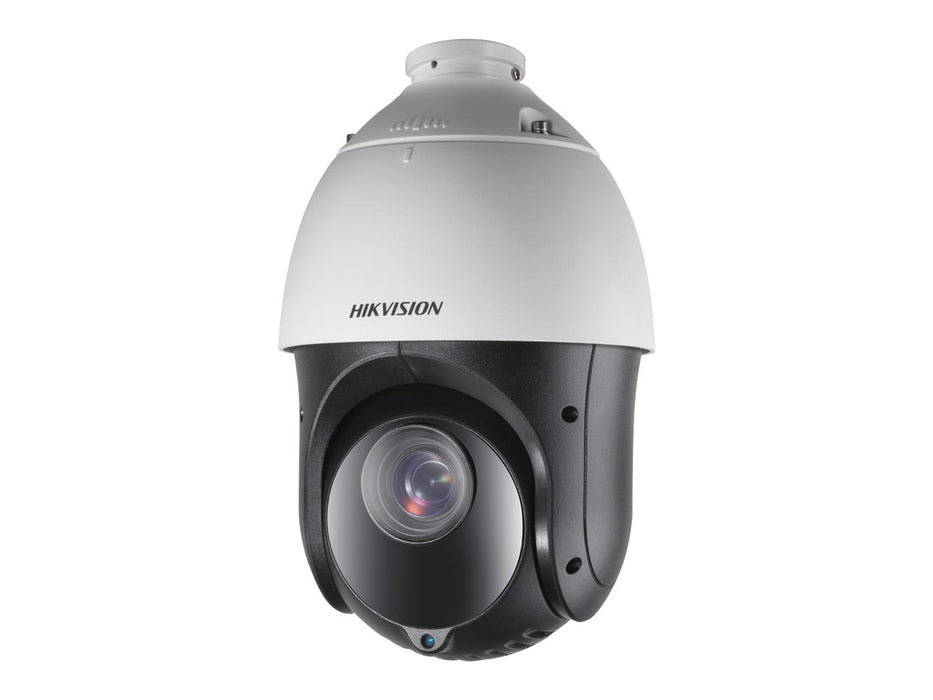 Hikvision IP PTZ Camera 4MP with 25× Zoom 100m Night vision
Product Code:
DS-2DE4425IW-DE







Hikvision PTZ Camera
Mounted to a motorised base, allowing you to remotely pan, tilt and zoom the camera. Ideal for monitoring open spaces such as car parks, which would otherwise need multiple cameras
4MP Video
Records clear, sharp video in 4-megapixel resolution
25× Optical Zoom
Shift from a 58° wide-angle to a tiny 2.5° field of view, ensuring you can capture incredible subject detail
Low Lux Sensor
Advanced imaging chip can record pictures in conditions as dark as 0.005 Lux before having to switch to night vision, helping you record in colour for more hours of the day
100m Night Vision
Powerful IR LEDs are mounted behind a special anti-reflective screen, providing a huge night vision range perfect for unlit outdoor spaces
Smart IR
Automatically reduces intensity for closer subjects, preventing them from becoming overexposed and losing detail
IP66 Housing
The metal camera housing is rated as completely weatherproof & suitable for outdoor use
Easy Remote Control
Camera movements can be controlled using a PC or smartphone app, via a recorder, or with a dedicated hardware controller
Smart Detection Features
Supports Hikvision's latest triggering options, including intrusion and line crossing detection
Programmable Movements
Store up to 300 preset camera positions, or 8 programmed camera patrols
MicroSD Card Slot
Includes memory card slot, letting you capture clips of footage without an external recorder (card not included). Can also be used as an emergency backup in case your network connection goes down
What's in the box?
1× Hikvision 4MP PTZ camera
Image Sensor: 1/2.8 progressive scan CMOS
Min. Illumination: Colour: 0.005 Lux; B/W: 0.001Lux @ F1.6 AGC ON; 0 Lux with IR
White Balance: Auto/Manual/ATW (Auto-tracking White Balance)/Indoor/Outdoor/FluorescentLamp/Sodium Lamp
Gain: Auto/Manual
Shutter Time: 1/1 s to 1/30000 s
Day & Night: IR Cut Filter
Digital Zoom: 16×
Privacy Mask: 24 programmable privacy masks
Focus Mode: Auto/Semi-automatic/Manual
WDR: 120 dB WDR (not supported by full frame rate)
Lens Focal Length: 4.8 mm to 120 mm 25× optical zoom
Zoom Speed: Approx. 3.6 s (optical lens wide-tele)
Field of View: Horizontal: 55° to 2.4° (Wide-Tele); Vertical: 33° to 1.4° (Wide-Tele); Diagonal: 61.5 to 2.8° (Wide-Tele)
Working Distance: 100 mm to 1500 mm (wide-tele)
Aperture Range: F1.6 to F3.5
IR Distance: 100 m
Smart IR: Yes
PTZ Movement Range (Pan): 360° endless
Pan Speed: Configurable from 0.1°/s to 80°/s
Preset speed: 80°/s
Movement Range (Tilt): From -15° to 90°(auto-flip)
Tilt Speed: Configurable from 0.1°/s to 80°/s
Preset Speed: 80°/s
Proportional Zoom: Yes
Presets: 300
Patrol: Scan 8 patrols up to 32 presets for each patrol
Pattern Scan: 4 pattern scans record time over 10 minutes for each scan
Power-off Memory: Yes
Park Action: Preset/Pattern Scan/Patrol Scan/Auto Scan/Tilt Scan/Random Scan/Frame Scan/Panorama Scan
3D Positioning: Yes
PTZ Position Display: Yes
Preset Freezing: Yes
Scheduled Task: Preset/Pattern Scan/Patrol Scan/Auto Scan/Tilt Scan/Random Scan/Frame Scan/Panorama Scan/Dome Reboot/Dome Adjust/Aux Output
Video Compression: Main Stream: H.265+/H.265/H.264+/H.264; Sub-stream: H.265/H.264/MJPEG; Third Stream: H.265/H.264/MJPEG
H.265+: Yes
Video Bitrate: 32 Kbps to 16384 Kbps
Audio Compression: G.711alaw/G.711ulaw/G.722.1/G.726/MP2L2/PCM
Audio Bitrate: G.711alaw/G.711ulaw: 64 Kbps; G.722.1/G.726: 16 Kbps; MP212/PCM: 32 Kbps/64 Kbps/128 Kbps
SVC: Yes
Basic Event: Motion Detection Video Tampering Detection Exception
Smart Event: Intrusion Detection Line Crossing Detection Region Entrance Detection Region Exiting Detection Object Removal Detection Unattended Baggage Detection Audio Exception Detection
Smart Record: ANR (Automatic Network Replenishment) Dual-VCA
ROI: Main stream sub-stream and third stream respectively support four fixed areas.
Max. Resolution: 2560×1440
Main Stream: 25fps (2560×1440 2048×1536 1920×1080 1280×960 1280×720); 50fps (1920×1080 1280×960 1280×720)
Sub-Stream: 25fps (704×576 640×480 352×288)
Third Stream: 25fps (1920×1080 1280×960 1280×720 704×576 640×480 352×288)
Image Enhancement: HLC/BLC/3D DNR/Defog/EIS/Regional Exposure/Regional Focus
Built-in memory: card slot support Micro SD/SDHC/SDXC up to 256 GB; NAS (NFS SMB/
CIFS) ANR
Protocols: IPv4/IPv6 HTTP HTTPS 802.1x Qos FTP SMTP UPnP SNMP DNS DDNS NTP RTSP RTCP RTP TCP/IP UDP IGMP ICMP DHCP PPPoE Bonjour API ONVIF (Profile S Profile G Profile T) ISAPI SDK
Simultaneous Live View: Up to 20 channels
User/Host: Up to 32 users
3 levels: Administrator Operator and User
Security Measures: User authentication (ID and PW) Host authentication (MAC address); HTTPS encryption; IEEE 802.1x port-based network access control; IP address filtering
Client: iVMS-4200 iVMS-4500 iVMS-5200 Hik-Connect
Web Browser: IE 8 to 11 Chrome 31.0+ Firefox 30.0+
Audio Interface: 1-ch audio input and 1-ch audio output
Network Interface: 1 RJ45 10 M/100 M Ethernet PoE (802.3 at class4)
Power: 12V DC 2A and PoE (802.3 at) 42.5 to 57 VDC 0.6 A class4
Max.: 18 W including max. 7W for IR
Working Temperature: -30°C to 65°C
Working Humidity: 90%
Protection Level: IP66 Standard 4000V Lightning Protection Surge Protection and Voltage Transient
Material: ADC 12 PC+10% GF
Dimensions: 164.5 mm (diameter)×290 mm