Hikvision Low Light PTZ Camera - 2MP with 15x Zoom, 100m Night Vision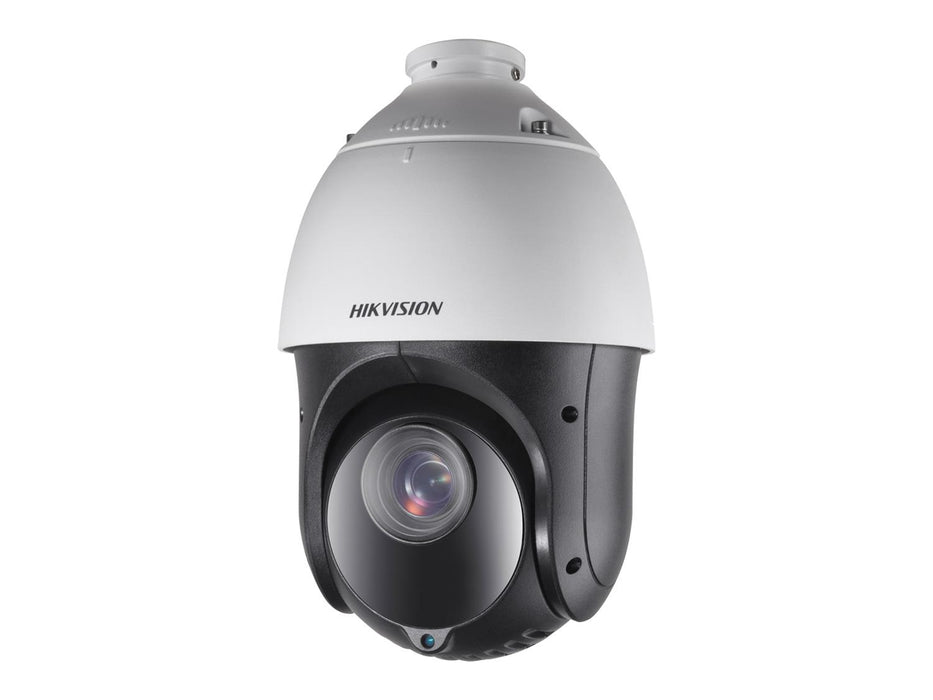 Hikvision Low Light PTZ Camera - 2MP with 15x Zoom, 100m Night Vision
Product Code:
DS-2DE4215IW-DE(S5)






Hikvision PTZ Camera
Professional grade security camera mounted to a motorised base, allowing remote pan, tilt and zoom control
Low Light Recording
Records in full colour right down to 0.005 lux, ideal for unlit areas after sunset
1080p HD Video
Captures footage in 1920x1080p Full HD, or 2 megapixels. Coupled with zoom, this lets you capture fine subject details
15x Optical Zoom
Lens can shift from a 61° field of view to a tight 5° crop for distant subjects
100m Night Vision
Powerful infrared LEDs provide a huge night vision range, perfect for large spaces such as car parks or fields
Smart IR
Camera automatically adjusts night vision intensity depending on subject distance, so it won't lose detail by "dazzling" close subjects
IP66 Housing
Metal camera housing provides complete weather resistance, allowing outdoor use
Easy Remote Control
Pan, tilt and zoom movements can be controlled from a PC or mobile device, from a Hikvision NVR, or by using one of our PTZ joystick controllers
Smart Features
Can be configured to use Hikvision's latest range of analytics features, including line crossing, intrusion, object removal and region exit detection
Programmable
Store up to 300 preset camera positions, 8 patrols between them, and 4 pattern scans
MicroSD Card
Built-in memory card slot lets you record video clips without an external recorder, or can be used as an automated backup in case your network connection drops out
PoE+
Draws power from your network, using a PoE+ compatible network switch or recorder (not included). If your device is not compatible with PoE+, then we recommend using a separate 12V power supply for the camera.
What's in the box?
1x Hikvision low light PTZ camera
The remote control provided by pan, tilt, zoom (or PTZ) cameras make them ideal for monitoring large outdoor spaces, or situations such as car parks where you need to monitor moving subjects. This PTZ camera from Hikvision packs in a host of professional security features such as line crossing and intrusion detection, all at great price perfect for small businesses.
At the heart of the camera is a 2mp, high sensitivity imaging chip, capable of recording full colour in conditions as dark as 0.005 lux. When light levels drop below this, an array of powerful infrared LEDs provide night vision for subjects up to 100m away (at maximum zoom). The lens features 15x optical zoom, covering everything from a 61° field of view at the wide end, to a tight 5° crop for close detail.
The IP camera connects to your network using a standard Cat 6 cable. If connected to a PoE+ compatible switch or recorder, then the camera does not need an additional power supply. Once configured, you can view and control the camera either directly on a PC or mobile device, or via a Hikvision NVR. This also lets you control all of Hikvision's video analytics, including line crossing, intrusion, object removal and region exit detection.
Imaging Sensor: 1/2.8 CMOS
Resolution: 1920x1080
Minimum Illumination: 0.005 Lux (IR Off) 0 Lux (IR On)
Focal Length: 5-75mm
Optical Zoom: 15x
Digital Zoom: 16x
Zoom Speed: Approx 2.4s (wide-tele)
Angle of View: 53.8-4.0 Degrees
Minimum Working Distance: 10-1500mm
Aperture Range: f/1.6 to f/3.5
Focus Mode: Auto Semi-auto Manual
Digital WDR: Supported
AGC: Auto Manual
White Balance: Auto Manual ATW Indoor Outdoor Daylight Sodium
Day & Night: IR Cut
Privacy Mask: Up to 24 programmable
Image Enhancement: 3D DNR Defog HLC/BLC EIS
Pan & Tilt Range: Pan 360° (endless) Tilt 15-90°
Speed: 0.1-80°/s
Preset Positions: 300
Patrols: 8 Up to 32 positions per patrol
Park Action: Preset patrol pattern pan scan tilt scan random scan frame scan panorama scan
Scheduled Task: Auto scan frame scan random scan patrol pattern preset panorama scan tilt scan dome reboot dome adjust
Smart Detection: Intrusion Line crossing Motion Face Detection Region Entrance Region Exit Unattended Baggage Object Removal
ROI Encoding: Supports 2 areas with adjustable levels
IR Range: 100m
IR Intensity: Automatically adjusted depending on zoom ration
Ethernet: 10Base-T 100Base-TX RJ45
Streams: Up to 3
Main Stream Resolution: 1920x1080/1280x960/1280x720 @25fps 1280x960/1280x720@50fps
Sub Stream Resolution: 704x576/640x480/352x288 @25fps
3rd Stream Resolution: 1920x1080/1280x960/1280x720/704x576/640x480/352x240 @25fps
Image Compression: H.265+/H.265/H.264/MJPEG
Protocol: IPv4/IPv6 HTTP HTTPS 802.1x QoS FTP SMTP UPnP SNMP DNS DDNS NTP RTSP RTP TCP UDP IGMP DHCP PPPoE
Simultaneous Live View: Up to 20 users
Local Storage: MicroSD Up to 128GB (not included)
Users: Up to 32 users 3 levels (admin operator user)
Security Measures: User authentication (ID and PW) Host authentication (MAC address) IP address filter
Power: 12V DC & POE+ (802.3at class4) Max 18W
Working Temperature: -30°c to +65°c
Humidity: <90%
Protection Level: IP66 4000V Lightning protection
Dimensions: 164.5mm (diameter) x 295mm
Weight: 2kg