Hikvision Temperature Screening Access Control Terminal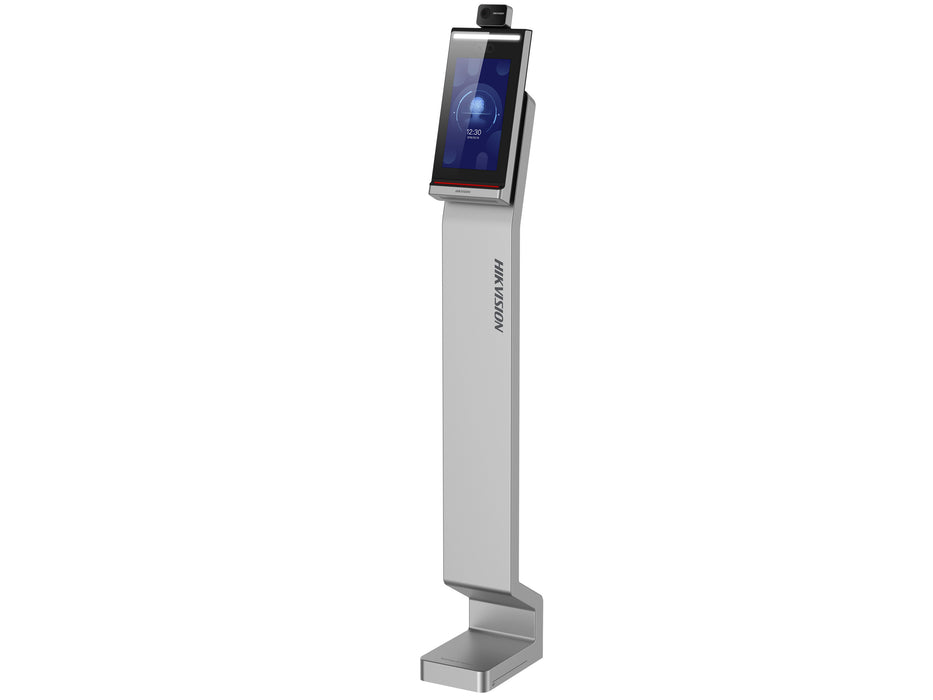 Hikvision Temperature Screening Access Control Terminal
Product Code:
DS-K5604A-3XF/V


Touch-free access control terminal
This terminal is an access control device integrated with temperature screening function for touch-free interactions. Ideal for busy buildings such as large office complexes, stations, factories, schools, campuses and so on.
Plug and Play Rapid Deployment
Free of wiring, installation or configuration.
Temperature Measuring
Detects a person's temperature up to an accuracy of 0.1 degrees. Detects face and takes temperature without identity authentication. Triggers voice prompt when detecting abnormal temperature and can prevent the person from entry into the building.
Configurable access modes
Multiple authentication modes are available: card and temperature, face and temperature, card and face and temperature etc.
Face recognition
This feature is switched off by default but can be used to keep a record of everyone who interacts with the machine.
Face mask-wearing alert
If the detected person is not wearing a mask, the device can prompt a voice reminder or even refuse entry.
Software integration
Transmits online and offline temperature information to the client software (iVMS-4200 and Hik-Central) via IP communication and saves the data on the client software.
Compatibility with existing systems
Communicates with the third-party turnstile via IO output or Wiegand.
Integrated design with stand bracket
The 10-inch screen and temperature screening module is mounted on a sleek stand.
What's in the box?
1x Temperature Screening Face Recognition Terminal
This Hikvision MinMoe access control terminal features thermographic screening and touch-free control to scan and monitor people entering a building. This integrates with client software to keep a record of who is occupying the building. Designed for fast deployment with "plug-and-play" setup, this solution is ideal for any indoor building environment that sees hundreds or thousands of people per day.
Human skin-surface temperature is an important indicator of physical health. In many scenarios, abnormal temperatures need to be detected quickly and accurately to take measures to prevent a situation from becoming dangerous. Hikvision's access control & temperature screening solution is designed to achieve rapid preliminary screening with high efficiency.
This system is designed for indoor, windless environments.
Thermographic technology
Thermal technology converts IR radiation into grayscale values and then matches grayscale values to temperature values through the built-in algorithm.
AI technology ensures thermographic cameras only detect the temperature of human skin-surface to reduce false alarms caused by other heat sources. Compensation algorithm ensures the temperature is compensated with ambient temperature and the distance of the measured target for better accuracy. Thermal imaging technology is widely applied in temperature screening scenarios as it offers great flexibility and efficiency in preliminary screening of elevated skin surface temperatures.
Temperature Measurement
Temperature Range: 30 °C to 45 °C
Sensor: Vanadium Oxide uncooled sensor
Resolution: 120 × 160
Frame Rate: 25 fps
Measurement Accuracy: 0.1 °C
Measurement Deviation: ± 0.5 °C, without black body calibration
Measuring Distance: 0.3 to 2 m
Screen
Size: 10.1-inch
Type: Touch screen
Camera
Pixel: 2 MP
Lens: Dual-lens
Network
Wired Network: Support, 10/100/1000 Mbps self-adaptive
Interface
Network Interface: 1
Lock Output: 1
Exit Button: 1
Door Contact Input: 1
Function
Face Anti-Spoofing: Support
Audio Prompt: Support
General
Working Temperature: 0 °C to 50 °C For temperature measurement: 10 °C to 35 °C
Working Humidity: 10 to 90% (No condensing)
Application Environment: Indoor and windless environment use only