Hikvision WiFi Temperature Screening Thermographic Handheld Camera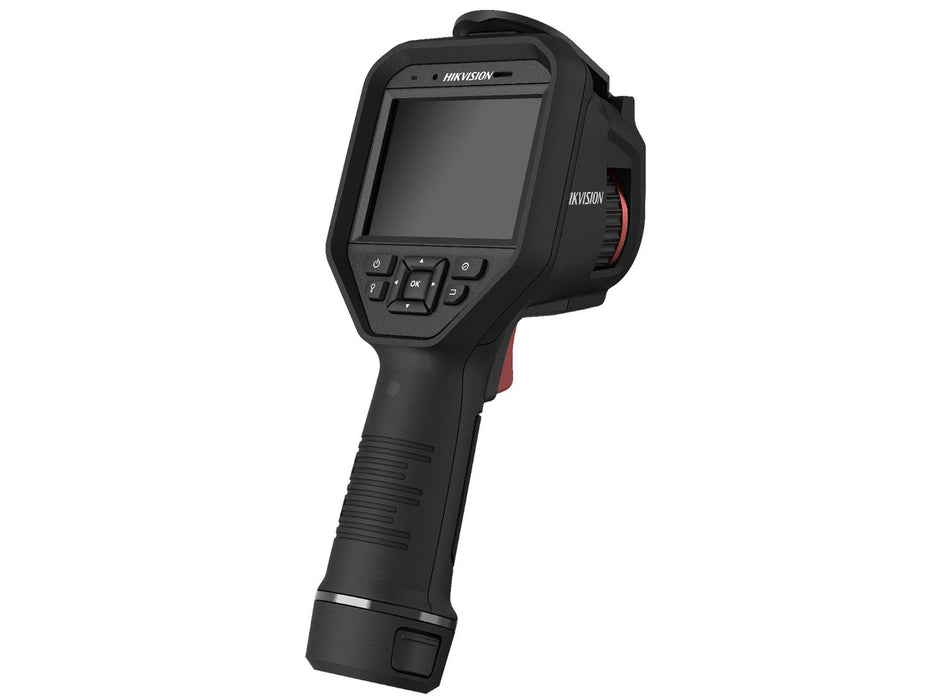 Hikvision WiFi Temperature Screening Thermographic Handheld Camera
Product Code:
DS-2TP21B-6AVF/W





Hikvision Thermal Screening Solution
This handheld thermal camera is specially designed to detect elevated skin-surface temperature with high accuracy in real-time. It is equipped with a 160x120 resolution thermal detector, can be widely used for preliminary temperature screening in office buildings, factories, stations, airports and other public places.
Handheld Device
This fully portable camera allows people's temperatures to be monitored without physical contact.
Bi-Spectrum Thermal Imaging
Combines a high sensitivity thermal module with a high definition visual IP camera, providing versatile monitoring in all conditions.
WiFi Connectivity
Features wireless connectivity to enable data transfer without cumbersome cabling to allow the handheld operator flexibility.
PC & Mobile
This handheld camera fully integrates with Hikvision's software ecosystem allowing use on PCs with the software and on mobile devices with the app.
Operator Alerts
Sends accurate real-time alerts when a person's elevated temperature is detected to the nearby operator.
On-Screen Display
Features an OSD monitor to display a live view to the handheld operator.
16GB Onboard Storage
Includes 16GB of integrated storage to allow video and image recording.
What's in the box?
1x Hikvision WiFi Thermal Screening Handheld Camera
Hikvision Temperature Screening Thermal Solutions – Safer, Faster, Smarter
With advanced detectors and algorithms, Hikvision's temperature screening thermal cameras can detect elevated skin-surface temperatures in moving crowds such as passengers, commuters, and shoppers, with accuracy up to 0.3°C. Detect the temperature of a person within one second without any physical contact.
Advantages of Thermal Technology
AI technology ensures that the thermographic cameras only detect human skin-surface temperature to reduce false alarms of other heat sources. A compensation algorithm ensures the temperature is balanced with the ambient temperature and the distance of the measured target for better accuracy. Thermal technology has been applied widely in temperature screening scenarios as it offers more flexibility and efficiency in preliminary screening of elevated skin-surface temperatures.
Features
AI Detection
Focuses temperature measurement areas on human bodies to reduce false alarms caused by other heat sources.
Advanced Algorithms
Achieves highly reliable accuracy with Hikvision's proprietary temperature measurement algorithms.
Bi-Spectrum Monitoring
Provides both thermal and optical image channels apart from temperature measurements.
Embedded Audio Alarm
Trigger alarms to notify operators immediately when a person with an elevated body temperature passes by.
Operation Tips
Install the thermal camera in a windless indoor environment.
Draw a line on the floor to perform screening at a certain distance between the camera and the tested persons.
Double-check with a thermometer upon detection of elevated skin-surface temperatures
Thermal
Image Sensor: VOx Uncooled Focal Plane Arrays
Resolution: 160x120
Pixel Interval: 17μm
Response Waveband: 8μm to 14μm
NETD: Less than 40 mK (@25°C f1.1)
Focal Length: 6.2mm
Focus Mode: Manual
Field Of View: 25° x 18.7°
IFOV: 2.74 mrad
Image Frequency: 25 Hz
Aperture: f1.1

Optical
Picture Resolution: Configurable: 2 MP 5 MP 8 MP
Video Resolution: 640 x 480

Thermography
Rules: Max. Temperature; Min. Temperature; Center Temperature; Custom Point/Line/Area Thermography
Thermographic Range: From 30 °C to 45 °C
Accuracy: ± 0.5 °C

Image Display
Monitor: 640 x 480 resolution 3.5-inch LCD touch display
Image Mode: Thermal view B/W optical view image fusion view are selectable
Palettes: Black hot White hot Red hot Rainbow Ironbow Fusion Rain
Image Fusion: Fusion view of thermal view and overlaid details of the optical channel
Digital Zoom: Thermal: 1x 2x 4x

System Function
Laser Light: Support (Point to the thermography target)
Capture: Thermal/Optical/Fusion image
Video: Thermal/Optical/Fusion image
Text Comment: Yes
Voice Comment: Yes
Wi-Fi: Yes
Storage: Built-in memory module (16 G)
Client: iVMS-4800 (PC) Hik-Thermal (Mobile app)
Battery Type: Dismountable and rechargeable Li-ion Battery
Battery Operating Time: 5 hours in normal temperature with Wi-Fi Bluetooth and supplement light off. 4 hours in normal temperature with Wi-Fi Bluetooth and supplement light on.

General
Hardware Interface: Type-C USB
Power Supply: 5V DC 2A
Power Consumption: Max. 4.5 W
Working Temperature: 10°C to 35 °C
Protection Level: IP54
Drop Test Height: 2 m
Weight: With Battery: 653 Without Battery: 511 g
Dimensions: 244 mm x 100 mm x 104 mm