Hikvision 4MP Temperature Screening Thermographic Turret Camera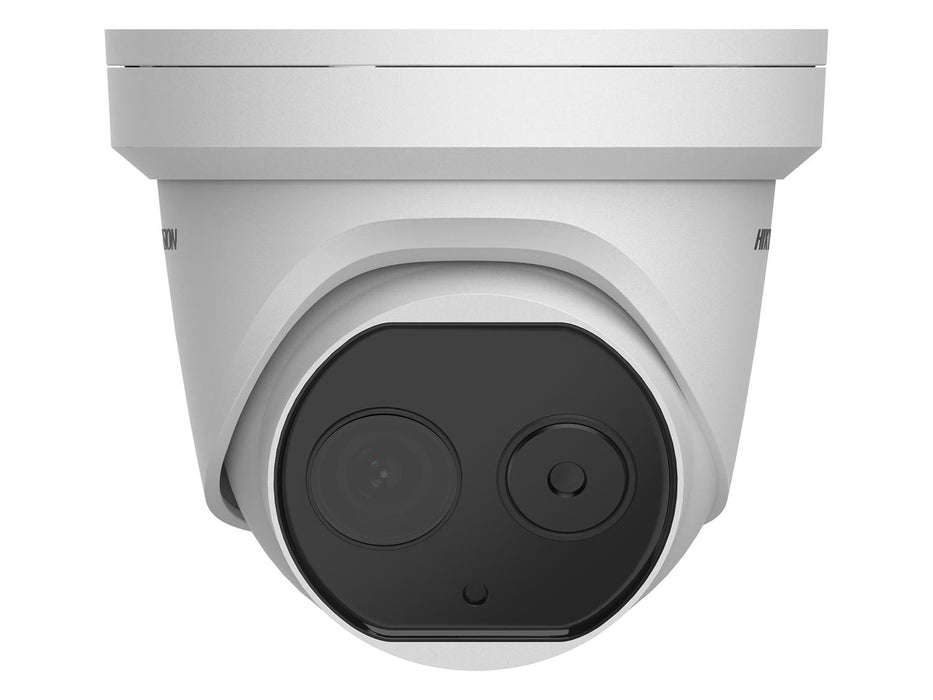 Hikvision 4MP Temperature Screening Thermographic Turret Camera
Product Code:
DS-2TD1217B-3/PA







Hikvision Thermal Screening Solution
This thermal camera is specially designed to detect elevated skin-surface temperature with high accuracy in real-time. It is equipped with a 160x120 resolution thermal detector, can be widely used for preliminary temperature screening in office buildings, factories, stations, airports and other public places.
Bi-Spectrum Thermal Imaging
Combines a high sensitivity thermal module with a high definition visual IP camera, providing versatile monitoring in all conditions.
PC & Mobile
This handheld camera fully integrates with Hikvision's software ecosystem allowing use on PCs with the software and on mobile devices with the app.
Operator Alerts
Sends accurate realtime alerts when a person's elevated temperature is detected to the nearby operator.
MicroSD Storage
Built-in card slot lets you record footage without an NVR, or can be used as an automated backup. Supports cards up to 256GB, not included.
4mm Lens
This camera captures a focussed field of view
4MP Visual Camera
Standard IP camera also records 4-megapixel full-colour HD video
Up to 15m Night Vision Range
Optical camera features 15m night vision illumination.
IP66 Turret Housing
Fully weatherproof and suitable for outdoor use, although for temperature screening purposes it is recommended for use indoors only.
Supports PoE
Draws power from Power-over-Ethernet switches and recorders.
What's in the box?
1x Hikvision Thermal Screening Turret Camera
Hikvision Temperature Screening Thermal Solutions – Safer, Faster, Smarter
With advanced detectors and algorithms, Hikvision's temperature screening thermal cameras can detect elevated skin-surface temperatures in moving crowds such as passengers, commuters, and shoppers, with accuracy up to 0.3°C. Detect the temperature of a person within one second without any physical contact.
Advantages of Thermal Technology
AI technology ensures that the thermographic cameras only detect human skin-surface temperature to reduce false alarms of other heat sources. A compensation algorithm ensures the temperature is balanced with the ambient temperature and the distance of the measured target for better accuracy. Thermal technology has been applied widely in temperature screening scenarios as it offers more flexibility and efficiency in preliminary screening of elevated skin-surface temperatures.
Features
AI Detection
Focuses temperature measurement areas on human bodies to reduce false alarms caused by other heat sources.
Advanced Algorithms
Achieves highly reliable accuracy with Hikvision's proprietary temperature measurement algorithms.
Bi-Spectrum Monitoring
Provides both thermal and optical image channels apart from temperature measurements.
Embedded Audio Alarm
Trigger alarms to notify operators immediately when a person with an elevated body temperature passes by.
Operation Tips
Install the thermal camera in a windless indoor environment.
Draw a line on the floor to perform screening at a certain distance between the camera and the tested persons.
Double-check with a thermometer upon detection of elevated skin-surface temperatures
Thermal
Image Sensor: VOx Uncooled Focal Plane Arrays
Resolution: 160x120
Pixel Interval: 17µm
Response Waveband: 8µm to 14µm
NETD: Less than 40 mK (@25°CF#=1.1)
Local Length: 3.1mm
IFOV: 5.48 mrad
Aperture: f1.1
Field Of View: 50° x 37.2° (H x V)
Min. Focusing Distance: 0.2 m

Optical
Image Sensor: 1/2.7 Progressive Scan CMOS
Resolution: 2688x1520 4MP
Min. Illumination: Colour: 0.0089 Lux @ (F1.6 AGC ON) B/W: 0.0018 Lux @ (F1.6 AGC ON)
Field Of View: 84° x 44.8°(H x V)
Focal Length: 4mm
Shutter Speed: 1s to 1/100000s
White Balance: Auto/Manual/ATW (Auto-tracking White Balance)/Indoor/Outdoor/Daylight Lamp/Sodium Lamp
Day & Night Mode: IR cut filter with auto switch
WDR: 120 dB

Illuminator
IR Distance: Up to 15 m
IR Intensity and Angle: Automatically adjusted

Feature
Bi-Spectrum Image Fusion: Display the details of optical channel on thermal channel
Picture In Picture: Display partial image of thermal channel on the full screen of optical channel

Smart Function
Temperature Range: From 30°C to 45°C
Temperature Accuracy: ± 0.5 °C

Network
Video Compression: H.264 (Baseline/Main/High Profile) /MJPEG/H.265
Audio Compression: G .711u/G.711a/G.722.1/MP2L2/G.726/PCM
Protocols: TCP/IP ICMP HTTP HTTPS FTP DHCP DNS DDNS RTP RTSP RTCP PPPoE NTP UPnP SMTP SNMP IGMP 802.1X QoS IPv6 UDP Bonjour
API: ONVIF (Profile S Profile G Profile T) ISAPI SDK
Security: Password protection HTTPS encryption 802.1X authentication (EAP-TLS 1.2 EAP-LEAP EAP-MD5) watermark IP address filter basic and digest authentication for HTTP/HTTPS WSSE and digest authentication for ONVIF RTP over HTTPS
Simultaneous Live View: Up to 20

Interface
Client: iVMS-4200 Hik-Connect
Web Browser: Plug-in required: IE8-IE11 Chrome 41-44 Firefox 30.0-51
Alarm Input: 1-ch inputs (0-5 VDC)
Alarm Output: 1-ch relay outputs alarm response actions configurable (up to 220 VDC 0.27A or 250VAC 0.25A or 30VDC 2A)
Alarm Action: SD recording/Relay output/Smart capture/FTP upload/Email linkage
Audio Input: 1 3.5 mm Mic in/Line in interface. Line input: 2 - 2.4 V [p-p] output impedance: 1 Kohm ± 10%
Audio Output: Linear Level; Impedance: 600ohm
Communication Interface: 1 RJ45 10M/100M Self-adaptive Ethernet interface. 1 RS-485 interface
On-Board Storage: Built-in MicroSD card slot supporting MicroSD/SDHC/SDXC card (up to 256 G) supports manual/alarm recording

General
User/Host Level: Up to 32 users 3 levels: Administrator Operator User
Power: PoE (802.3af class 3) 42.5 V to 57 V 0.14 A to 0.22 A;DC 12V 0.5A
Power Consumption: PoE (802.3af class 3): 42.5 V to 57 V 0.14 A to 0.22 A max. 6.5 W 12 VDC ± 20%: 0.5 A max. 6 W
Work Temperature/Humidity: From 10 °C to 35 °C (Indoor and windless environment use only); Humidity: 95% or Less
Protection Level: IP66 Standard; TVS 6000V Lightning Protection Surge Protection and Voltage Transient Protection
Dimensions: 138.3 mm x 138.3 mm x 123.1 mm
Weight: 940 g