Hikvision Turbo HD 4 Channel DVR with 8MP Recording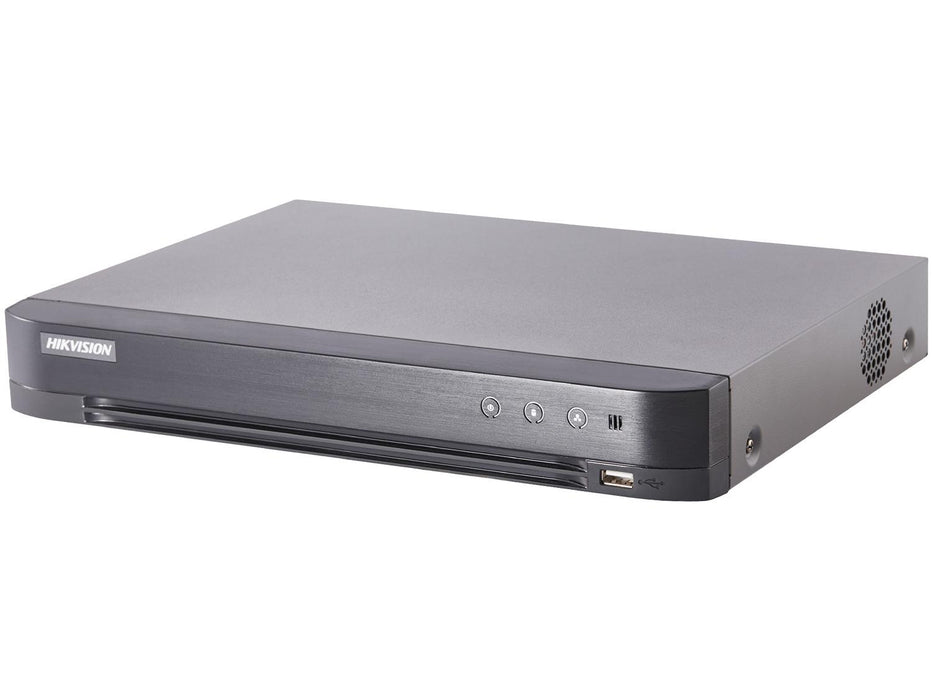 Hikvision Turbo HD 4 Channel DVR with 8MP Recording
Product Code:
DS-7204HTHI-K1(S)







Hikvision CCTV DVR
High resolution 4 channel CCTV recorder from the world's leading manufacturer of surveillance equipment
Hybrid Recorder
BNC inputs allow use with HD-TVI, HD-CVI, AHD and CVBS camera formats, allowing you to mix and match new and legacy cameras. The recorder can even connect to IP cameras on the same network
Up To 8MP Video
Captures images up to 3840x2160, or 4K, resolution, providing recordings with detail unmatched from a coaxial system
H.265+ Compression
Uses Hikvision's advanced compression technology, for video files that take up 75% less hard drive space than H.264 (requires compatible cameras)
2 IP Video Channels
Can connect to up to 2 IP cameras on the same network, recording footage at resolutions up to 8MP
4K Output
Easily connect via HDMI to a UHD TV or monitor to view footage with no loss of quality
Audio Inputs
Includes 4 RCA audio inputs, letting you connect external microphones for each channel
Smart Detection
Boasts Hikvision's latest range of video analytics, previously limited to IP cameras. These include line crossing and smart detection, set by manually selecting areas of the image. This can then be used to trigger recording or alarms
Hard Drive Storage
Includes 1 SATA bay, allowing storage of up to 8TB. Simply select the size you need from the drop-down menu, and we can install this for you prior to shipping
Remote Access
Connect DVR to your router in order to allow remote viewing and control using Hikvision's secure PC app
Mobile Access
Cameras and recordings can also be viewed via Hikvision's iOS or Android apps, letting you stay in touch no matter where you are
Plug and Play
Coaxial cameras simply connect to the recorder with twist fit BNC connectors, so there's no need for a complex network configuration
Alarm In/Out
4 alarm inputs and 1 output let you easily integrate the recorder into an existing security system
What's in the box?
1x Hikvision 4 channel DVR
1x USB mouse
1x Mains power supply
Software and manual CD
Hikvision's Turbo HD range brings many of the professional-grade features - previously only found in IP camera systems - to plug and play coaxial CCTV. These include smart video analytics such as line crossing and intrusion detection, letting you add advanced levels of automation to recording without needing an in-depth network configuration to get the cameras set up. This all makes this 4 channel DVR a powerful security tool, as well as a fantastic option for upgrading legacy CCTV systems.
The hybrid recorder is compatible with TVI, AHD, CVI and CVBS cameras, and supports up to 2 IP cameras. The DVR can even handle footage from different video systems on each channel, letting you upgrade cameras in a system one-by-one, or mix IP and analogue formats. Footage can be recorded at resolutions up to 8MP (4K), capturing far more subject detail than has ever previously been possible with a coaxial DVR. The recorder also has 4 separate audio inputs, letting you connect a microphone to each channel.
Cameras can be viewed live on a TV or monitor using standard HDMI or VGA connections. You can also hook to DVR up to your router, allowing secure remote access via Hikvision's PC or mobile app. The recorder's smart analytics can be configured through a PC or using the DVR's built-in menu system when connected to a TV or monitor via HDMI. Triggering modes can be set up on a camera-by-camera basis, as well as traditional recording features such as motion detection and scheduling.
Coaxial Inputs: 4x BNC
Video Compression: H.265+ H.265 H.264+ H.264
HD-TVI Input: 8MP 5MP 4MP 3MP 1080p30 1080p25 720p60 720p50 720p30 720p25
AHD Input: 5MP 4MP 3MP 1080p30 1080p25 720p30 720p25
HD-CVI Input: 4MP 1080p30 1080p25 720p30 720p25
CVBS Input: PAL NTSC
IP Video Input: 2x (over network)
IP Video Resolution: Up to 8MP
Audio Compression: G.711u
Audio Input: 4x RCA
CVBS Output: 1x BNC (704x576)
HD Output: 1x HDMI 1x VGA
HDMI Output: 3840x2160@30 2560x1440@60 1080@60 1280x1024@60 1024x768@60
VGA Output: 1920x1080@60 1280x1024@60 1280x720@60 1024x768@60
Encoding Resolution: 8MP 5MP 4MP 3MP 1080p 720p WD1 4CIF VGA CIF
Main Stream Frame Rate: 8MP@12fps 5MP@20fps 3MP@18fps 4MP/1080p/720p/WD1/4CIF/VGA/CIF@25fps
Sub Stream Frame Rate: WD1/4CIF/CIF@25fps
Video Bitrate: 32Kbps to 16Mbps
Audio Output: 1x RCA
Audio Bitrate: 64Kbps
Dual Stream: Supported
Stream Type: Video Video & Audio
Synchronous Playback: 4x
Remote Connections: 32
Network Protocols: TCP/IP PPPoE Hik-Connect DNS DDNS NTP SADP NFS iSCSI UPnP HTTPS ONVIF
Storage: 1x SATA (Up to 8TB)
Network Interface: 1x 10/100/1000M Self adaptive Ethernet
USB Interface: 1x USB 2.0 (front) 1x USB 3.0 (back)
Serial Interface: RS-485
Alarm In/Out: 4/1
Power Supply: 12V DC
Consumption: <15W (No HDD)
Operational Temperature: -10 to +55C
Operational Humidity: 10-90%
Dimensions: 315x242x45mm
Weight: <1.5Kg (no HDD)