Hikvision Turbo HD 8MP CCTV system with 2 Turret Cameras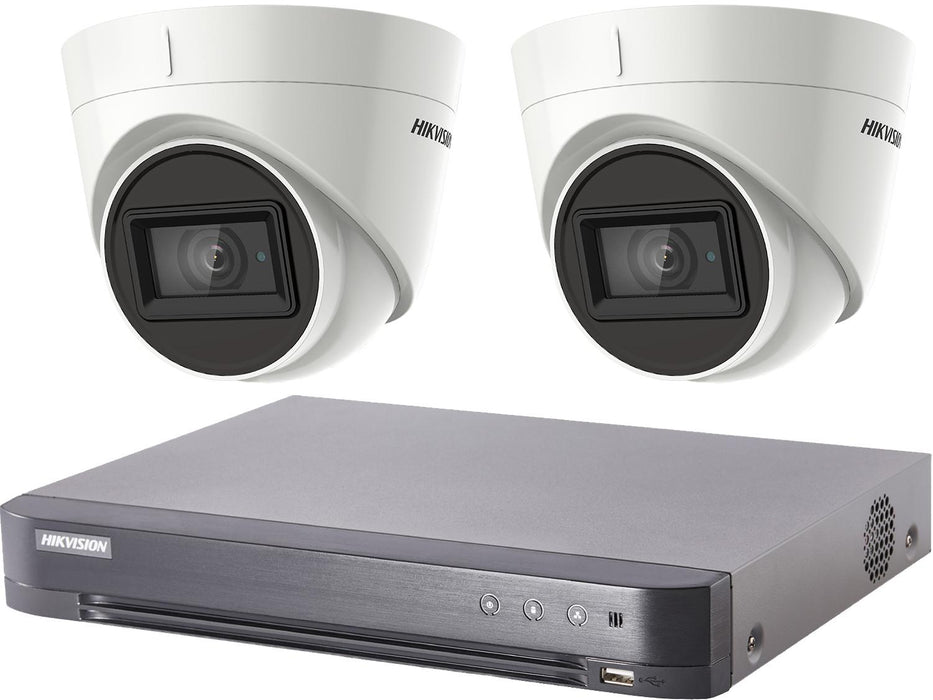 Hikvision Turbo HD 8MP CCTV system with 2 Turret Cameras








Hikvision Turbo HD System
Professional grade security system, with cameras and recorder from the world's largest manufacturer of surveillance equipment
8 Megapixel
Each camera records high-resolution 3840x2160 video, with unmatched levels of subject detail. Essential for recording large numbers of people, or fine details such as license plates
Plug and Play
Unlike 8mp systems that use IP cameras, this kit requires no in-depth network configuration to get cameras up and running. Just plug them into the DVR!
Protective Turret
Durable housings ensure cameras are IP67 weatherproof, allowing installation in exposed locations indoors or outdoors
60m Night Vision
EXIR LEDs provide illumination over large unlit areas, whilst not washing out subjects close to the camera
Wide Angle Lens
2.8mm lens captures everything in a 102 field of view, excellent for recording interiors
Advanced Image Controls
Camera features include 120dB WDR and noise reduction, helping fine-tune the picture in tricky lighting conditions
Hikvision DVR
Also includes a professional-grade CCTV recorder, fitted with your choice of hard drive
4 Channel Video
Can take two additional cameras at a later date, letting you easily expand your system
8MP Recording
DVR captures images from the cameras at full resolution, so there is no loss of detail
H.265+ Compression
Uses advanced video compression, letting you record for longer without running out of storage space
Smart Detection
As well as motion detection allows the use of advanced analytics such as line crossing, previously only available with IP cameras
Alarm In/Out
Easily integrate the recorder with an existing alarm system
Remote Access
Connect DVR to your network to remotely view cameras and adjust settings over PC or mobile. If you're not confident with networking, then we can even configure this remotely for you, just add the service from the dropdown menu!
Customise your system to fit your exact needs by adding the best length of the cable and hard drive size from the drop-down at the top of the page
What's in the box?
2x Hikvision TurboHD 8MP turret cameras
2x Mains power supplies for cameras
1x Hikvision Turbo HD DVR
1x USB Mouse
1x Mains power supply for DVR
Software and manual CD
8-megapixel video - or 4K - is the flagship resolution for CCTV, recording images with four times the subject detail of Full HD. This makes it unmatched for picking subjects out of large areas such as crowds or car parks, or for recording fine details like faces & license plates. Up until now, this has meant investing in a complex IP camera system that needs an in-depth network setup. Hikvision's Turbo HD range, however, can now provide fully-fledged 8 megapixel CCTV, using standard plug-and-play BNC cables.
This CCTV system includes 2 turret cameras from this range, as well as a professional-grade recorder to control and monitor them. Each camera is housed inside of a vandal-proof, weatherproof turret, allowing it to be installed in exposed locations either indoors or outdoors. Their discreet shape makes them especially popular for shops & bars. Powerful IR illuminators provide 60m night vision for use in large unlit areas.
The recorder is also part of Hikvisions's Turbo HD range, ensuring it can capture video from the cameras without any loss in resolution. It features 4 video channels, letting you easily expand the system with up to 2 more cameras at a later date. A network connection also lets you plug the DVR into your router in order to configure remote access from PC, mobile or tablet. You can use this to not only view footage from the cameras but adjust the DVR's in-depth recording features such as scheduling and motion detection.
Camera
Imaging Sensor: 8.29MP progressive scan
CMOS Signal System: PAL/NTSC
Frame Rate (PAL): 8MP @12.5fps 5MP @20fps 4MP/1080p @25fps
Resolution: 3840x2160
Minimum Illumination: 0.003 Lux (colour IR off) 0 Lux (IR on)
Shutter Time (PAL): 1/12.5-10000s
Lens: 2.8mm
Horizontal Field of View: 102.2 Degrees
Lens Mount: M12
Day & Night: IR Cut
Synchronization: Internal Synch
Wide Dynamic Range: 105dB
AGC: Supported
Day/Night: Auto colour B&W
White Balance: Auto manual natural
Privacy Mask: Supports 4 programmable masks
Back Light Compensation: Supported
3D DNR: Supported 10 levels
Language: English
Image Functions: Contrast sharpness saturation mirror defog HLC
HD Output: 1x BNC
CVBS Output: 1x BNC
Operational Temperature: -40 to +60c
Operational Humidity: <90%
Power Supply: 12V DC
Power Consumption: Max 4.8W
Protection Level: IP67
Housing Material: Metal
IR Range: 60m
Communication: Up the coax (HIKVISION-C)
Dimensions: 111(d)x82.4mm
Weight: 450g
Recorder
Coaxial Inputs: 4x BNC
Video Compression: H.265+ H.265 H.264+ H.264
HD-TVI Input: 8MP 5MP 4MP 3MP 1080p30 1080p25 720p60 720p50 720p30 720p25
AHD Input: 5MP 4MP 3MP 1080p30 1080p25 720p30 720p25
HD-CVI Input: 4MP 1080p30 1080p25 720p30 720p25
CVBS Input: PAL NTSC
IP Video Input: 2x (over network)
IP Video Resolution: Up to 8MP
Audio Compression: G.711u
Audio Input: 4x RCA
CVBS Output: 1x BNC (704x576)
HD Output: 1x HDMI 1x VGA
HDMI Output: 3840x2160@30 2560x1440@60 1080@60 1280x1024@60 1024x768@60
VGA Output: 1920x1080@60 1280x1024@60 1280x720@60 1024x768@60
Encoding Resolution: 8MP 5MP 4MP 3MP 1080p 720p WD1 4CIF VGA CIF
Main Stream Frame Rate: 8MP@12fps 5MP@20fps 3MP@18fps 4MP/1080p/720p/WD1/4CIF/VGA/CIF@25fps
Sub Stream Frame Rate: WD1/4CIF/CIF@25fps
Video Bitrate: 32Kbps to 16Mbps
Audio Output: 1x RCA
Audio Bitrate: 64Kbps
Dual Stream: Supported
Stream Type: Video Video & Audio
Synchronous Playback: 4x
Remote Connections: 32
Network Protocols: TCP/IP PPPoE Hik-Connect DNS DDNS NTP SADP NFS iSCSI UPnP HTTPS ONVIF
Storage: 1x SATA (Up to 8TB)
Network Interface: 1x 10/100/1000M Self adaptive Ethernet
USB Interface: 1x USB 2.0 (front) 1x USB 3.0 (back)
Serial Interface: RS-485
Alarm In/Out: 4/1
Power Supply: 12V DC
Consumption: <15W (No HDD)
Operational Temperature: -10 to +55C
Operational Humidity: 10-90%
Dimensions: 315x242x45mm
Weight: <1.5Kg (no HDD)